Ambergris Caye is the best island in the Caribbean for anyone looking for a new home in paradise. There are many good reasons why you should consider selling your old house and move to this beautiful island off the coast of Belize. Here are just 9.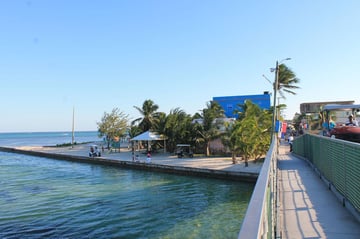 #1. Fantastic beaches
Ambergris Caye is often called La Isla Bonita (the beautiful island) and boasts the best beaches in Belize. With year-round temperatures around 850F and gentle breezes blowing off the sea, you can't ask for better conditions for relaxing on the beach.
You can enjoy relaxing walks across the sand, take in a romantic Caribbean sunset, or maybe cycle across the beaches on a fun to ride fat bike. The turquoise sea offers fantastic conditions for fishing, snorkeling, paddle-boarding, sailing, and scuba diving. The calm waters around the island are perfect for exploring in a kayak.
#2. Spectacular natural attractions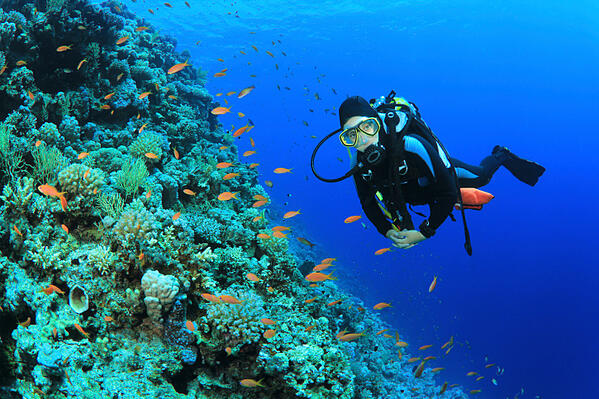 Ambergris Caye is situated in the middle of the Belize Barrier Reef, a part of the larger Mesoamerican Barrier Reef, which is the world's second-biggest coral reef system after Australia's Great Barrier Reef. Snorkelers and scuba divers love to explore the coral formations and swim with the fishes…in a good way. Because so many divers make their way to the island, there are 2 hyperbaric decompression chambers.
Notable natural attractions include the 407-feet-deep Great Blue Hole, Shark Ray Alley, Bacalar Chico National Park and Marine Reserve, and Hol Chan Marine Reserve. The reserves link the island to the sea because they contain areas of both coastal mangrove forests and sections of coral reef.
#3. The locals speak English
Because Belize is a former British colony, English is the official language. There are Belizeans who speak Spanish or Creole, but English is the dominant first language. You will never have problems communicating in Ambergris Caye.
#4. Ambergris Caye is a friendly island

The population of Ambergris Caye is diverse, with Mayans, Spanish descendants, and foreigners living alongside one another in a welcoming multinational community. With people moving to the island from many different countries, you'll soon find new friends and won't have to worry about breaking into closed cliques.
There are also regular festivals to attend in San Pedro, or even help to organize, such as the annual El Gran Carnaval de San Pedro that dates back to the 1870s. During the festival, dance teams put on special costumes to dance through the streets, and the festivities end with a painting fight where people throw colorful powder or eggs at one another to see how many people they can paint.
#5. Relaxed lifestyle
Life flows at a much slower pace in Ambergris Caye. Many offices, banks, and stores close for the daily siesta. Few people are in a hurry. New residents soon feel the rat race slipping away and adjust to a new, less stressful lifestyle.
#6. Easy access
Belize is relatively close to the continental U.S., making access easy. Because of the boom in tourism, direct flights into Belize from larger Canadian and U.S. cities are increasing. There are frequent flights between Belize City and the island's small airstrip. Fast sea ferries connect the island to the capital and to Chetumal in Mexico.
#7. Low cost of living
Ambergris Caye benefits from low property taxes and a cheaper cost of living than North America. You can live in a large and luxurious property in Belize for less than the cost of living in an average small house in the States. Many ex-pats have sold their homes in North America, paid off all their debts, and then bought a larger house on the island to live debt-free. With the incredible growth in tourism, property in Belize is proving to be a great investment in prime Caribbean real estate.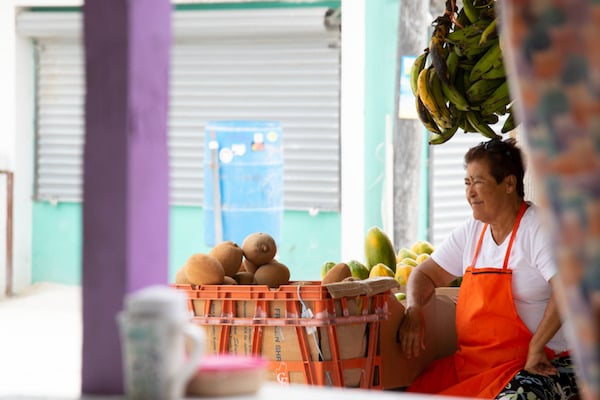 #8. It is safe
Belize is a democracy with a stable economy. The U.S. State Department assesses safety on a 4-point scale, with 4 being the most dangerous destinations. France and the United Kingdom, for example, are classed as Level 2 countries, making them safe places to visit. Belize is also a Level 2 country, as safe as England or France.
Since Belize was a British colony until 1981, the legal system is almost entirely based upon English common law. The constitution guarantees freedom of association, movement, worship, press, and speech. Essentially, it is one of the freest nations on Earth.
Because Ambergris Caye is one of the wealthiest areas in Belize, drawing in two-thirds of the nation's tourist revenue. So, this little island is one of the safest locations in Central America and far safer than certain cities in the United States.
#9. Great food
Because Ambergris Caye is a popular tourist destination, you will find a wide range of restaurants offering gourmet foods and popular fare from all around the world. Obviously, specialist seafood outlets and local food restaurants are popular. Whether you want to dine on fresh lobster or Belizean beans and rice, you can find a great place. There are also a good range of Mexican and Chinese restaurants.
What are you waiting for?
As you can see, Ambergris Caye is beautiful, affordable, convenient, and safe. If you are considering selling your house and relocating, Belize is a realistic future home. Compare Ambergris Caye with any other Caribbean island and you'll soon discover that La Isla Bonita is the best. It is exactly the kind of place where you always dreamed of living.
If you're considering coming to Belize for the first time, or coming back to Belize, be sure to visit one of these local favorites and book your stay with us at The Grand Baymen Resort. Simply go to reservations@grandbaymen.com.
We hope you found this article interesting. If you'd like to receive more great stories, sign up for our Newsletter, and you'll be emailed once per month with informative articles written by our team to keep you informed about all things Belize.
When planning your stay in Belize, we can help you book exciting excursions such as snorkeling at Shark Ray Alley, Cave Tubing on the mainland, or flying over the Blue Hole.

Our knowledgeable team will assist you with any tour you would like to take while visiting Belize, so that you can just relax and enjoy the adventure. CONTACT US TODAY.
ECI Development delivers affordable luxury residence and resort communities in Central America, providing our clients with various premier lifestyle options from the Caribbean to the Pacific. ECI delivers inspired residences for adventurous souls.
Coupled with over 20 years of inherent corporate social responsibility in the communities where we work, ECI Development is building a sustainable business that is going to be around for the next 100+ years.