Many folks don't realize just how close Belize is to the US. Just south and east of Mexico and Guatemala, Belize is a country diverse and rich with culture, beauty, and adventure. It is increasingly becoming more and more popular for retirees and for other folks as well who want to make a fresh start.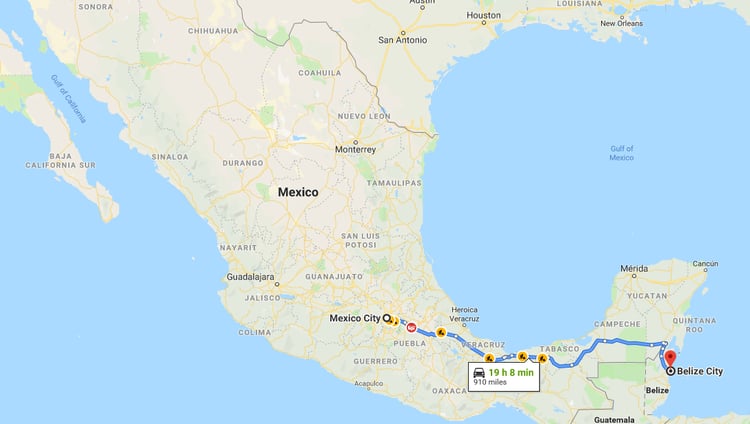 Route Map from Mexico City to Belize
Although there are many reasons why relocating to Belize is ideal, here are the top three:
Healthcare and Looking for a Healthier Lifestyle
Belize has a mixed medical system. Most Belizeans are offered free or low-cost healthcare at government–run hospitals and clinics around the country, and there are many private practices who offer services for a fee. It's worth mentioning that a good number of doctors in Belize are born and/or trained abroad.
Also, it's easy to maintain a healthy lifestyle in Belize. Delicious and fresh fruits and vegetables are in abundance, and fresh fish and a large variety of seafood is caught daily. Pre-packaged foods are expensive in Belize, which means many people will forego this type of food and end up losing weight as a result.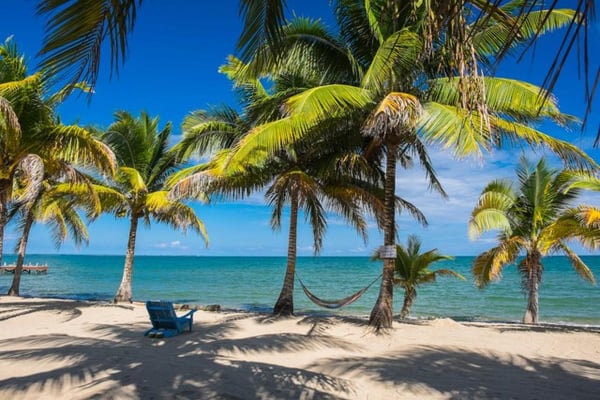 A Perfect Place for a Healthy Walk - Courtesy of Travel Channel Belize
The folks here also burn more calories because they get out and about more often with so many things to do, and find they love walking along the beach regularly to take in all the beauty of the Caribbean Sea.
The Belizean life means less stress, which helps to lower blood pressure and reduce anxiety and depression.
Adventure and Plenty of Things to Do!
A second reason for moving to Belize is the large amount of adventure and other activities to engage in. The white Caribbean sand and tranquil waters is the perfect place for getting in a good cardiovascular workout with a swim or jog along the beach—or go hiking, bicycling and walking if you choose.

Cave Tubing - Courtesy of vivabelize.com
For folks who are interested in charity work, there are many opportunities in that regard, as well as the opportunity to set up a small business. For animal lovers, there are an incredible number of fantastic animals who call Belize home. Click here for our blog on 5 Must See Animals in Belize.
Mayan archaeological sites are also abundant, giving history buffs an area of interest to explore. In addition, traveling around the country is extremely easy, and folks can spend a morning on Ambergris Caye and then board a water taxi to explore Corozal or even Mexico's Chetumal in the afternoon.
Retiree Programs to Stretch your Budget
Last but certainly not least, Belize has a great retiree program that helps the retiree's funds stretch as far as possible.
For example, the Qualified Retirement Person Program has been specifically developed for North Americans, with candidates only needing to spend one month each year in Belize and be at least 45 years old. With just $2,000 income from an annuity or pension, retirees can bring up to $15,000 of personal goods to Belize tax-free. In addition, any foreign-earned income is excluded from Belizean tax.
So, for those looking for a new place to live and a fresh start, with most of the population speaking English, the sunny shores and rich culture of Belize is the ticket. Remember, the stunning waters of the Caribbean Sea never lose their beauty and sparkle, and the incredible marine life will always provide excitement and interest.
If you'd like to book your next vacation in Ambergris Caye, please click here.
We hope you found this article interesting. If you'd like to receive more great stories, sign up for our Newsletter, and you'll be emailed once per month with informative articles written by our team to keep you informed about all things Belize.
When planning your stay in Belize, we can help you book exciting excursions such as snorkeling at Shark Ray Alley, Cave Tubing on the mainland, or flying over the Blue Hole.

Our knowledgeable team will assist you with any tour you would like to take while visiting Belize, so that you can just relax and enjoy the adventure. CONTACT US TODAY.
ECI Development delivers affordable luxury residence and resort communities in Central America, providing our clients with various premier lifestyle options from the Caribbean to the Pacific. ECI delivers inspired residences for adventurous souls.
Coupled with over 20 years of inherent corporate social responsibility in the communities where we work, ECI Development is building a sustainable business that is going to be around for the next 100+ years.