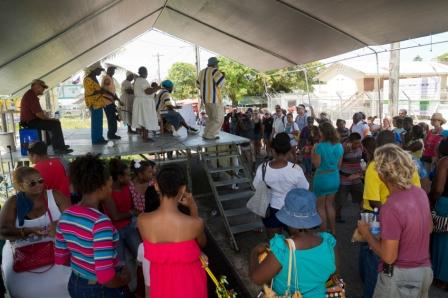 One of the most appealing things about the island of Ambegris Caye, located just off the mainland coast of Belize, is its vibrant culture. From live music to parades and dancing festivals, there is always something fun and exotic going on.
Whether you are visiting the island for a vacation or you are lucky enough to call Ambergris Caye your home, these are just a few of the most popular cultural events held each year on the island that you won't want to miss.
Fiesta de Carnival
If you enjoy dancing or just watching others show off their skills, then the Fiesta de Carnival is a wonderful event on Ambergris Caye that could be perfect for you.
Held during the week before Lent, the root of this festival is similar to other Carnival events in places like Brazil or even New Orleans. However, the focus of the Fiesta de Carnival is the amazing regional dancing done by groups from throughout Belize.
The competitive dance rounds, called comparsas, are loved by adults and children alike. Bright costumes, loud live music and incredible talent combine to make this one of the most thrilling and memorable cultural events of the year.
Belize International Film Festival
For the tenth year in a row, the Ambergris Caye city of San Pedro is serving as the host for the Belize International Film Festival. An annual event that is typically held in July, the Belize International Film Festival is a gathering of artists and film enthusiasts in Central America.
Many new films have their Central American debut at this event, and you will come across blockbuster hits as well as indie documentaries made by Belize residents.
In addition to movie showings and panels attended by leaders in the film industry, you can join in on the fun by attending parties and dinners held in honor of the exciting event.
San Pedro International Costa Maya Festival
If you are eager to experience the music, dance and fun of Ambergris Caye, then be sure to add the San Pedro International Costa Maya Festival to your calendar.
Held in August, the festival is a remarkable celebration, and the fun doesn't stop at the border. The festival is observed throughout Central America, and many travelers come to Ambergris Caye just for the occasion.
You can expect to hear plenty of live local bands performing over multiple days as well as theatrical performances right on the street. Makeshift stages are all that is needed for a local theater troupe to break into a hilarious sketch or a poetry reading.
Independence Day
Every September, Ambergris Caye comes to life, turning from a relaxing and laid-back destination to a happening hotspot packed with revelers from around the world.
Of course, displaying national pride on Independence Day is a given, but the day is also a celebration of all things unique to Belize. You can expect street vendors to be doing a brisk trade selling local culinary specialties, and pageants crown young women who are the best singers and dancers on the island.
Parades wind through San Pedro, and virtually everyone in the city participates in some way. Large groups dance in the parade, play music and sing to delight the crowds.

Spending time on Ambergris Caye means getting the chance to attend and even participate in all kinds of music, singing and dancing events. Embrace the wonderful local culture through one or more of these island celebrations.