We are proud members of Pack for a Purpose, an initiative that allows travelers like you to make a lasting impact in the community at your travel destination. If you save just a few pounds of space in your suitcase and take supplies for the projects we support in need, you'll make a priceless impact in the lives of our local children and families. Please click here to see what supplies are needed for our project/projects.
The Grand Baymen team is fortunate to be able to donate its time and resources in efforts to give back to the surrounding community. Once a month we choose an organization that dedicates itself to the betterment of San Pedro.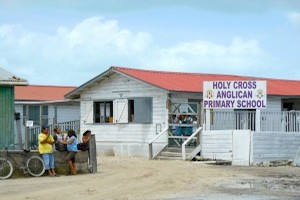 Our contributions include school supply drives to Holy Cross School, a local elementary school dedicated to the health, welfare, and positive development of children. Supplies collected include pens, pencils, colored pencils, crayons, chalk, Post-it notes, paper clips, stickers, highlighters, calculators, coloring and activity books, binders, folders, notebooks, index cards, rulers, and book covers.
We encourage participants of our Belize Discovery Tours and visitors to bring school supplies to help out this cause.
In the past, we've also donated to the non-profit animal shelter, SAGA, a shelter that houses homeless animals on the island. SAGA provides health care for the animals and helps them find a place to live. We supplied them with a security camera in order to watch over the animals they work to protect.
After Hurricane Earl, we assisted in a silent auction to assist with the damages. The hurricane brought destruction to 3,000 houses in Belize, destroyed numerous crops, and ripped apart almost 90% of the docks on the island.
We hope to continue this philanthropic work in order to strengthen the community. Building a strong sense of community can make the quality of life better for everyone.