Like many, you may find yourself daydreaming of living the laptop lifestyle; working on a beach in flip flops and enjoying a walk on the beach as part of your commute to work. Working in a tropical paradise is not always so far out of reach but what exactly does it take to work somewhere like Belize as a foreign national?

We have had many people wondering what the process is like for someone who is not a Belizean citizen to work in a place like Belize. Belize in general is a popular location for those who are wanting to make the change to Caribbean living; with expat communities being present all over the country, including on Ambergris Caye. Though some expats work remotely out of the United States, some are wanting to be able to work within Belize and the exact process to get that done can be confusing.
We decided to sit down with two of our property consultants, Betsy Rosenlund and Natalie Shults, and find out how they made the switch. Betsy has been with the company since 2016 and is proud to now call Belize her permanent home. Natalie on the other hand has been permanently living on the island for 4 years but has been making trips down since 2002. These two ladies embarked on relatively different journeys to working legally in Belize, but at the end of it all they have both happily found Belize to be their home.
If you are interested in listening to the interview had with Betsy and Natalie, you can click below or keep reading for a written account.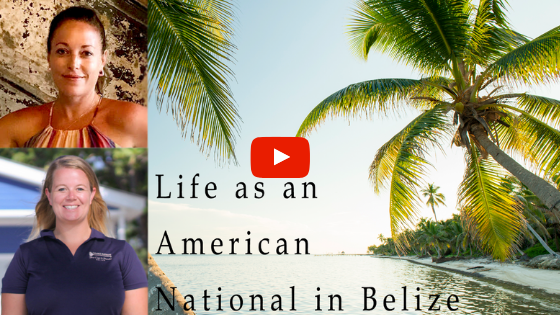 How did Belize become an option?
To start off we had to get the obvious question out of the way, why Belize? How does a seemingly random Caribbean country come onto someone's radar as a new home? For Betsy, she had never been to Belize but had done quite a bit of traveling in neighboring countries like Nicaragua, Guatemala, and El Salvador. When a job opportunity in this area popped up, she could not find a reason to say no so for all intents and purposes she made the decision then to take the leap.

For Natalie, the story started a little different. As mentioned before, she started coming to the island in 2002 as a tourist and fell in love with Ambergris Caye. She began to come year after year, and sometimes twice a year, with her family and decided she never wanted to leave and wanted to be able to make a permanent move. With these permanent moves comes the need work and do to so legally.
How to go about working in Belize legally
Betsy:
As a non-Belizean citizen, you are required to have a work permit to work in the country which can be the cause of a few hurdles if not done correctly. When Betsy was offered the position with ECI Development she was still living in the United States but she right away began getting supplies together and doing research so that she could make the switch as easy as possible. She decided to use a facilitator because she figured that it would be the best way to make the process go as quickly and smoothly as possible.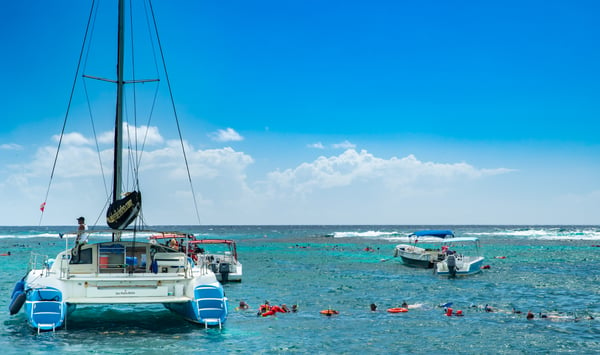 Hol Chan Marine Reserve is a must see stop when visiting Ambergris Caye

Betsy continued saying that a facilitator was a necessary piece of the puzzle and that she recommends using one to anyone who is wanting to work in Belize. The process ended up only taking 2 or 3 months in the end and therefore Betsy claimed that the expense was worth it. She went on about how she knows others who went about doing it themselves and have had it take many more months to even years with little or no results to show at the end of it all. She even knows some that did it alone who either gave up in the end or who ended up spending double the money for the process than had they simply hired a facilitator from the start. With the process entailing visits back and forth to Belize, Betsy was adamant that it was more than worth the little added costs to the whole process of obtaining a work permit. Just like with Betsy's experience, Natalie found that having an expert help you was worth any extra cost.


Natalie:
For Natalie, after a couple of years of being in Belize she made the definite decision that she did not want to ever leave, rather she wanted to both work and live in Belize permanently. In the end, Natalie decided the best route for her to take would be creating her own corporation in Belize. By doing this she was able to get a work permit through her own company and would be able to work anywhere in Belize legally as a consultant. When doing this Natalie had the help of a friend who was an accountant in Belize, therefore she acted as her facilitator.

Natalie stands by Betsy with the stance that the fee was well worth the help in the process. She claimed that she could not imagine going about the process alone and that if you want the process to go as planned, the facilitator or aid is completely necessary. Now look at them both, able to live and work in Belize legally with little to no headache throughout it all.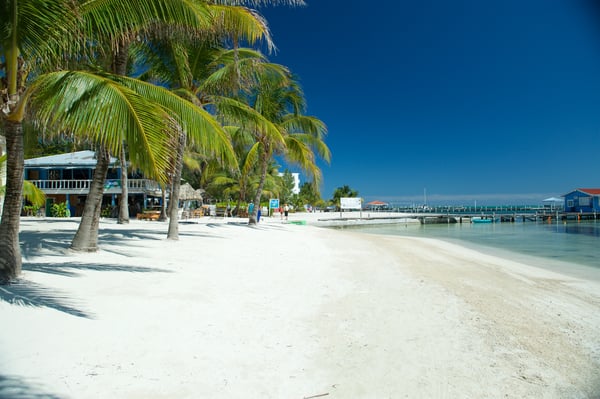 White sand beaches on Ambergris Caye
What was the process of moving to Belize like?
The biggest difference between the experiences of Betsy and Natalie took place during the moving process. In Betsy's case the process was quite quick after her work permit was approved; she packed up a couple suitcases, put everything else she owned in storage, and hopped on a plane to Belize. After living in Belize for almost half a decade Betsy found that the process of moving showed her what she can truly live without and what it is she truly needs.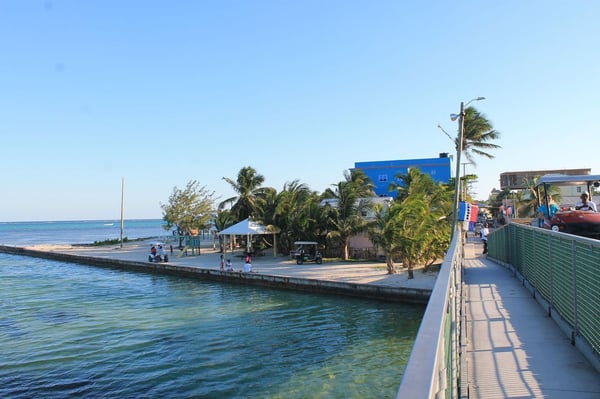 The bridge leading to North Ambergris Caye
In Natalie's case the moving process happened over the years with loose ends getting tied up and personal items being brought down during times she visited family for holidays in the United States. She brought up the point of how luckily most places to rent in Belize come already fully furnished, making it so that things like furniture and appliances were not necessary to be brought down. Later Natalie brought up how a minimalist lifestyle is supported by the island living on Ambergris Caye, making it so you do not ever feel that you are missing out on some material object, and that is just one charm about living on Ambergris Caye.
What is your favorite thing about life in Belize?
A big draw of the island for both ladies is the people, be that locals, expats, or the fun tourists you meet along the way. Those who call Ambergris Caye home are a welcoming group of people who really open their arms to all in times of need and genuinely care for each other. For Natalie in particular the tourists play a part in her love for the island, especially those who are visiting for the first time and don't quite know the nuances of the island (like how golf carts are the main mode of transportation).

The climate and environment also have a role in what Betsy and Natalie love about Ambergris Caye. For Natalie, she can spend time on the water fishing, sailing, snorkeling, and taking advantage of the beautiful turquoise waters. On Betsy's end she reminisced about how for 10 years while living in Colorado she spent her winters shoveling snow off the driveway, so the change to everyday being sunny and warm is large for her.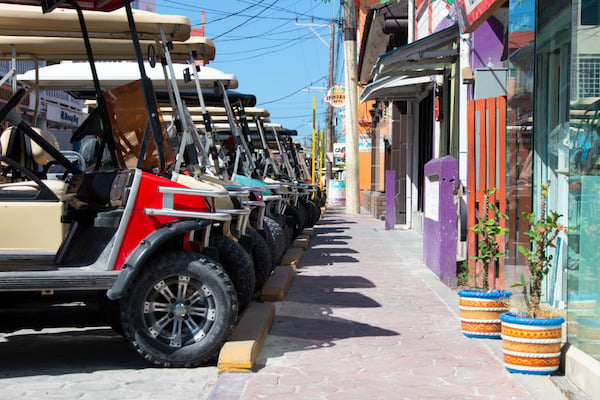 Golf carts the way to move around the island for locals and tourists alike
Would you change anything?
At the end of the day, Ambergris Caye, Belize has become home for both Natalie and Betsy. When they get off the plane the air just feels right and smells like that of where they want to be. Though getting a work permit and moving one's life from the United States to Belize can be difficult, both experiences of these ladies exemplify the draw that this country, and this island in particular, have.

We thank both ladies for giving us this insight and welcome questions from anyone hoping to make similar switches to the Caribbean life.
If you're considering coming to Belize for the first time, or coming back to Belize, be sure to visit one of these local favorites and book your stay with us at The Grand Baymen Resort. Simply go to reservations@grandbaymen.com.
We hope you found this article interesting. If you'd like to receive more great stories, sign up for our Newsletter, and you'll be emailed once per month with informative articles written by our team to keep you informed about all things Belize.
When planning your stay in Belize, we can help you book exciting excursions such as snorkeling at Shark Ray Alley, Cave Tubing on the mainland, or flying over the Blue Hole.

Our knowledgeable team will assist you with any tour you would like to take while visiting Belize, so that you can just relax and enjoy the adventure. CONTACT US TODAY.
ECI Development delivers affordable luxury residence and resort communities in Central America, providing our clients with various premier lifestyle options from the Caribbean to the Pacific. ECI delivers inspired residences for adventurous souls.
Coupled with over 20 years of inherent corporate social responsibility in the communities where we work, ECI Development is building a sustainable business that is going to be around for the next 100+ years.