The term digital nomad has been popping up in mainstream culture more and more over the past decade and a half. But you might ask, what does it even mean?
Digital nomads are individuals who use a variety of telecommunication technologies (internet, Skype, VoIP, etc.) to earn a living and conduct their life in a nomadic manner. Now we're hitting home with the concepts!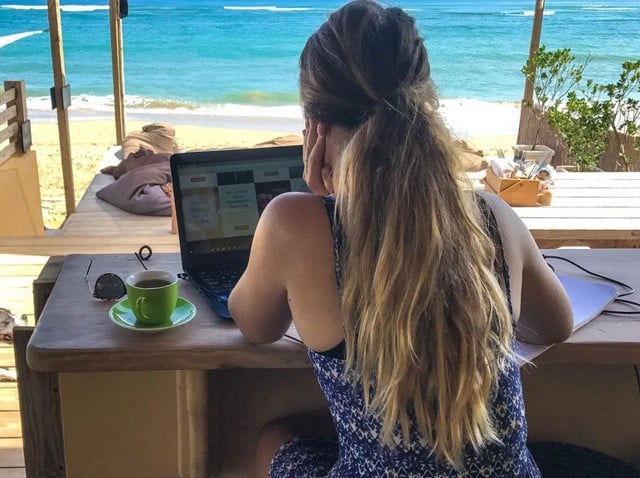 A relaxing work day in front of the beach
With the rising cost of living in North America, many individuals are taking their businesses and careers elsewhere, usually in favor of a lower cost of living and a higher quality of life. A recent New York Times article noted that around 4.8 million Americans consider themselves to be digital nomads.
Over the last several years, Belize has emerged as a top destination for digital nomads for a number of different reasons:
Proximity to North America

A busy day at the Belice City Airport
With Belize being only about 2.5 hours from major US cities including Houston, Dallas, Miami, and Charlotte, getting to and from Belize is a breeze. Most major air carriers including United, American, Southwest, and Delta offer non-stop flights to Belize City International Airport (BZE) nearly every day of the week.
Also, another perk is that depending on the season, Belize is on either Mountain Time or Central Time, making it easy to conduct business with North American clients.
Improved Internet Service
Good internet and telephone service are crucial for any digital nomad, and that is not an issue in Belize. In fact, over the last few years, Belize's telecommunication services have improved dramatically.
There are two telecommunications companies in Belize that provide telephone and internet service to the entire country: Belize Telemedia Limited, which operates their telephone and internet operations under the names DigiCell and DigiNet, and Smart!
In 2017, Belize Telemedia Limited, rolled out its new fiber-optic cable internet program, beginning with Ambergris Caye. Download speeds for both DigiNet and Smart! Internet service range between 8-40 Mbps and upload speeds of 4-20 Mbps, depending on the package that you choose.
Moreover, prices for both DigiNet and Smart! are comparable, ranging from $62-$189 Belize Dollars. I have several friends here in Belize who consider themselves digital nomads and find that they are easily able to host webinars, conference calls, and conduct businesses online just as easily as if they were back home in the United States or Canada.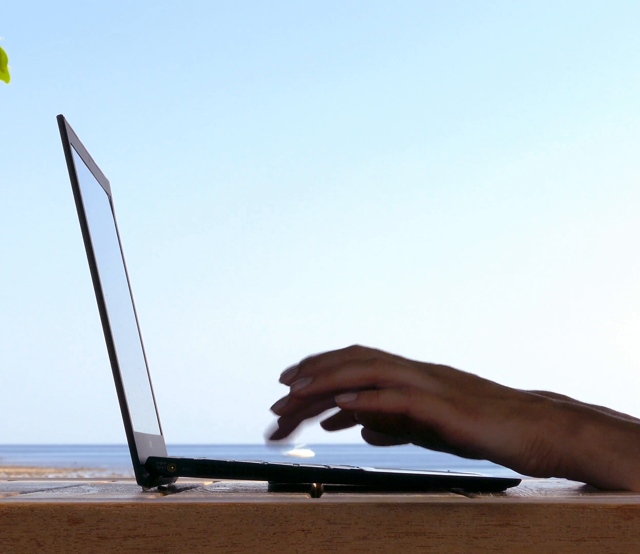 You will enjoy a great internet connection at Ambergris Caye
Additionally, more and more businesses throughout the country are catering to digital nomads by offering free WiFi to their patrons.
Friends of mine frequently find themselves sitting at popular beachfront establishments with their laptops, catching up on emails and other important work projects alongside fellow digital nomads, locals, and visitors. Talk about an office with a view!
Cost of Living & Quality of Life
Living in Belize can cost (almost) as little or as much as you want it to. The cost of rent varies greatly depending on where in the country you choose to live and the type of accommodations that you want or need. Of course, it is possible to find very inexpensive "local" housing for $400 dollars a month, but you likely won't have the luxuries of internet, air conditioning, or extra space.
Rents on Ambergris Caye range between $850-$2,000 per month for comfortable "North American" style accommodations with amenities. Of course, if you want beachfront property, you can expect to pay a premium.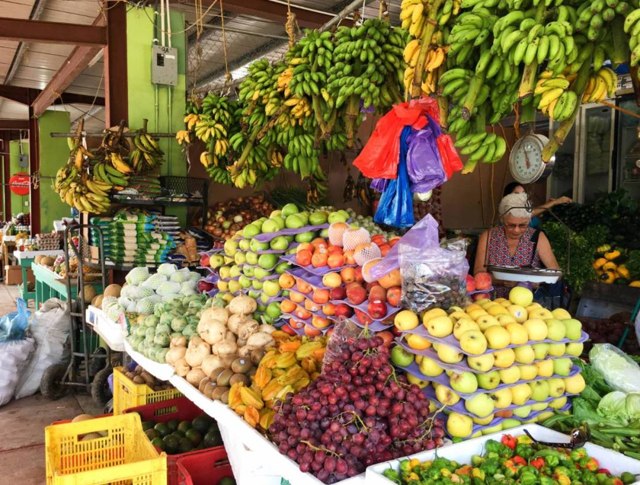 Outdoor markets have everything you need
Other expenses such as cable, internet, electricity, and food are comparable with the United States. Of course, if you choose to eat out for every meal or purchase imported food items, your monthly budget will need to be much higher, but if you choose to eat like a local, taking advantage of the fresh local produce and seafood, you can expect your costs to be lower.
The quality of life on Ambergris Caye, in my opinion, is great. For those that love to be outdoors, on the beach, in the water, or gathering with friends, there's no better place. Days off can be spent diving along Belize's barrier reef, enjoying live music at a beach bar, or exploring the mainland of Belize, or neighboring Mexico, Guatemala, or Honduras. The opportunities are limitless.
Things to Consider
If you intend to make Belize your homebase, it is important to note that you will be required to obtain a work permit, usually done by forming your own company in Belize, regardless of whether or not you are employed by a Belizean company.
For more information about starting your own company, check out "How to Get Your Business Started in Belize Today"
One of the best ways to find out if Belize is the right fit for you is to come down and try it out! Grand Baymen offers affordable, North American style condominiums for both long and short term rentals. Contact us to learn more!
We hope you found this article interesting. If you'd like to receive more great stories, sign up for our Newsletter, and you'll be emailed once per month with informative articles written by our team to keep you informed about all things Belize.
When planning your stay in Belize, we can help you book exciting excursions such as snorkeling at Shark Ray Alley, Cave Tubing on the mainland, or flying over the Blue Hole.

Our knowledgeable team will assist you with any tour you would like to take while visiting Belize, so that you can just relax and enjoy the adventure. CONTACT US TODAY.
ECI Development delivers affordable luxury residence and resort communities in Central America, providing our clients with various premier lifestyle options from the Caribbean to the Pacific. ECI delivers inspired residences for adventurous souls.
Coupled with over 20 years of inherent corporate social responsibility in the communities where we work, ECI Development is building a sustainable business that is going to be around for the next 100+ years.