Belize is a beautiful place not only to vacation but as well to start a new chapter of your life. There are a multitude of reasons that Belize is so attractive to those wanting to make a change in their life including the beautiful landscapes, the close proximity to Canada and the U.S.A, the fact that English is the first language, and as well the retiree benefits available through the Qualified Retirement Persons Program. Now, we will always recommend and shine a light on the beauty that is Ambergris Caye, but for some, island life is not a possibility. For those who feel this way we wanted to provide you with some of the perks of living in some of the other areas of Belize.
Benefits of the Mainland
One of the large benefits that mainland Belize has is the ease of access. This is important to some for simple reasons like travel, and the fact that the cost of goods will tend to be lower since no planes or boats are needed for transportation. This ease of access can also be important though in a more serious manner for those who are immunocompromised and those who could be at risk for needing immediate emergent care; a luxury that is incredibly important to some. Another benefit is the fact that though there are tourists during the high season who adventure through the mainland, since it is so spread out, they are able to go unnoticed for the most part so it won't ever feel like you are living in a "tourist town".
If you are worried that life on the island would be too secluded, yet life on the mainland would be too fast paced, do not fret. Throughout the country the island-life mentality is alive and thriving while still having the luxuries and lower cost of living that are important to some, especially in the following areas that we are going to dive into.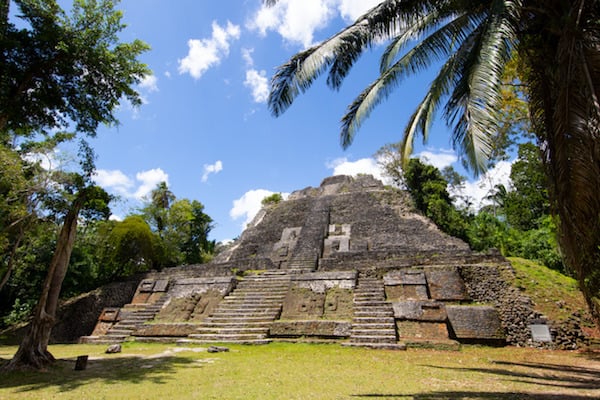 Magnificent Mayan Temples are one of the wonders that the mainland has to offer
Corozal
Bordering Mexico you will find the Corozal district. Though it does not have area on the Caribbean, it does have waterfront locations on the Bay of Chetumal. Due to its proximity to Mexico and the fact that it is not exactly on the Caribbean Sea, it is able to boast some of the lowest costs within Belize. The reason that the location in relation to Mexico is relevant for having lower costs is because of the quick access to large shopping malls. Throughout Belize there are no Walmart's, no Target, or anything else of their likes, meaning that if those type of goods are important to you, the Corozal District would be an optimal location.
Cayo
If you love taking advantage of the outdoors and filling your days with adventures, the Cayo area might be for you. This district stands out from the rest due to its fertile farmlands and rainforest areas, meaning two things; the produce is cheaper, and your inner green thumb can come out. Because of the environment here many people choose to find ways to live in self-sustaining manners, just like those in the Carmelita Gardens Community, where sustainable ways of life are taught and executed.
For the adventurous souls, this district can provide more than enough to feel fulfilled. A lot of the country's mountains, rivers, and jungle scenes run through Cayo. The caves and waterfalls that are made within the Mountain Pine Ridge make for more than enough places to explore.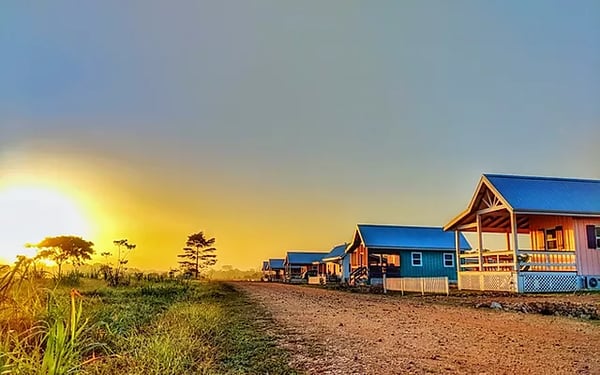 The Carmelita Gardens Community
Placencia
The peninsula of Placencia is one that has become more and more popular over the years and it's been referred to as the "caye you can drive to". Due to its location, and the fact that water surrounds it on three sides, the feeling of an island life is immense. Still though, since there is road access to the rest of country, there is convenience in its location that is not there on Belize's Cayes. If you are looking for true picturesque landscapes, Placencia is filled with them. To the east, you can see the Caribbean Sea and all its beauty, while to the west there is a freshwater lagoon over which you can see views of the Maya mountain chain. Even though development has picked up in this area it does not feel like a tourist town to any degree. The locals and the visitors alike have made it clear that they are wanting to protect the area's authenticity and character.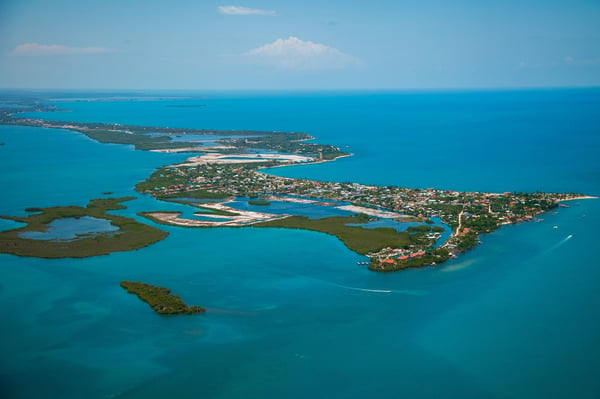 Overlooking Placencia's beautiful landscape
Everywhere is beautiful
At the end of the day, you will not go wrong living anywhere in Belize. This country has a million reasons why it makes for the perfect paradise and every town in every district has its own personality and character to make it unique. We will always have that bias and love for Ambergris Caye, but we want you to know that there are options throughout the country no matter who you are. And hey, if you end up moving to the mainland, make sure to stop by the Caye every once in a while to say hello to all of us at Grand Baymen!
If you're considering coming to Belize for the first time, or coming back to Belize, be sure to visit one of these local favorites and book your stay with us at The Grand Baymen Resort. Simply go to reservations@grandbaymen.com.
We hope you found this article interesting. If you'd like to receive more great stories, sign up for our Newsletter, and you'll be emailed once per month with informative articles written by our team to keep you informed about all things Belize.
When planning your stay in Belize, we can help you book exciting excursions such as snorkeling at Shark Ray Alley, Cave Tubing on the mainland, or flying over the Blue Hole.

Our knowledgeable team will assist you with any tour you would like to take while visiting Belize, so that you can just relax and enjoy the adventure. CONTACT US TODAY.
ECI Development delivers affordable luxury residence and resort communities in Central America, providing our clients with various premier lifestyle options from the Caribbean to the Pacific. ECI delivers inspired residences for adventurous souls.
Coupled with over 20 years of inherent corporate social responsibility in the communities where we work, ECI Development is building a sustainable business that is going to be around for the next 100+ years.