Known locally as 'La Isla Bonita', Ambergris Caye is the epicenter of Belize's burgeoning tourism industry. Whatever you want from a vacation, you'll find it here among the blue waters, white sands, and relaxed island vibe. However, Ambergris Caye offers more than just a chance to relax and disconnect from real life. The barrier reef, half a mile offshore, constitutes for some of the best snorkeling and scuba diving in Central America!
When the world starts moving again, Belize will happily welcome you for the vacation of a lifetime. What better thing is there to do right now while you're stuck inside but to plan this dream vacation? To help you plan and make the most of your vacation to Belize, we've put together this list of the 7 best things to do on Ambergris Caye. So, let's take a closer look and daydream about what we'll be doing when we can start travelling again!
Go Snorkeling in The Hol Chan Marine Reserve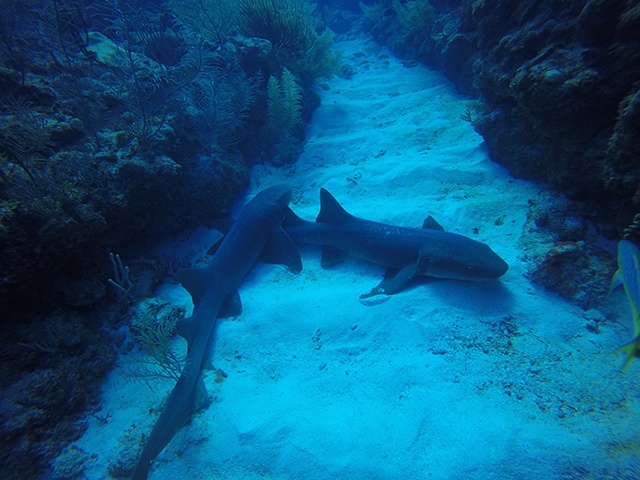 Hol Chan Reserve is One of the Best Places in the Continent for Snorkeling
Where else could we kick off our list of the best things to do on Ambergris Caye but with the Hol Chan Marine Reserve? The Hol Chan Marine Reserve is located south of the center of San Pedro Town, making it an extremely popular spot to snorkel or dive. Hol Chan is home to sea turtles, scores of tropical fish including barracuda, snapper, and groupers, as well as nurse sharks and stingrays. One of the most popular stops in Hol Chan is the famous Shark Ray Alley where nurse sharks and stingrays come to feed. If you're new to snorkelling, try not to worry too much. The shallow waters are great for inexperienced swimmers, and you'll never be far from your guide, who is there to make your snorkel or dive trip as enjoyable as possible.
Fun fact: Hol Chan is Mayan for "little channel".
See What's in The Great Blue Hole on A Scuba Diving Trip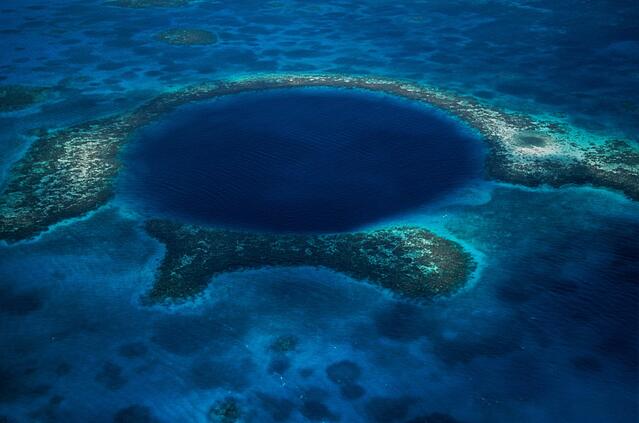 The Always Breathtaking Great Blue Hole, Off the Coast of Belize
For those with more underwater experience, why not visit the Great Blue Hole, a UNESCO World Heritage site located about 81 kilometers southeast of San Pedro. This giant sinkhole, located on Lighthouse Reef, was made famous by the French explorer, Jacques Cousteau. The Great Blue Hole more than 950 feet across and over 400 feet deep. You can dive year-round here, although April to June is considered the best time to visit because there's an increased chance of seeing the world's largest fish – the whale shark! For many divers, this is a "Bucket List" item that is not to be missed!
Explore The Island By Golf Cart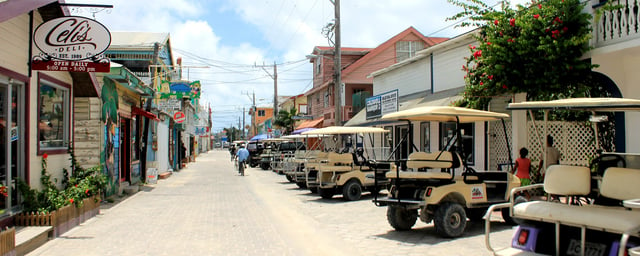 Golf Carts Have Become a Staple of Ambergris Caye, as the Primary Means of Transportation
Although there are some cars on Ambergris Caye, they are few and far between. Luckily, there is an alternative that's quicker than walking or cycling should you want to explore the island: the humble golf cart! There are a multitude of rental companies on the island that will rent you a golf cart for a day, a week, or even long term if you find yourself spending more time on the island. Traveling by golf cart is a great way to accomplish everyday tasks or to venture off the beaten track away from the main town of San Pedro. Be sure to check your gas tank, located below the driver's seat, before venturing off to places like Secret Beach, as there are only two gas stations on the island, both located in the main part of San Pedro.
Celebrate June's Annual Lobsterfest With Live Music, Dancing, and Food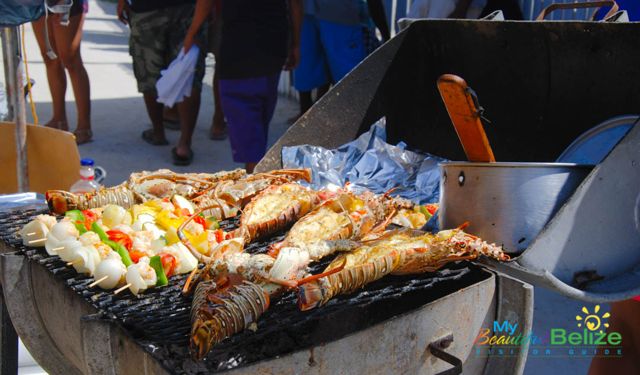 One of the Delicious Dishes on Lobsterfest - Photo from MyBeautifulBelize.com
Each June, Belize celebrates the reopening of lobster season with the annual week-long Lobsterfest celebrations. There are three celebrations across the country – in Placencia, Caye Caulker, and of course San Pedro.In San Pedro, different bars & restaurants host lobster themed activities during the week of Lobsterfest, and on Saturday, a large block party is held in the central park and includes food booths from restaurants featuring both traditional and avantgarde lobster creations, live music, dancing, and fun. Lobsterfest is one of the country's most popular food festivals and absolutely a must do for any lobster lover.
Enjoy One Of The Unusual Events In Ambergris Caye (Chicken Drop and Crab Racing)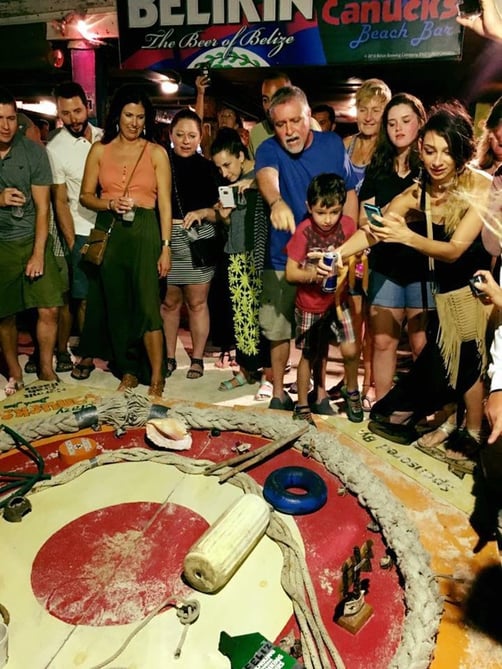 The Crab Races ar Crazy Canucks Bar Are Always Fun
There are some seriously odd events in Ambergris Caye, but they will be fun memories that will have you rolling around laughing! First is the "Chicken Drop". On Thursday nights, head to Wahoo's Bar where you'll see this unusual event take place. Bet a Belizean Dollar on a number and wait for the chicken to relieve itself on the square with your number. If it does so on your number, you win the jackpot (and the dubious honor of cleaning up the mess). A more family-friendly activity is the Tuesday Hermit Crab Races at Crazy Canucks. Pick your crab, give it a name, and then watch as they tackle different obstacles. The first crab to cross the white line wins the race, but your crab may also win other prizes from local vendors along the way.
Try Traditional Belizean Food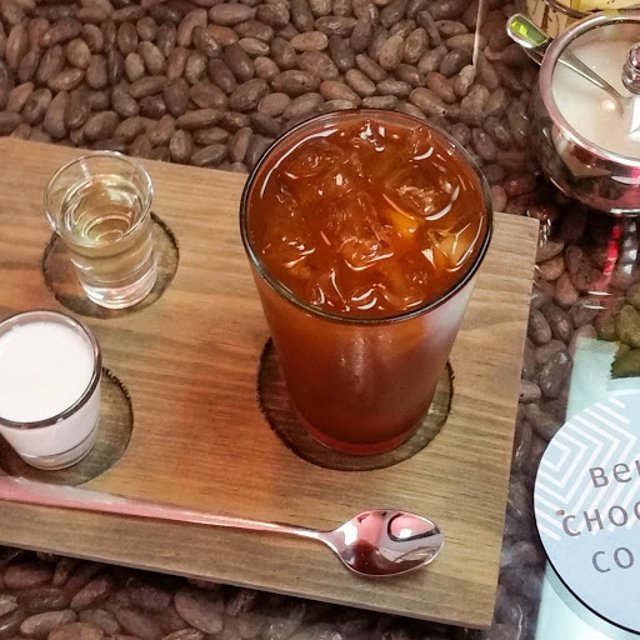 Chocolate Tea from the Belize Chocolate Company's Restaurant
One of the best ways to get to know a new country and immerse yourself in its culture is with food. If you're not sure what to expect from food in Belize, it's a mixture of Caribbean classics and seafood, with plenty of influence from its Central American neighbors. Local favorites includes chimole, a Mayan black soup with chicken, vegetables, and egg; tamales and salbutes which are similar to dishes from Mexico, and the most popular dish in all of Belize which is stewed chicken with rice & beans. For seafood lovers, one dish you'll not want to miss is ceviche – where fish, shrimp, conch, or lobster is 'cooked' in citrus juices, along with onion, cilantro, tomato, carrots, and cucumber. It is a light and fresh dish, perfect for any meal or as an appetizer. Just watch out for the habanero sauce on the side. Round it all off with a dessert of Mayan chocolate made right here in Belize. What could be better?
Enjoy A Variety Of Water Sports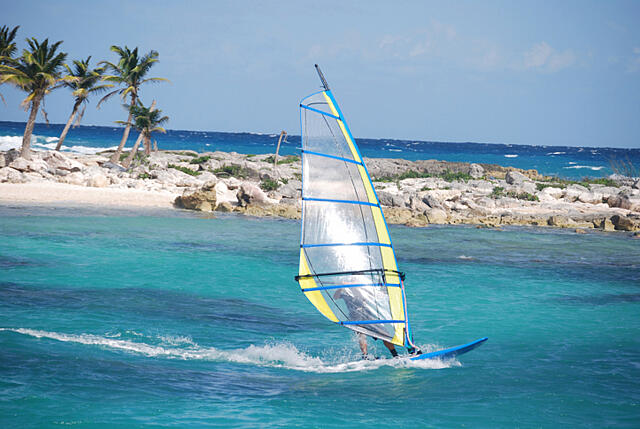 Different Water Sport Choices Include Windsurfing
Scuba diving and snorkeling aren't the only forms of fun you can have in the waters surrounding Ambergris Caye! There are a number of awesome water sports opportunities that are offered. Windsurfers and sailors will want to visit Belize from October to March to make the most of the windy season and attempt to sail to the islands within a stone's throw of Ambergris Caye. Kayaking and paddle boarding are perfect activities for those who enjoy being on the water, but not necessarily in the water. There is also kite-surfing, or even parasailing, where you can enjoy the beautiful Caribbean Sea from above.
Now That You Know All The Great Activities That Are Offered in Ambergris Caye…
You'll want to start booking your holiday as soon as possible. Luckily because you've planned ahead by reading this with your newly found free time, you'll be ready to book your trip within minutes. To find the perfect place to stay in Ambergris Caye, whatever your travel style, check out ECI Development. It's here that you'll find both affordable and more upscale hotels and soon even tiny homes for your stay in this Central American gem. We look forward to having you visit us in Belize so that we can show you all of this, and more!
If you're considering coming to Belize for the first time, or coming back to Belize, be sure to visit one of these local favorites and book your stay with us at The Grand Baymen Resort. Simply go to reservations@grandbaymen.com.
We hope you found this article interesting. If you'd like to receive more great stories, sign up for our Newsletter, and you'll be emailed once per month with informative articles written by our team to keep you informed about all things Belize.
When planning your stay in Belize, we can help you book exciting excursions such as snorkeling at Shark Ray Alley, Cave Tubing on the mainland, or flying over the Blue Hole.

Our knowledgeable team will assist you with any tour you would like to take while visiting Belize, so that you can just relax and enjoy the adventure. CONTACT US TODAY.
ECI Development delivers affordable luxury residence and resort communities in Central America, providing our clients with various premier lifestyle options from the Caribbean to the Pacific. ECI delivers inspired residences for adventurous souls.
Coupled with over 20 years of inherent corporate social responsibility in the communities where we work, ECI Development is building a sustainable business that is going to be around for the next 100+ years.