There's a popular saying that goes, "When in Rome, do as the Romans do."
On that same note, "When in Ambergris Caye, do what the locals, tourists, and expats do." When it comes to dining at some of the top bars and grills on the Caye, be sure to include these gems on your "Must Go" list.
Crazy Canuck's Beach Bar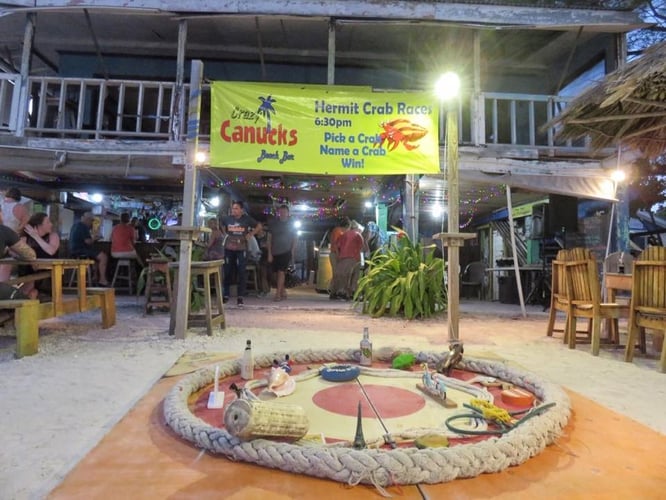 Looking for a fun-filled night of activities? Then have we got the beach bar for you!
Known for hosting some of the most laughter inducing and happiest atmosphere's on the island, Crazy Canuck's Beach Bar is the place to be for fun games, live music, and, of course, great food and drinks. Located right on the beach across from Caye Bank, this beach bar features weekly game nights, the world famous Crab Race, Trivia Night and more. Rob, the owner and your host, will show you an amazing time. Laughter, fun and great food is guaranteed when visiting Crazy Canuck's.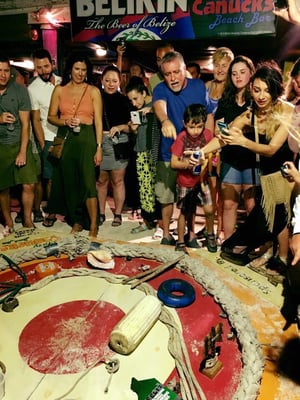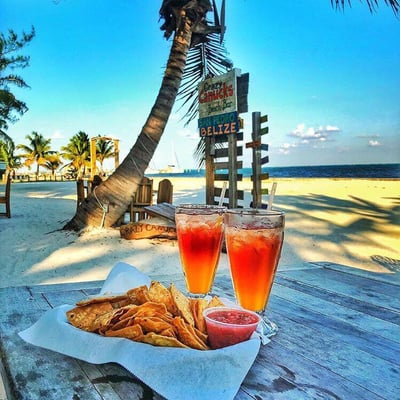 Secret Paradise Beach Bar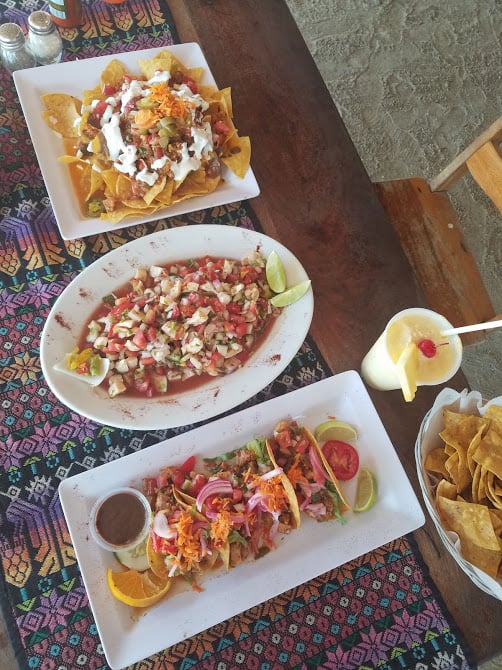 The Amazing Seafood Served at Secret Paradise Beach Bar
Getting to Secret Paradise Beach Bar located at The Secret Beach, North Ambergris Caye, is an adventure all its own. But once you arrive and take in the picturesque surroundings of the white sand beaches and crystal clear turquoise water, you will understand it's well worth the 45-minute golf cart ride. Here are just a few of the highlights of the Secret Paradise Beach Bar – food made with the freshest ingredients daily, fantastic fish tacos, savory fries and chicken nachos, delicious tropical drinks, and cerveza helada (ice cold beer)! Also the service is impeccable. While you're there at Secret Beach, play some games, rent a paddleboard, or get a massage right in the water.
Blue Water Grill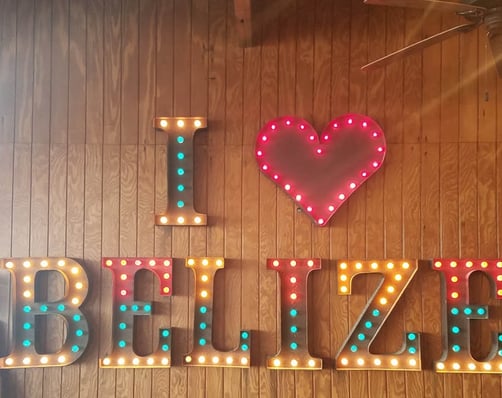 Be Sure to Eat at Blue Water Grill just Across the Airport
Located on Barrier Reef Drive, right across from the San Pedro Airport, this restaurant is situated right on the beach and has superior views of the Caribbean Sea. We had an early dinner here one evening and the food was outstanding. While this place is a little more upscale than other restaurants, there's no need to dress up, you can still wear your shorts and flip-flops. Be sure to try one of their pizzas (we had the delicious Colombia Pizza), and the grilled shrimp with the ginger BBQ sauce is my personal favorite.
Wayo's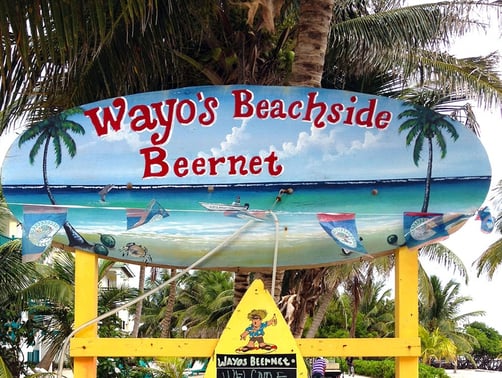 Wayo's Beachside Beernet - Photo from Pinterest
One traveler calls Wayo's "A cute gem of a place for an evening cocktail". Wayo's bar is located along the beach with comfy seating and gorgeous water views. They have an assortment of drinks that are served strong and with a smile from the fun and attentive staff. The food is flavorful and perfectly seasoned, especially the quesadillas and burritos. Wayo, the Owner, is typically there chatting and mingling with his customers, and also giving advice on what to do while vacationing in Belize.
The Truck Stop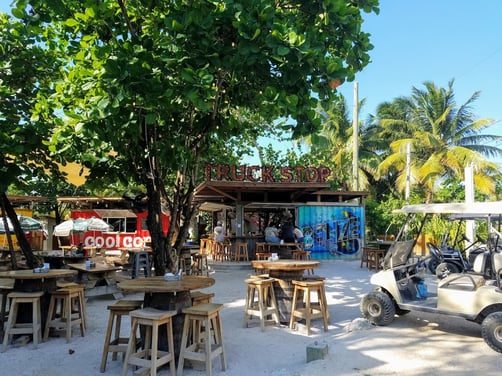 The Truck Stop Ambergris Caye Offers Different Food Choices
Described by a Trip Advisor reviewer as "Ingenious", The Truck Stop" is a food truck-truck stop. Bet you can't say that fast 10 times in a row! The Truck Stop, with its 4 colorful containers that have been converted into mini restaurants, serves up different savory cuisines - like Asian, pizza, local favorites, and ice cream! There's a sunset deck and a poolside bar, which overlooks the bay and gives you a peaceful view of the marvelous, hot-pink and fiery-orange sunsets. Not only do they have savory food that works with everyone's budget, they complete your experience with "super yummy" ice cream, plenty of seating, kids games, trivia and movie nights, and family feud nights.
If you're considering coming to Belize for the first time, or coming back to Belize, be sure to visit one of these local favorites and book your stay with us at The Grand Baymen Resort. Simply go to reservations@grandbaymen.com.
We hope you found this article interesting. If you'd like to receive more great stories, sign up for our Newsletter, and you'll be emailed once per month with informative articles written by our team to keep you informed about all things Belize.
When planning your stay in Belize, we can help you book exciting excursions such as snorkeling at Shark Ray Alley, Cave Tubing on the mainland, or flying over the Blue Hole.

Our knowledgeable team will assist you with any tour you would like to take while visiting Belize, so that you can just relax and enjoy the adventure. CONTACT US TODAY.
ECI Development delivers affordable luxury residence and resort communities in Central America, providing our clients with various premier lifestyle options from the Caribbean to the Pacific. ECI delivers inspired residences for adventurous souls.
Coupled with over 20 years of inherent corporate social responsibility in the communities where we work, ECI Development is building a sustainable business that is going to be around for the next 100+ years.