Exciting News, Events, Activities, Social Projects and much more.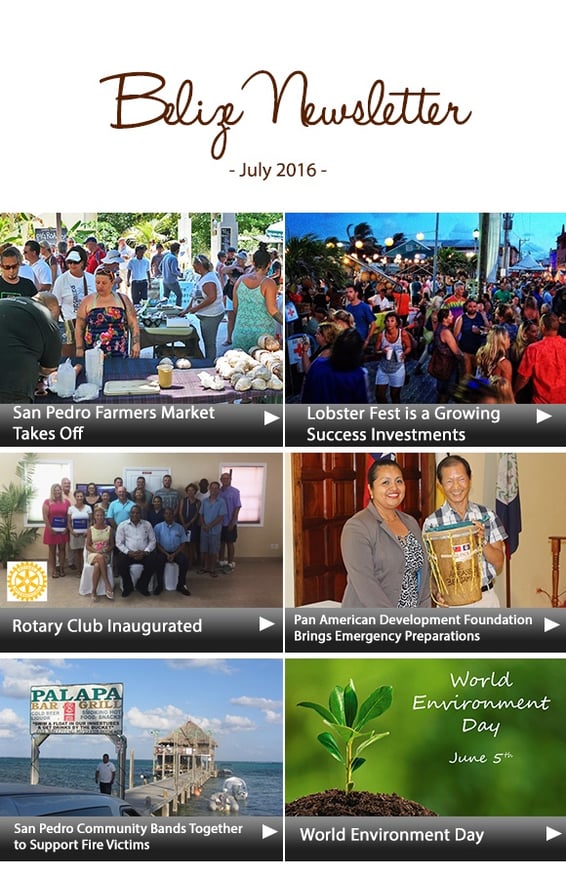 Dear Readers,
Many would refer to July as part of the "low season" in Belize because most tourists visit in the months between November and April. While that is true, the term fails to highlight the great things going on during these low season months. In fact, many people prefer this time of year, especially those folks from hot, humid locations like Houston, Atlanta and Washington DC. The constant ocean breezes are refreshing and cooling, something to enjoy while sipping a cold Belikin Beer or frozen rum drink.
This time of year seems also to bring the community of Ambergris Caye together in a way that sometimes might appear lost in the bustle of the "high season." When not working to keep up with the growing demand for tourism services and consumption, locals band together to celebrate their home community in other ways. This includes working to help those affected by a fire in town this month. Of course, tourists still visit the island throughout the year and, of course, the local community still thrives throughout that time. But it's this time of year that really allows for you to see it all in action.
The community also hosted and attended this year's Lobster Fest in great numbers. The event brings businesses and residents together with the truly lobster-crazy visitors, for a weeklong event that kicks off the summer lobster serving season in Belize. The capstone event is the Block Party held in the central park of San Pedro, with live music, libations, and lobster dishes competing for top prize.
When you visit during this season, you'll see a slightly different side of Ambergris Caye. Not only will you find great specials on condos at Grand Baymen, but elsewhere on the island for things like tours and even meals. So if you want to avoid the crowds on your getaway, or conduct some due diligence while you search for the best market to invest in a new condo, now is the perfect time to visit Ambergris Caye, Belize.
Until next time,
Michael Cobb
Chairman and CEO
www.grandbaymen.com