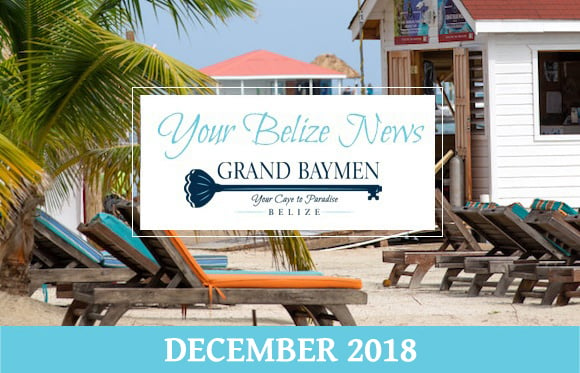 Top 7 Water Activities in Belize

Belize is a water-lovers paradise! Situated on the Mesoamerican Reef and the Caribbean Sea, there is no shortage of activities involving the calm blue sea, majestic underwater flora and fauna, and thrills. Keep reading to learn about 7 of our favorite activities to partake in when you need a little "vitamin sea."






Our Neighbor, the John Greif II Airport

Neighboring the Grand Baymen Gardens community sits one of Ambergris Caye's most important aspects of the island, the John Greif II airstrip. Keep reading for more on its history.



Why Belize is Best in December

It's one of the longest standing traditions in most of the western world to spend Christmas and New Year's with loved ones. But if you hang your winter hat in the colder parts of the U.S and Canada, you may be looking to spend the holidays in a warmer spot, and Belize may just be the ticket.



Snorkeling - Belizean Style

**Pick of the Month**
When traveling, flexibility is an essential tool to pack. And more often than not, if your destination is in Latin America, you might as well leave your watch at home.



8 Fitness Spots in San Pedro, Belize

Whether you are coming to Belize on a vacation or to live – you may at some point find yourself looking for a way to stay fit. Although Ambergris Caye is a small island, there is no shortage of ways to stay in shape. With everything from CrossFit to yoga to cardio dance, there is surely something to fit every need.






Island Fever to Cave Crazed

After spending two and a half months on the island of Ambergris Caye, Belize, I was getting a bit of island fever (a phenomenon that is hard to believe possible when you live in paradise).



Dear Friend,
You probably already have at least one foot in the door of the holiday hustle and bustle. But the winter months spent in Belize are a marvelous time to experience the Ambergris Caye island life. From budget deals for airfare, to bargain promos for accommodations, you may want to squeeze in a trip amongst all of your holiday cheer!

There's truly no shortage of water activities around Ambergris Caye. Belize is known to be one of the planet's hottest diving and snorkeling spots with it's Barrier Reef and the Great Blue Hole. But there are more water activities that await you, like cave tubing.

One of the many things we love about our Grand Baymen Gardens community is its close proximity to The John Greif II Airport. Have you ever wondered about the airport's history? See our latest article for more information about our wonderful "Neighbor."
Now with the holidays upon us, it may be your chance to not only spend some time with loved ones, but to also spend time at a much-loved vacation spot. There's no better place to experience Belize's own "12 Days of Christmas."
Life happens at a different pace in Belize and you will quickly learn to re-think the meaning of "on time." But once you are off and about on your chosen adventure, time seems to stop, especially when you are underwater with the marine life.
Along with its endless water activities and day trip excursions, staying fit in Belize is at the top of most folk's lists. From CrossFit to Yoga to cardio dance, there's no shortage of ways to stay healthy, happy, and busy.
Cave exploring is something everyone should experience at least once in his or her life, if possible. Our intern Sara Lenart embarks on a full day's adventure into an ancient Mayan cave and learns more about the incredible Mayan culture.
Happy Holidays! Until next time,