As part of tradition, many folks like to be home for the Holidays to spend time with family and friends, sit down to a nice dinner, exchange gifts and celebrate the Season together. But spending the Holidays elsewhere can also be a great way to engage in and learn more about different cultures and their Holiday traditions.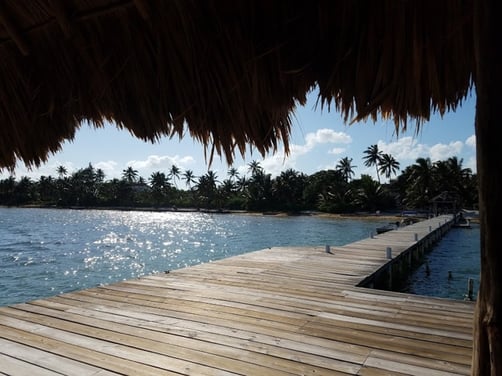 A Gorgeous Sunny Day in Ambergris Caye
If you're looking for a different kind of holiday adventure this year, why not plan a vacation to beautiful Belize this December and see how others celebrate this glorious season? Ambergris Caye is a particularly ideal spot since it is High Season on the island-- that means little to no rain, perfect weather with very low humidity, and of course no mosquitoes! Need more reasons?
Why Ambergris Caye for the Holidays?
Most of you know that Ambergris Caye is the largest island in Belize and the top destination for travelers in this western-Caribbean nation. But did you know there's an intriguing mix of culture and delicious cuisine, and that Belize is an English-speaking country?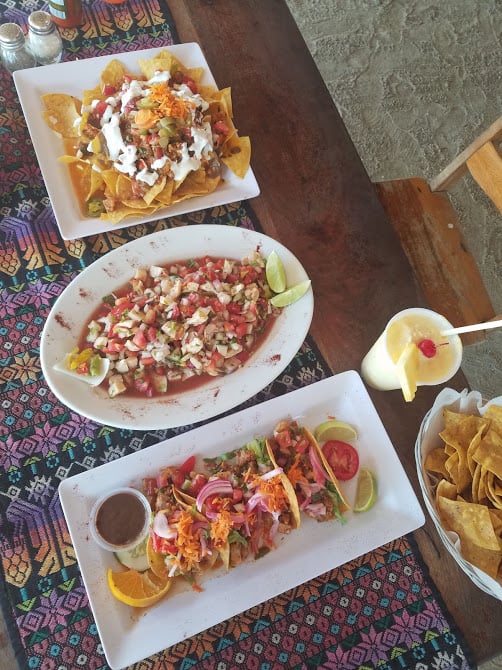 Local Cuisine at Secret Paradise Beach Bar
Flights are less expensive during this time of year as well, especially if your travel days are flexible. And accommodations at Grand Baymen Resort in San Pedro are very affordable with some of the lowest rates on Ambergris Caye! Grand Baymen also offers one of the largest swimming pools on the island, 2 tennis courts, an outdoor restaurant serving delicious tropical drinks and island cuisine, and a fully equipped gym – "The San Pedro Fitness Center".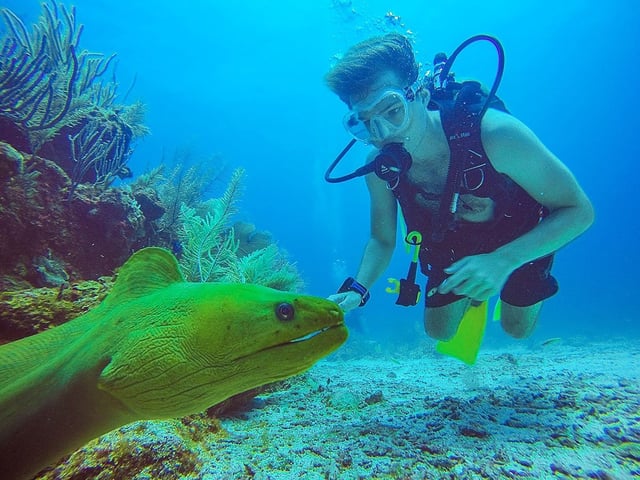 Scuva Diving in Belize - Photo Courtesy of Belize Pro Dive Center
However, nothing cures the holiday and winter blues like sun and sand, especially the white sandy beaches on Ambergris Caye. Snorkeling and scuba diving are also just what the doctor would order for those who are snowed in, since exploring the waters of Belize can be quite the adventure!
You can read more about the Top 7 Water Activities in Belize here. Moreover, there are so many other activities and adventures to plan while you're in Belize. While you're at it, you may also read our blog about the 5 Best Adventures in Belize.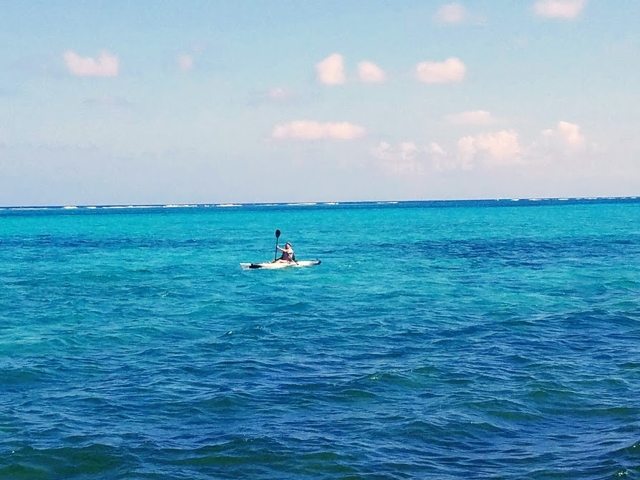 Kayaker Off the Coast of San Pedro - Photo by Jamie Cain
Now that you're convinced that spending the Holidays in Belize sounds like the perfect present for yourself, be sure to plan early and get ahead of the holiday hustle and bustle by booking your accommodations now at the Grand Baymen Resort.
We hope you found this article interesting. If you'd like to receive more great stories, sign up for our Newsletter, and you'll be emailed once per month with informative articles written by our team to keep you informed about all things Belize.
When planning your stay in Belize, we can help you book exciting excursions such as snorkeling at Shark Ray Alley, Cave Tubing on the mainland, or flying over the Blue Hole.

Our knowledgeable team will assist you with any tour you would like to take while visiting Belize, so that you can just relax and enjoy the adventure. CONTACT US TODAY.
ECI Development delivers affordable luxury residence and resort communities in Central America, providing our clients with various premier lifestyle options from the Caribbean to the Pacific. ECI delivers inspired residences for adventurous souls.
Coupled with over 20 years of inherent corporate social responsibility in the communities where we work, ECI Development is building a sustainable business that is going to be around for the next 100+ years.