If you have never heard of Belize or are not entirely sure what kind of a place this is, you are in for a treat. If you have, you may want to brush up on your knowledge, especially if you are considering moving to this beautiful tropical island. We have singled out the top reasons to live in Belize for your convenience.
1. Some services and items cost a lot less than in the US
Of course, this depends on your spending habits and lifestyle. Belize is far from cheap if you have a luxurious lifestyle, but it is very affordable in other ways. Since Belize is a tropical island in the Caribbean, this makes sense to some extent. Not surprisingly, most citizens of Belize work in the service sector, which also explains why English is the official language on this small island.
However, expats who have moved to Belize report that their lives here are more enjoyable and comfortable than what they had been in their native countries. Why, you may wonder? First of all, many people choose to spend their retirement in Belize because their retirement cheques and investment income allow them to earn and spend a whole lot more than what they would have back home.
Additionally, some services are not as costly as they typically are in the US. Crucial things such as medical care, general insurance, property taxes, hiring a caregiver or household assistance - these services cost only a fraction of the monthly fees in the States. When you add to this the fact that Belize has the fastest internet connection in the Caribbean, you probably will not miss your homeland all that much.
Besides this, what also improves the standard of living is the accessibility of affordable green produce, seafood, wine, etc. Belize is also a well-known producer of white rum due to its climate in which cane sugar prospers.
2. Belize is home to affordable housing
As you can see, there are many aspects that make for an enjoyable life in Belize. If you do not have any extravagant expectations, you will be delighted with Belizean property. This is true both for people who plan to move to Belize for good and those who intend to buy a prefabricated home to serve as their perfect little tropical getaway.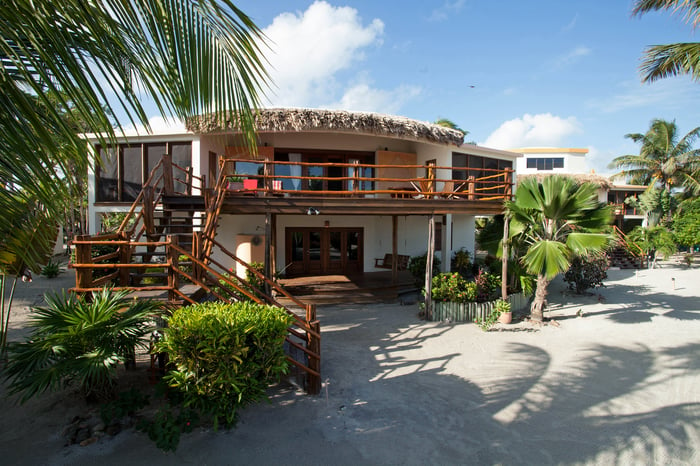 Houses like these on the affordable housing market is one of the major reasons to live in Belize.
An average-sized three-room home with new plumbing, polished hardwood parquet, and attractive Americana-inspired design will cost you from a fraction of what it would cost in the US or Canada. Furthermore, a capable moving company can offer help planning the whole process of relocating to Belize, from the logistics of moving your belongings to your new home to finding adequate storage space for the stuff you want to leave in the US.
3. The majority of citizens of Belize speak English fluently
If you are a native speaker of English, you will find Belize to be the perfect place to spend the rest of your life. Belize is a former British colony, which explains this unexpected bilingualism of its natives. Whereas English is the official language of Belize, Spanish is more prevalent because Latin Americans are the largest ethnic group on this island. But no need to worry. English is used as a primary language in official documents and announcements, education, street signs, and naturally, tourist amenities.
This is one of the main reasons Belize has become an attractive location to which English-speaking expats come in flocks, beating Mexico and Guatemala's cheaper living conditions.
4. The

US dollar is an accepted currency in Belize
Another fact that makes Belize particularly attractive to US citizens is that the US dollar is accepted in 99% of the cases (Note: notes are accepted, but coins are not).
5. It is easier to recover from an illness or injury in Belize
It is no coincidence many older people come to Belize to recover from a long illness or injury. The phenomenal natural surroundings are conducive to retaining strength and mental stamina, whereas affordable and accessible produce provides the necessary influx of nutrients and vitamins that contribute to the recovery. Add to that the therapeutic value of spending your holiday or retirement on a mesmerizing island in the Caribbean, and you are sure to spend your golden years the way you deserve.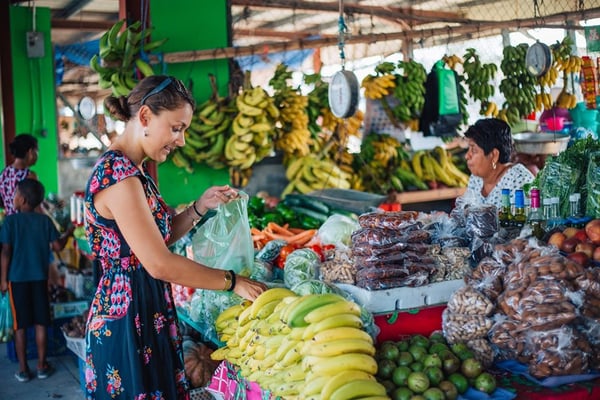 Image of a fresh food market in San Ignacio, Belize.
Fruits and vegetables are locally grown. Honorable mentions are grapefruits, papayas, and mangoes, but Belize is also home to fruit that is even more exotic than the omnipresent banana. Besides fruit, there are grains, nuts, coconut water, but also grass-fed beef and free-range chicken and eggs for the meat-loving residents.
6. Belize is an exciting place in terms of activities, events,

and

festival

s
Of course, Belize is more than just a healthy, sunny oasis. Given its geographical position, which contributes to the island's climatic diversity, it is a vibrant place where people enjoy life to the fullest.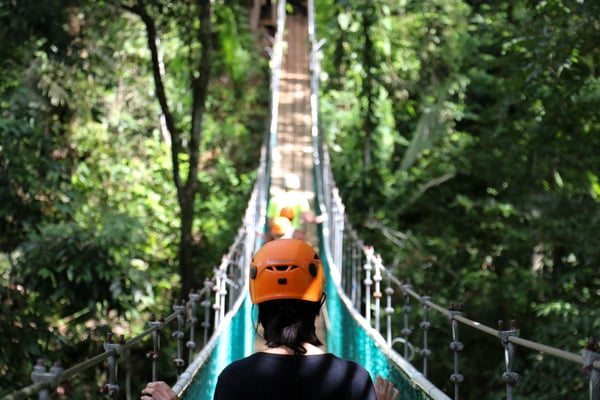 Woman going on an adventure tour in the Belize mountainous region.
Essentially, getting bored is close to impossible, especially when you consider the fact that diverse cultures live in peace, all in the midst of exceptional landscapes and ideally warm climates. One of the main reasons to live in Belize is the experience of being part of the mix of natural riches in the form of vegetation, the historical imprint that the Mayan civilization left on this island, and the contemporary melting pot of cultures.
------------------
Photos used:
https://unsplash.com/photos/HRlCTncry2Y
https://static01.nyt.com/images/2015/01/07/realestate/20150107-IHH-slide-JIHR/20150107-IHH-slide-JIHR-superJumbo.jpg
https://unsplash.com/photos/EHKRwpuQ0ts
https://i2.wp.com/belizeculturetravel.com/wp-content/uploads/2017/01/san-ignacio-1.jpg
https://unsplash.com/photos/GwWRCTkRrIk