Festivals are a fun and interesting way to learn about a new culture. Luckily for travelers, Belize has a number of different festivals throughout the year, and many repeat vacationers plan their visits around some of these unique cultural events.
San Pedro, Caye Caulker, & Placencia Lobster Fest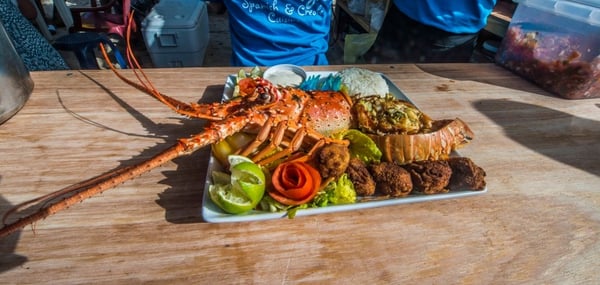 An Amazing Dish in Lobster Fest
Every year, visitors and locals alike count down the days until lobster season is reopened and celebrations are held throughout the country⁠—and particularly in San Pedro, Caye Caulker, and Placencia⁠—to celebrate that these delicious crustaceans return to menus countrywide. Lobster season officially closes on February 14th and reopens on June 15th.
In San Pedro, a week-long celebration is held with various restaurants and shops hosting official Lobster Fest activities. The week ends with a bang at the widely attended block party on Saturday night in Central Park. Local restaurants and vendors set up booths and typically sell more bite-sized portions of lobster treats (think tacos, mac & cheese, fried lobster nuggets, and more!), which allows your belly room for treats from more than one restaurant. While you're there, be sure to stay for the live music and dancing that goes on throughout the evening and be sure to stick around to find out the winning lobster dish!
Hopkins Mango Festival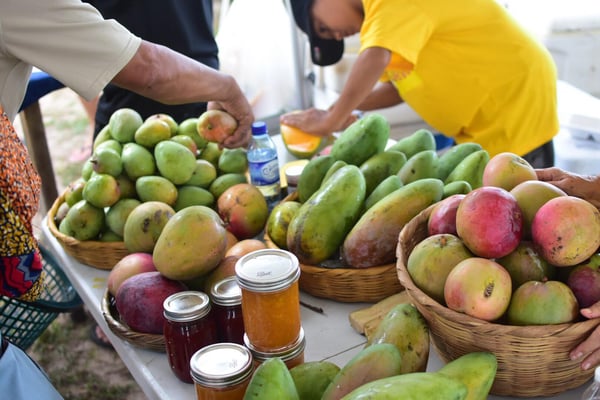 Fresh Mangoes to Celebrate Hopkins' Heritage
Held the first weekend in June, the Hopkins Mango Festival is a celebration of everything mango, as well as a celebration of Hopkins' rich Garifuna culture and history. Complete with a number of tasty mango creations, fishing competitions, musical performances from local Garifuna artists, raffles and giveaways, yoga, kayak races, and child-friendly activities, this is truly an event that the whole family can enjoy.
September Independence Celebrations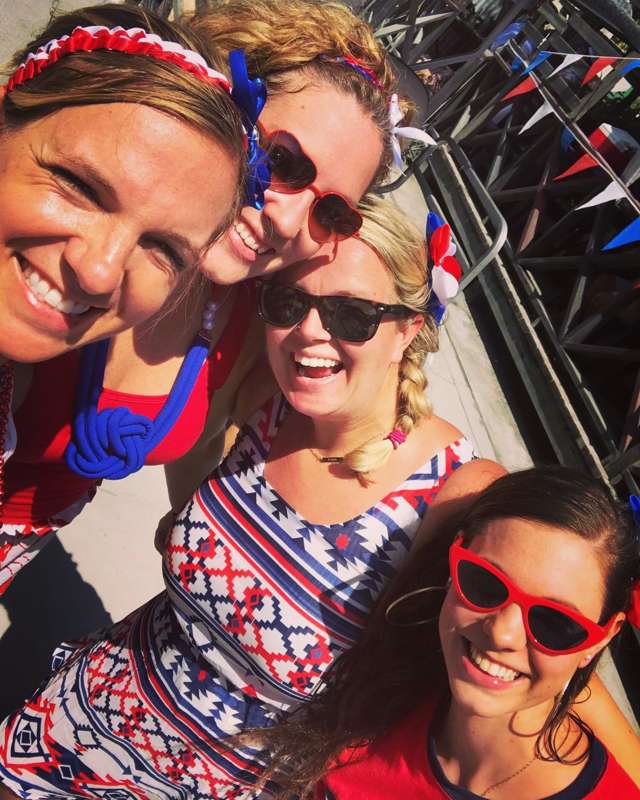 We Had Lots of Fun Celebrating Belize's Independence
September is a month of celebrations for the country of Belize. Throughout the whole month, you'll notice an increased number of Belizean flags proudly displayed in banks, restaurants, government buildings, and telephone poles. The September celebrations start off with St. George's Caye Day on September 10th, commemorating the Battle of St. George's Caye, when the local Baymen, freed slaves, and British soldiers prevented Spanish ships from invading and seizing the then British Colony.
Celebrations continue on the 21st, to celebrate Belize's Independence from Great Britain. Large Independence Day parades are held throughout the country, filled with red, white, and blue clad dancers, school groups, floats, and musical groups making their way through the cheering crowds.
Toledo Cacao Festival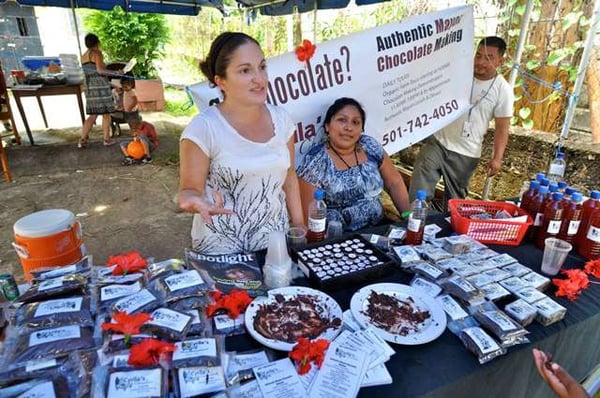 Different Chocolate Products on Display - Courtesy of Breaking Belize News
The Toledo Cacao Festival, which takes place the third week of May in Punta Gorda, was started in 2007 by a group of local cacao growers and chocolate manufacturers as a means of showcasing their products. The Cacao Festival features, of course, lots of desserts, as well as other chocolate inspired treats such as chocolate beer and beauty products.
In addition to the all the wonderful chocolate creations, visitors can take tours of nearby cacao farms, taste local wine, and enjoy the best of both Mayan and Garifuna dancing, music, and culture. However, if you can't make it to Punta Gorda, check out how you can learn more about the process of making chocolates at the Belize Chocolate shop, A Chocolate Lovers Heaven.
Costa Maya Festival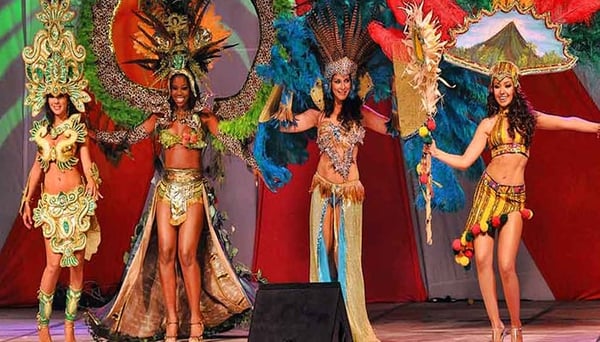 Beautiful Contestants at the Costa Maya Pageant
The Costa Maya Festival is celebration of the rich Mayan history and culture found throughout Central America. Young women from Belize, Nicaragua, Costa Rica, Honduras, Guatemala, Panama, El Salvador, and Mexico come to San Pedro, Belize to compete in the Miss Costa Maya pageant, where they proudly display costumes, music, and dances specific to their country, in hopes of becoming the next Reina de la Costa Maya (Queen of Costa Maya). In addition to the pageant events, the Festival includes musical performers from throughout the region, comedy acts, and fun for the whole family. The Costa Maya Festival is held every year in late July/early August. Learn more about the Costa Maya pageant here.
Carnival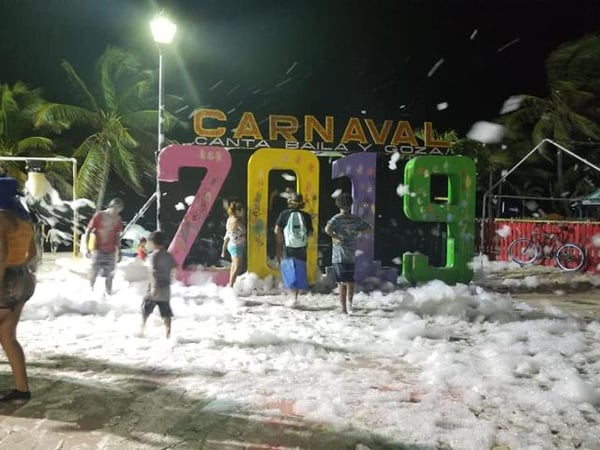 A Fun Day in the San Pedro Carnival
Celebrated throughout Latin America, Carnival is a San Pedro favorite. In the week leading up to Lent, different events including parades, comparsas (choreographed group dances), paint throwing, and block parties take place every evening. The festivities start on Sunday afternoon—this is typically the most low key day and is geared towards kids. On the other hand, Monday afternoon/evening is for teenagers, while Tuesday is for anyone who doesn't mind leaving covered in multicolored paint!
There is always live music and dancing, so you are bound to have fun no matter what night you find yourself out celebrating. This Carnival is truly unlike any other Carnival celebration anywhere and is something not to be missed!

If you're interested in coming down to experience one or more of these unique festivals, our Grand Baymen property is conveniently located near the airport for trips to Hopkins or Punta Gorda, and within walking distance of the center of San Pedro town where the island's festivities take place.
We hope you found this article interesting. If you'd like to receive more great stories, sign up for our Newsletter, and you'll be emailed once per month with informative articles written by our team to keep you informed about all things Belize.
When planning your stay in Belize, we can help you book exciting excursions such as snorkeling at Shark Ray Alley, Cave Tubing on the mainland, or flying over the Blue Hole.

Our knowledgeable team will assist you with any tour you would like to take while visiting Belize, so that you can just relax and enjoy the adventure. CONTACT US TODAY.
ECI Development delivers affordable luxury residence and resort communities in Central America, providing our clients with various premier lifestyle options from the Caribbean to the Pacific. ECI delivers inspired residences for adventurous souls.
Coupled with over 20 years of inherent corporate social responsibility in the communities where we work, ECI Development is building a sustainable business that is going to be around for the next 100+ years.