It's almost a given that if you tell anyone you're going on vacation, they'll say "Bring me back something from there!" Luckily for anyone traveling to Belize, there are options aplenty; the only question is how much room you have in your suitcase.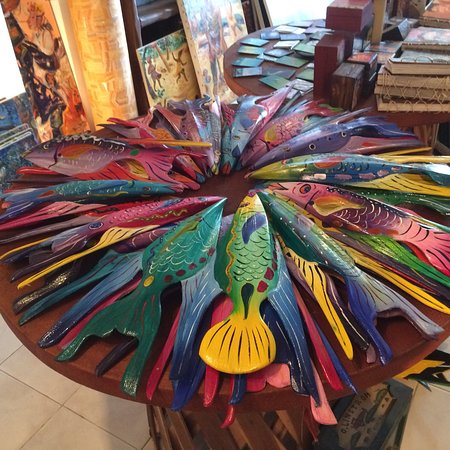 Belize's wood carvings on display
Wood Carvings
Wherever you travel in Belize, you are bound to come across someone selling wood carvings made of beautiful Belizean woods! With so many options to choose from, it might seem overwhelming to decide what to bring home. You'll find a variety of items nearly everywhere, including bowls of various shapes and sizes, cutting boards, native animals, or replicas of ancient Mayan carvings. Don't be afraid to ask if you're looking for something specific—they just might be able to carve it especially for you.
Moreover, if you find yourself relocating to Belize, you should seek out the country's best woodworkers. They can create beautiful pieces of custom furniture for you at a fraction of what you would spend in a department store! On Ambergris Caye, make sure to stop into Graniel's Dreamland. Mr. Graniel is one of the best woodworkers in the country and his store is filled with beautiful items in several sizes. From business card holders to king size bed frames, there's something to fit every budget and suitcase.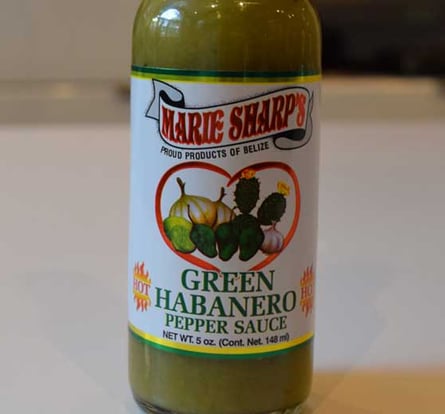 A bottle of delicious Marie Sharp's Green Habanero Sauce
Hot Sauce, Rum, and Coffee
As you eat and drink your way through Belize, you'll most definitely find a bottle of Marie Sharp's hot sauce on your table, a shot of Belizean rum in your cocktail, or a piping-hot cup of Belizean coffee during breakfast. Once you've had a taste of all of these things, you'll be begging for more. In fact, Marie Sharp's habanero pepper sauce is quite possibly the most popular item that vacationers bring home with them. This flavorful sauce, available in 13 flavors ranging from "Sweet Pepper" to "Comatose Level Heat," tastes great when added to everything from rice and beans to a Bloody Mary.
Rum is, without a doubt, the most popular liquor in all of Belize, largely due to the country's history of growing sugar cane. Available in both light and dark shades, rum drinks are available everywhere you go and are notoriously the least expensive item on any beverage menu. Popular rum brands include One Barrel Traveler's Rum, Tiburon, and Caribbean Rum.
Also, coffee lovers will be able to enjoy a hot cup of either Gallon Jug coffee or Caye Coffee. Gallon Jug coffee beans are grown deep in the Belizean rainforests, making this a truly Belizean treat. On the other hand, Caye Coffee Roasting Company is located on Ambergris Caye and roasts only the finest coffee beans from Guatemala. Caye Coffee is available in light (Front Street), medium (Middle Street), and dark (Back Street) roast beans. Both Gallon Jug and Caye Coffee beans can be purchased throughout the country in grocery stores and gift shops.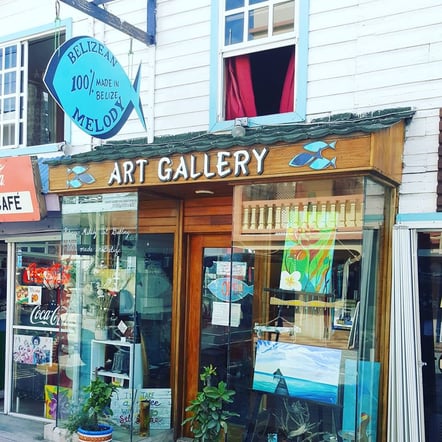 Taken from Belizean Melody Art Gallery's Facebook
Belize Themed Artwork
Artwork is a great way to remember your time in Belize. Whether you want a painting of palms swaying in the sunset, boats on the water, or one of Belize's many majestic animals, there is no shortage of artwork to choose from. There are dozens of local artists throughout the country, each with their own unique style and vision of Belize. Once you leave, the bright tropical colors of your painting will transport you back to your Belizean vacation and brighten up any room.
A few of our favorite galleries on the island are the Belizean Melody Art Gallery, located on Front Street; The Gallery, located on Laguna Drive (also home to Georgie's Crust & Crumbs Pie Shop); and Belizean Arts, located on Front Street, where you can purchase artwork from a number of different artists. There are a multitude of other galleries as well, so don't be afraid to keep searching if you don't find what you're looking for at one. Moreover, many of the larger galleries offer shipping services, so don't worry if you fall in love with something that won't fit in your suitcase.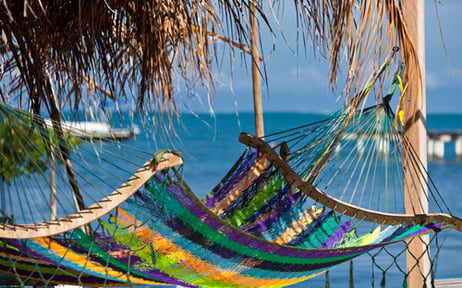 Rest on a hammock straight out of Ambergris Caye
Hammocks
A hammock is a great souvenir to remind you of your time in this tropical paradise as you sway back and forth. However, don't forget to hang your hammock in a location with a great view. If that's not available, simply close your eyes and picture yourself swaying in a warm Caribbean breeze, while brilliant blue water shimmers just off the shore. Hammocks can be found in most local craft markets or in high-end gift shops.

If you're planning your next vacation already, take a look at the options available at Grand Baymen. Belize and all of its beauty waits for you.


We hope you found this article interesting. If you'd like to receive more great stories, sign up for our Newsletter, and you'll be emailed once per month with informative articles written by our team to keep you informed about all things Belize.

When planning your stay in Belize, we can help you book exciting excursions such as snorkeling at Shark Ray Alley, Cave Tubing on the mainland, or flying over the Blue Hole.


Our knowledgeable team will assist you with any tour you would like to take while visiting Belize, so that you can just relax and enjoy the adventure. CONTACT US TODAY.

ECI Development delivers affordable luxury residence and resort communities in Central America, providing our clients with various premier lifestyle options from the Caribbean to the Pacific. ECI delivers inspired residences for adventurous souls.

Coupled with over 20 years of inherent corporate social responsibility in the communities where we work, ECI Development is building a sustainable business that is going to be around for the next 100+ years.