Many people move to Belize thinking that they will spend every day lounging on the beach, catching up on the stack of books that has piled up over the last few years, and soaking up the sun. However, after a few days of lounging and a couple of painful sunburns, many folks find themselves bored and needing something more to fill their days. Read below for our top 3 suggestions for things expats can do on Ambergris Caye!
Volunteer
Volunteering your time is a great way to get to know other like-minded folks in the community, as well as give back to your (new) home. Here are a few of our favorite island organizations helping to make San Pedro a better community for all:

SAGA Humane Society welcomes animal loving volunteers to come walk dogs, socialize with kitties, or help feed and clean cages. Who knows, you might just find yourself a new furry friend along the way.
San Pedro Food Bank:

The San Pedro Food Bank, located in the Hope Haven building across from Maya Air, serves hot meals to 150 women and children twice a week. Volunteers are encouraged to come help prepare or serve meals, sponsor them, or read books to children.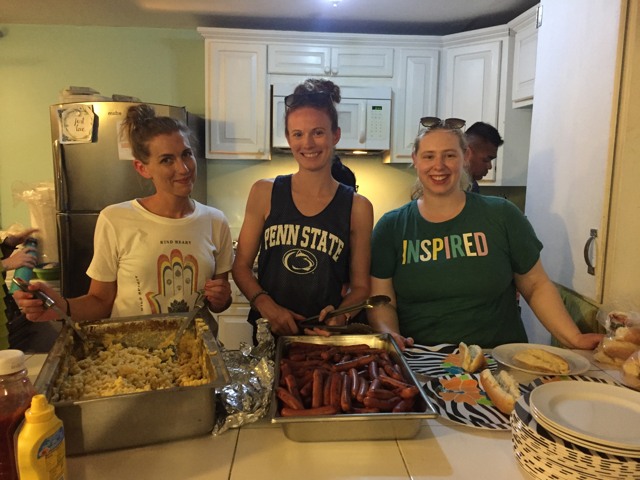 Volunteers at the San Pedro Food Bank
San Pedro Clean & Green:

For those looking to help keep Ambergris Caye clean, check out the San Pedro "Clean & Green" group, which hosts regular and impromptu beach and community cleanups throughout the week in different parts of the island.
Rotary Club:

The Rotary Club of Ambergris Caye, Belize and the Rotaract Club of Ambergris Caye, Belize are great way to get involved with a number of different community projects both here on the island and globally.
Start a Business
One of the great things about Ambergris Caye is that it's still very much a growing community, so there are niche markets that have yet to be filled. These gaps in the market are a great opportunity for expats to start a new business.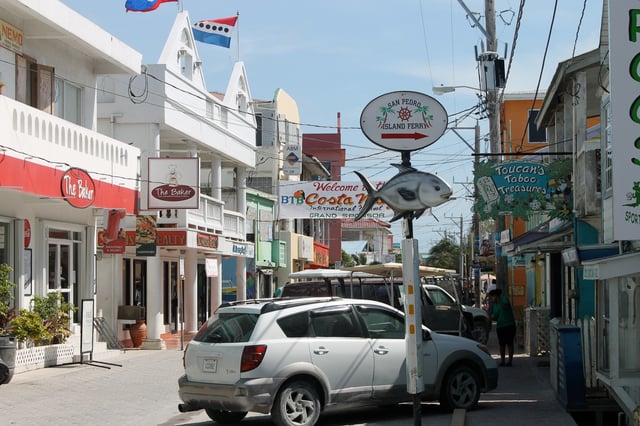 Businesses in Barrier Reef Drive, San Pedro
Starting a business in Belize is relatively easy, but it's important to be patient during the process, and to realize that you'll need to put in time every day to ensure that your business is successful. In order to start a business in Belize, you'll need the following:
1) Determine what your product or service will be and how will your product differ from other similar business
2) Find a physical location for your business
3) Register your company
4) Obtain a trade license
5) Apply for a work permit and other business applicable permits (restaurant, liquor, etc).
6) Register with the Social Security, General Sales Tax, and Business Tax offices
7) Get the word out about your new business and watch it grow!
Pick up a New Hobby
One of the great things about moving to a community with people from all walks of life, is that you'll likely meet someone who has an interesting hobby that you might like to pick up.
Two of the most common hobbies on Ambergris Caye are diving and snorkeling due to the island's close proximity to the Mesoamerican Reef, the largest living reef in the Western Hemisphere. Whether you choose to snorkel or dive, you'll get to experience the unique underwater flora and fauna that Belize has to offer, which includes turtles, manatees, fish, coral, and sharks!
There are countless dive shops on the island where you can take a "Discovery Dive" to get a feel for diving or head out on a snorkel tour. As a newly certified diver myself—I can say it is totally worth it—don't be afraid, just dive on in!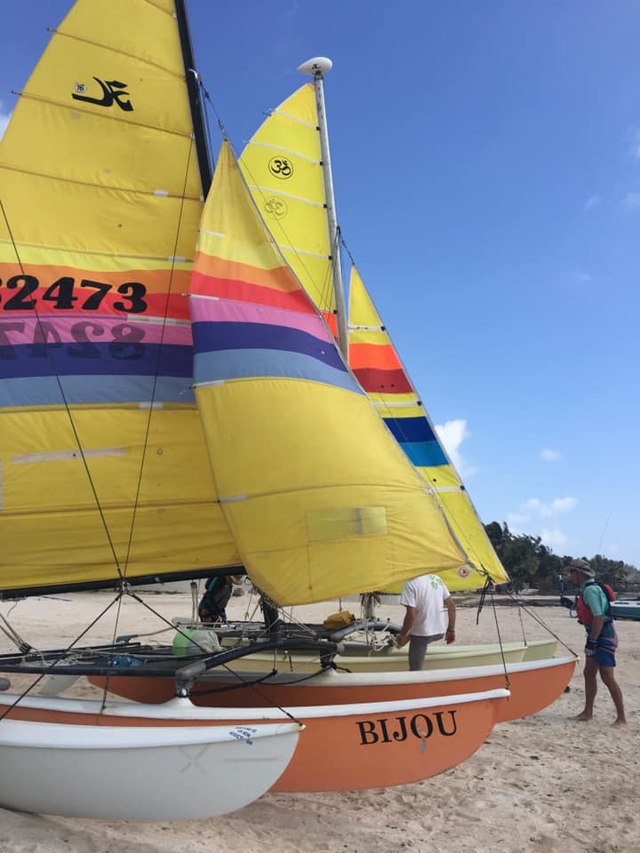 Hobie Cats at the Belize Saling Center
If being under the water isn't your thing, perhaps you might enjoy an on the water activity such as sailing, kayaking, or stand up paddle boarding. Located about a mile south of town is the Belize Sailing Center, where you can learn to sail a Hobie Cat on the beautiful Caribbean seas, or perhaps rent a kayak or paddle board from a nearby dive shop. Spend the day paddling around the reef or finding hidden beaches along the island!
Maybe you're more interested in finally tapping into your creative side—if so, you found the right place. For aspiring painters, be sure to check out Belizean Melody's "Paint & Splash" classes offered at Crazy Canucks on Thursday afternoons from 2pm to 4pm, or gather a group of friends for a paint night at Melody's studio on Front Street, and whip up a tropical themed masterpiece for your walls.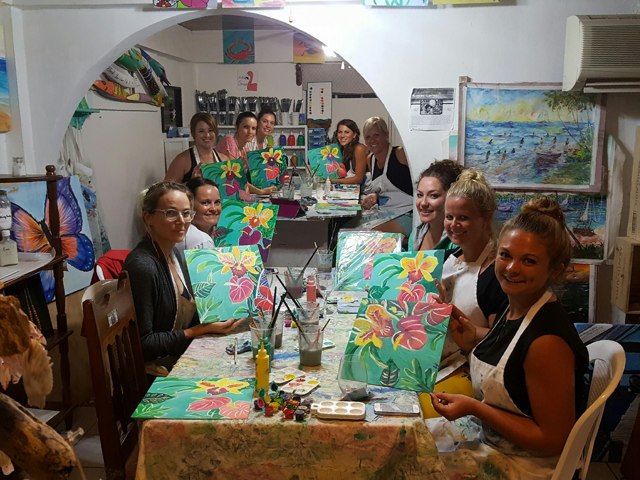 Paint Night at Melody's Art Studio
Musicians—aspiring or seasoned alike—there's a place for you, too! For budding musicians, check out the "Guitar Jam Circle" at Crazy Canucks on Mondays at 12pm. All skill levels are welcome and you just might find a new crew to jam with on a regular basis or wind up with a gig at a nearby beach bar.
The island life doesn't have to be an isolated life, not at all. Ambergris Caye is one of the best proofs of that. Just walk around, talk to people, and be spontaneous—you'll definitely find people to share your passions with!
We hope you found this article interesting. If you'd like to receive more great stories, sign up for our Newsletter, and you'll be emailed once per month with informative articles written by our team to keep you informed about all things Belize.
When planning your stay in Belize, we can help you book exciting excursions such as snorkeling at Shark Ray Alley, Cave Tubing on the mainland, or flying over the Blue Hole.

Our knowledgeable team will assist you with any tour you would like to take while visiting Belize, so that you can just relax and enjoy the adventure. CONTACT US TODAY.
ECI Development delivers affordable luxury residence and resort communities in Central America, providing our clients with various premier lifestyle options from the Caribbean to the Pacific. ECI delivers inspired residences for adventurous souls.
Coupled with over 20 years of inherent corporate social responsibility in the communities where we work, ECI Development is building a sustainable business that is going to be around for the next 100+ years.