Have you been thinking about moving to Belize either for retirement or a change of lifestyle?
If you are like so many others who are considering "getting away," but on a more permanent basis, you will find the following Q & A from our friends at Live and Invest Overseas extremely helpful in your quest.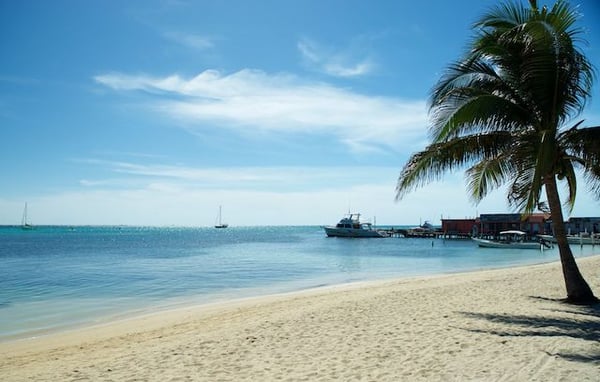 Beach at Central Park, San Pedro
Q: Can I bring my pet with me?
A: Yes. Domesticated pets are allowed to enter Belize when the owner presents a veterinary certificate of health, including a valid rabies vaccination; a valid import permit from BAHA (Belize Agricultural Health Authority) which is a US $25 application fee and a US$12.50 fee due upon arrival. The quarantine officer, when entering the country, will inspect your pet.
Q: Should I ship my car?
A: Ordinarily, we recommend against shipping a vehicle when you move overseas. However, when moving to Belize, it can make sense to bring your car. The inventory of vehicles available for sale in Belize is limited, so what is available is expensive.
On the other hand, Belize imposes high import duties on vehicles, which can argue against bringing a car with you. Remember, though, residents under the QRP (Qualified Retired Persons) program are exempt from these taxes on one personal vehicle every 3 years (vehicle model but be within the last 5 years).
Q: How do I get a driver's license?
A: You can drive in Belize on your foreign license for three months. In order to apply for a Belizean license, you need to either be a citizen of Belize, a permanent resident, have QRP status. On it will be a picture of a short old man. This is Tata Duende, who lives in the woods and taunts people passing through, trying to lead them astray. That's the local legend. Why is Tata Duende on every Belize driver's license? The Belizean sense of humor, I suppose.
Q: Can I own a gun?
A: Yes, if you are a permanent resident or have acquired citizenship. But understand that gun ownership in this country is a privilege, not a right. A thorough background check is conducted and the waiting period can be as long as a year. The maximum caliber allowed in Belize is 9mm. Gun laws are strictly enforced, and draconian measures apply for anyone found with an unlicensed gun or ammunition.
Q: Is Belize disabled-friendly?
A: The short answer is no, but the real answer depends on how seriously your mobility is limited.
If you require a wheelchair to get around, your only realistic option would be to live in San Pedro, Ambergris Caye. Here it is possible to navigate the roads and some sidewalks (sometimes with some effort) and have a full life. Elsewhere, you would find day-to-day life very challenging.
Q: Is the LGBT population welcome?
A: In 2016, the law was changed to make homosexuality legal in Belize. This was groundbreaking legislation for the region. San Pedro, Ambergris Caye, would be the most accepting location for LGBT residents.
Q: Living in Belize, would I lose my original citizenship?
A: No, your residency status abroad has no effect on your citizenship.
Residency and citizenship are two different things. If you're a U.S. citizen, the only way to lose your U.S. citizenship is to renounce it formally. This is a serious step that you can't take accidentally.
Q: Do I need to let my home government know that I'm leaving the country?
A: No. If you're a U.S. citizen, you can register your presence in your new country with the local U.S. Embassy if you like, but you are not obligated to do so. In our experience, most overseas residents don't register.
Q: Do I need any vaccinations?
A: None are required for entry into the country. I've been traveling to Belize for 30 years and have never worried about being vaccinated for the trip.
That said, the Centers for Disease Control recommend some. If you're an abundantly cautious person, you could take a look there for the details.
Q: Can I drink the water?
A: In most of the country, yes. If you're concerned, stick with bottled water which is available everywhere. That being said, it is not uncommon for both visitors and locals alike to drink bottled and purified water.
Q: Can I still receive my U.S. Social Security payments?
A: Yes. If you're eligible for U.S. Social Security, you can even have your monthly check direct-deposited into your Belize bank account.
Q: Will Medicare cover me?
A: No. No exceptions. As an American abroad, you need to make another plan for covering your medical expenses overseas. I recommend, though, keeping your Medicare as a major medical backup. Should you ever need or want to, then, you could return to the United States for medical care that would be covered by Medicare.
Q: Can I vote in local elections?
A: Anyone residing in a village (foreign resident or local citizen) can vote in village elections. However, only Belize citizens and citizens of Commonwealth countries can vote in municipal and national elections.
Remember, residency is not the same as citizenship.
Q: What is the relationship between Belize and Guatemala? Is the border safe?
A: Yes, the Belize-Guatemala border is safe, friendly even. Children living near the border in Guatemala cross back and forth daily to attend Belize schools.
Q: What's the first step for making a move to Belize?
A: Buy a plane ticket.
Belize is a quirky place; its inhabitants, both the locals and the expats who've chosen to make Belize their adopted home, are an eclectic mix. This is a beautiful, welcoming, sun-soaked country where everyone speaks English, the cost of living can be a global bargain, and the day-to-day experience of life is simple and sweet.
Belize is both the best of the Caribbean at a discounted price and, inland, the best place on Earth, I'd argue, to escape the stresses, concerns, and woes of our current age.
However, Belize is not for everyone. The only way to know if it could be the right place for you to launch your adventures overseas is to go see it for yourself. Stay long enough to begin to get a feel for what it would be like to be a resident of Belize, rather than a tourist. Rent a house or condo, rather than staying in a hotel. Shop at the local markets. Prepare your own meals. Use local transportation. Make the effort to make friends, both Belizean and expats.
Then, when your visit is over, take stock, paying attention to your instincts and being honest with yourself. Is this a place you'd like to call home? If not, worst case, you've accumulated great memories of a grand Belize adventure holiday.
If you'd like to book accommodations at Grand Baymen, contact us
here
.
We hope you found this article interesting. If you'd like to receive more great stories, sign up for our Newsletter, and you'll be emailed once per month with informative articles written by our team to keep you informed about all things Belize.
When planning your stay in Belize, we can help you book exciting excursions such as snorkeling at Shark Ray Alley, Cave Tubing on the mainland, or flying over the Blue Hole.

Our knowledgeable team will assist you with any tour you would like to take while visiting Belize, so that you can just relax and enjoy the adventure. CONTACT US TODAY.
ECI Development delivers affordable luxury residence and resort communities in Central America, providing our clients with various premier lifestyle options from the Caribbean to the Pacific. ECI delivers inspired residences for adventurous souls.
Coupled with over 20 years of inherent corporate social responsibility in the communities where we work, ECI Development is building a sustainable business that is going to be around for the next 100+ years.