The Keel-Billed Toucan is a brilliant-colored Latin American member of the Toucan family. It is the national bird of Belize and is known locally as the "Bill Bird". It has a large, colorful and surprisingly masterful bill, and its plumage is mainly black with a bright kaleidoscope of colored feathers. It stands approximately 20 inches tall and its bill is approximately 8 inches in length, which is almost a third of the length of the Toucan's body. It weighs anywhere from 13 – 18 oz.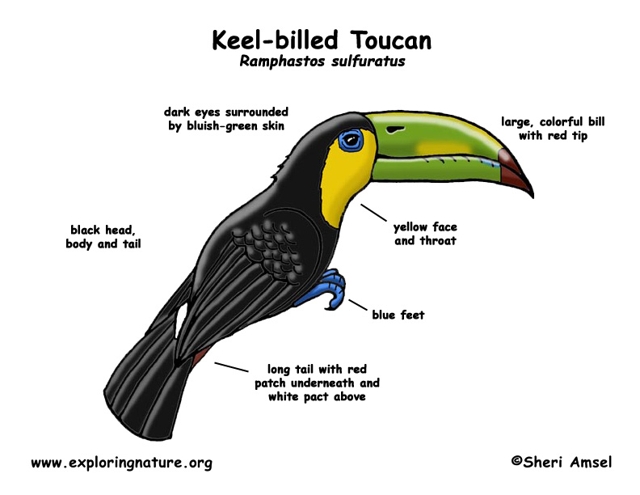 How to Identify a Keel-Billed Toucan - Photo Courtesy of exploringnature.org
Feeding and Diet
The Keel-Billed Toucan's diet mainly consists of a large variety of fruits and berries, but they will also eat lizards, snakes, small eggs, and insects. The Toucan uses its large bill to sort of "dissect" the fruit, which makes it easier to swallow. Once the fruit is more manageable, it flings its head back and swallows it whole. Since the Toucan's bill is lightweight, hollow, and dexterous, it can consume a bigger array of fruit.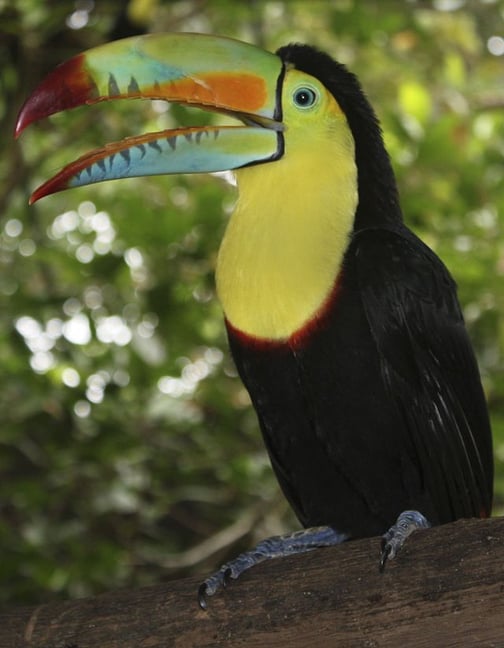 Spotted Outside! - Photo Courtesy of Brian Gratwicke
Habitat and Sleeping Arrangements
These striking beauties live in Central and South America. They roost in small cavities of trees in the canopy layer of the rainforests and jungles. They are very social birds and live in pairs or in small flocks of 6 or more. When it's time to sleep, the group will sleep with their beaks and tails tucked underneath their bodies, to create more room for each other and conserve space.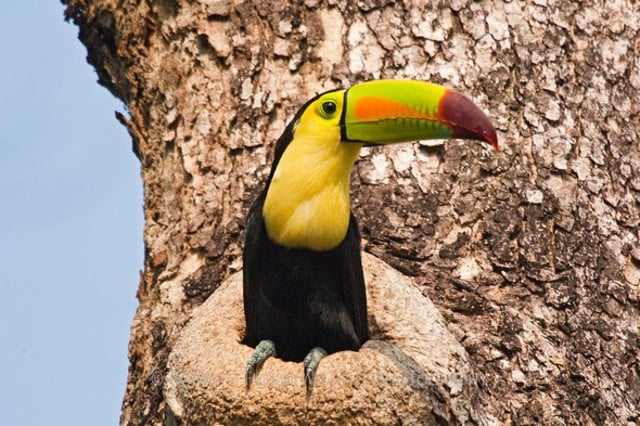 Roosting in a Tree - Photo Courtesy of weebly.com
Reproduction
Keel-Billed Toucans are monogamous birds and mate from March through June. Once a year, the female will lay up to 4 white eggs, 1 egg per day. Both the male and female take part in the incubation of the small clutch of eggs, which lasts 16 to 20 days. The newborn Toucans are naked and blind at birth and aren't born with large bills. Their parents take turns caring for and feeding their offspring, and the chicks stay in their nest for approximately eight to nine weeks. Once their bills fully develop, they are ready to fledge from the nest.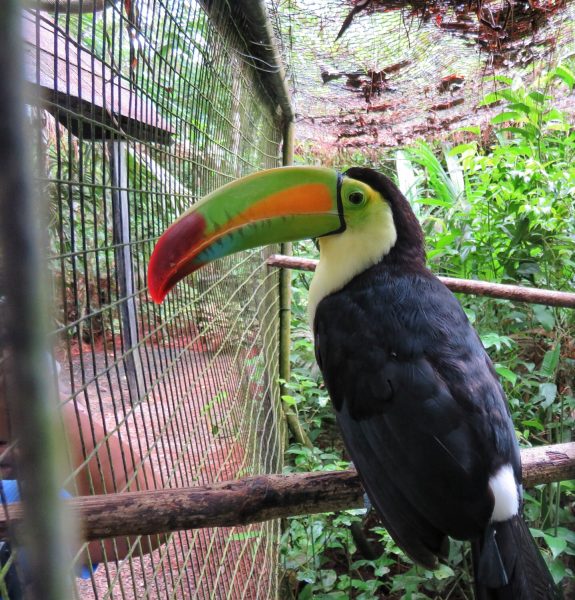 A Beautiful Keel-Billed Toucan in the Belize City Zoo
Toucan Watching in Belize
If you're planning to do some bird watching while in Belize, be sure to bring your binoculars because Belize is a prime destination for Toucan watching. Toucans are fun to observe, as they will often "duel" with each other using their bills. They also will play a game of catch by throwing fruit into each other's mouths--one throws a piece of fruit in the air and the other catches it! These beautiful birds only fly short distances since they aren't the best flyers, and typically hop from tree to tree. They call to each other with a frog-like croaking sound that can be heard from up to a half mile away. Click here to hear them call.
We hope you found this article interesting. If you'd like to receive more great stories, sign up for our Newsletter, and you'll be emailed once per month with informative articles written by our team to keep you informed about all things Belize.
When planning your stay in Belize, we can help you book exciting excursions such as snorkeling at Shark Ray Alley, Cave Tubing on the mainland, or flying over the Blue Hole.

Our knowledgeable team will assist you with any tour you would like to take while visiting Belize, so that you can just relax and enjoy the adventure. CONTACT US TODAY.
ECI Development delivers affordable luxury residence and resort communities in Central America, providing our clients with various premier lifestyle options from the Caribbean to the Pacific. ECI delivers inspired residences for adventurous souls.
Coupled with over 20 years of inherent corporate social responsibility in the communities where we work, ECI Development is building a sustainable business that is going to be around for the next 100+ years.