Workdays pass quickly while at the Caye Financial Center. I find myself getting in early and staying late; new information and ideas buzz in my mind before sleep and as soon as I wake.
After submitting my final edits on a document toward the end of my third workday, I feel a burst of energy – that dopamine-induced walk home with a bounce in your step kind.
Walking home to Grand Baymen this Wednesday, the added vigor translates into a yearning to understand the unknown world surrounding me here in San Pedro. I decide to go out on a run to explore, experience, and better understand the vibrant community around me.
It's 6:00 in the afternoon and, once again, the sky is blanketed in a warm purple-blue hue. I jog south, away from town. Running often means focusing on a destination, or the ability to lose focus altogether.
Today, however, I feel present in my journey and focus on each small detail - completely caught up in the colorful world on either side of me. Bicycles and golf carts pass by as people of every age shuffle around the community- picking up dinner, meeting with friends, heading home from work.
A child sits on her father's shoulders as they walk along. Fresh fruit and vegetables line storefronts, their colors adding to the bright diversity of the street. San Pedro is alive, bustling with afternoon activity.
After jogging along for half an hour, I make my way to the beach as the sun ducks lower in the sky. The sea grass and white sand look straight out of a painting; on the beach, a couple of golf carts are stopped as friends converse in the surreal scenery.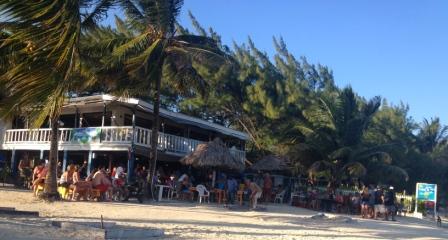 Sometimes when I'm in a city, I feel the crowded loneliness of being surrounded by people but still feeling isolated; here, I feel the opposite - I stand alone, but feel connected to the world and people around me.
The next day, I take my lunch break on the beach with a coworker who just arrived to the office. It's the first time I've seen Ambergris Caye in the bright, midday sun. We order mango chicken, sautéed veggies and a couple of smoothies down at a beachside restaurant.
That night, after watching an episode of Modern Family and The Amazing Race in my condo, I head out to Trivia Night at a local bar, Crazy Canucks Beach Bar. It's around 10:00, and by the time I arrive the trivia portion of the night is already complete - now it's more of a social hour with the sounds of island tunes and an occasional karaoke performance in the background.
Usually more of the observer type, I was surprised to find myself in conversation after conversation with the bar guests around me. The first two women I spoke with were out celebrating the birthday of a family member.
Looking around the room, I noted that there were birthday decorations and little banners posted along a few of the walls. The mother of the birthday girl, with whom I was speaking, had been living on the island fulltime with her husband since they both retired.
We began to speak about her experience when, suddenly, the music changed and we all clapped our hands and watched as the mother's sister and her husband began expertly dancing along as their dog tried to get in on the fun.
Within a couple of hours, the whole bar was standing with arms linked, singing along to Sweet Caroline in honor of a new friend we made that night. It was a goofy end to a great evening with all different ages, accents, colors, home states and countries - coming together to enjoy melting into the scene.