Ambergris Caye (La Isla Bonita), has become one of the most popular vacation destinations of Central America.

There are more than 200 cayes (keys), which are islands that make up a large portion of Belize, Ambergris Caye being the largest. It is approximately 40 kilometers (25 miles) long from north to south, and approximately 1.6 kilometers, (1 mile) wide and consists of three main areas; the lagoons, protected mangroves, and white sand. The Belize Barrier Reef, part of the Mesoamerican Reef lies approximately one half of a mile to the east of the island, and runs the entire length. The reef meets land at Rocky Point, about 27 km (17 miles) north of the island's only town of San Pedro.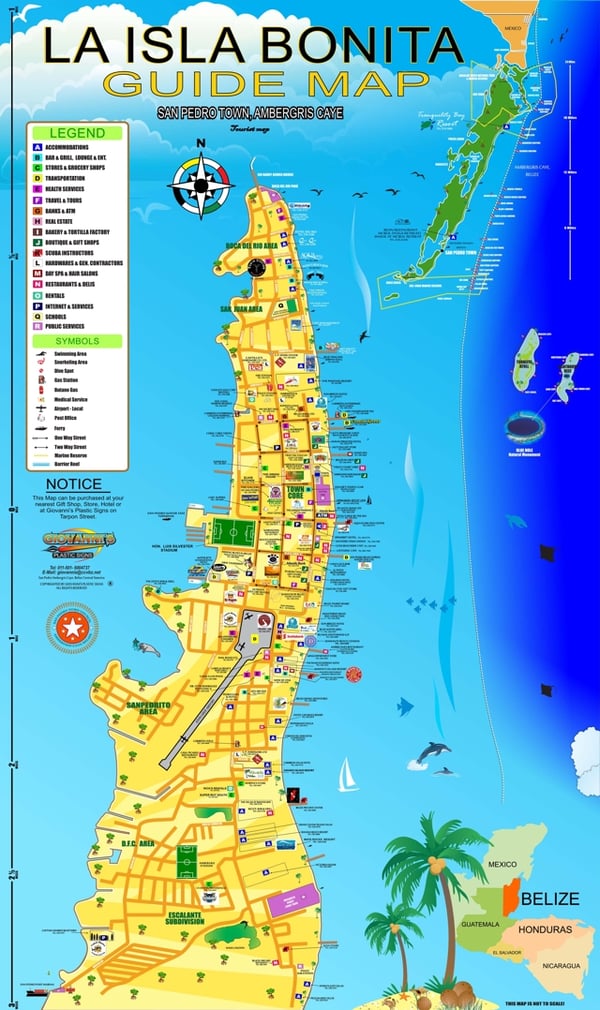 La Isla Bonita Guide Map
Fun Fact 1: Ambergris Caye was named after large lumps of ambergris, which is a solid, waxy, and flammable substance from the digestive system of sperm whales.
The Mayan People
Documentation between the Europeans and Ambergris Caye settlers dates back to the Pre-Columbian time, when the Mayan community populated the area. An interesting and highly intelligent civilization, the Maya lived throughout Central America, flourishing from 250 A.D. to 900 A.D. Mayans were strong and well-developed. They masterminded fantastic temples and made incredibly polished earthenware and stoneware, as well as many other fine productions. They accomplished incredible scholastic achievements and were highly intelligent stargazers. They were also brilliant mathematicians who recorded their history on stone and wooden slabs. Be sure to read about visiting the Mayan Ruins.
Fun Fact 2: Ambergris Caye is not really a "caye" or an island, but rather the end of the Yucatan Peninsula. The Yucatan Peninsula is a region of southeastern Mexico, consisting of the Mexican states of Yucatan, Campeche, and Quintana Roo.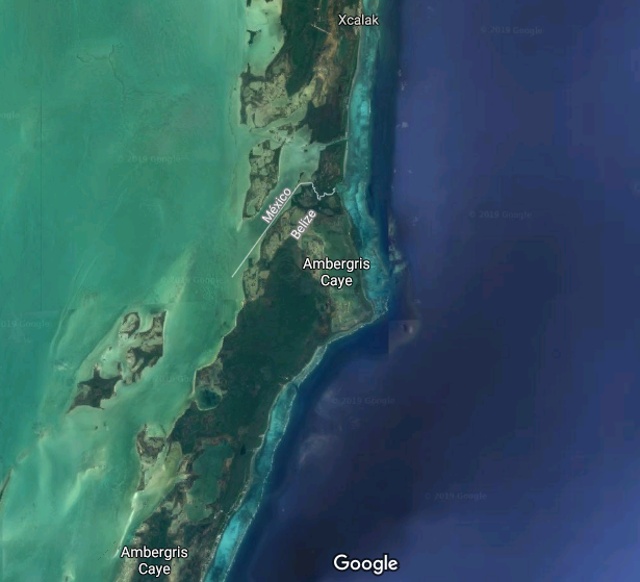 Ambergris Caye & Mexico
One of the Mayans' greatest achievements was conceiving an efficient and fantastic trade route throughout Central America, starting from Mexico all the way down to Roatan Island, Honduras. In order to make fishing and trading more convenient and suitable, some folks believe that the Mayans actually dug a channel—which is just a few feet wide and not quite a mile long—that now divides Mexico from Ambergris Caye. The Mayans were able to go about their business of fishing faster and more efficiently by not having to trek, via canoe, through the mangroves and around the peninsula to get to the open sea. Still, others believe that the channel is a natural waterway created by a hurricane long ago.
Fun Fact 3: Today, the channel is called the Bacalar Chico National Park and Marine Reserve.
If you'd like to plan your next vacation or spend part of the year on La Isla Bonita click here for more information.
We hope you found this article interesting. If you'd like to receive more great stories, sign up for our Newsletter, and you'll be emailed once per month with informative articles written by our team to keep you informed about all things Belize.
When planning your stay in Belize, we can help you book exciting excursions such as snorkeling at Shark Ray Alley, Cave Tubing on the mainland, or flying over the Blue Hole.

Our knowledgeable team will assist you with any tour you would like to take while visiting Belize, so that you can just relax and enjoy the adventure. CONTACT US TODAY.
ECI Development delivers affordable luxury residence and resort communities in Central America, providing our clients with various premier lifestyle options from the Caribbean to the Pacific. ECI delivers inspired residences for adventurous souls.
Coupled with over 20 years of inherent corporate social responsibility in the communities where we work, ECI Development is building a sustainable business that is going to be around for the next 100+ years.