For nearly 150 years, the game of tennis has been a very popular sport for individuals to play, whether at home or on vacation, for exercise or competition.
Visitors to Belize are no exception, as it's a great way to get exercise and enjoy the beautiful Caribbean sunshine, at least that's what Bill Gates thought when he played tennis here on Ambergris Caye. Though not a common sport in Belize, there are tennis courts to be found, so if you fancy yourself the next Roger Federer or Serena Williams, you're bound to find a court to practice on.
As you drive around Ambergris Caye on your golf cart, you will notice a few tennis courts spread out around the island. Some of the courts are located at private residences, as well at different resorts. On the north side of the island, private tennis courts are available exclusively to residents and guests at the Belizean Shores Resort, about 3.5 miles north of the town of San Pedro.
About 0.5 miles south of the John Greif II Airport, is the San Pedro Fitness Club, which features two newly painted tennis courts that are open to the public. The club offers both daily and monthly passes in which the public can use the courts, gym, and newly renovated swimming pool and bar. Tennis rackets are available for rent inside the club as well. The tennis courts tend to be most popular during the early morning or late afternoon hours, when there is still a cool breeze and the sun is not beating down on the courts. Day rates at the San Pedro Fitness Center are $15 BZD, and monthly passes are $100 BZD. One of the perks provided at Grand Baymen Gardens, Exotic Caye Beach Resort, and La Hacienda condos, is that our guests are given free access to the pool, tennis courts, and gym at San Pedro Fitness Club.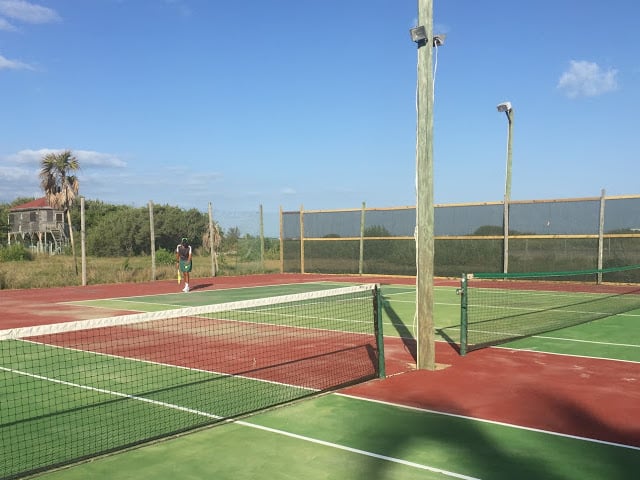 Serve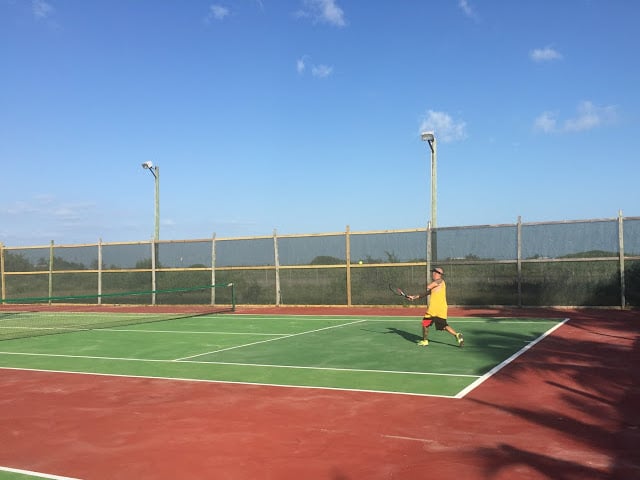 Return
Further south, past the point where the paved road ends, is another tennis court; however, it is part of a private residence and is reserved for the owners and guests.
On the mainland of Belize, you'll find tennis courts for both the Placencia Hotel and the San Ignacio Resort Hotel available for the guests. There are many other tennis courts scattered around throughout some of the private residences in Belize, and even though they aren't for public use, it never hurts to ask, "Anyone for tennis?"
We hope you found this article interesting. If you'd like to receive more great stories, sign up for our Newsletter, and you'll be emailed once per month with informative articles written by our team to keep you informed about all things Belize.
When planning your stay in Belize, we can help you book exciting excursions such as snorkeling at Shark Ray Alley, Cave Tubing on the mainland, or flying over the Blue Hole.

Our knowledgeable team will assist you with any tour you would like to take while visiting Belize, so that you can just relax and enjoy the adventure. CONTACT US TODAY.
ECI Development delivers affordable luxury residence and resort communities in Central America, providing our clients with various premier lifestyle options from the Caribbean to the Pacific. ECI delivers inspired residences for adventurous souls.
Coupled with over 20 years of inherent corporate social responsibility in the communities where we work, ECI Development is building a sustainable business that is going to be around for the next 100+ years.