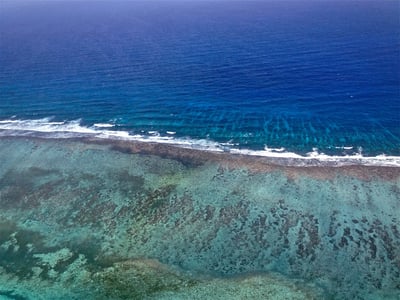 Playing the airport's version of musical chairs: boarding, de-boarding, re-boarding, I, again, returned to the waiting area in Houston thinking I was never going to make it to Belize. After a couple hours of this charade, a booming voice over the loudspeaker declared, "Everything is now cleared, we are now ready to start the boarding process." Sighs of relief flooded the space around me, as we assembled in line, ready to be in Belize.
As we neared the end of our two hour flight, I peaked open the window to witness the view below me. The clouds start to reveal the luscious green forests and winding blue rivers right outside of Belize City. The beauty of the unadulterated landscape a few miles away from the busy streets of Belize City sparked a smile that still has yet to go away.
As I stepped off the plane onto the tarmac, a sudden warmth and serenity surged through my body. I was instantly enchanted with Belize. I patiently waited in the immigration line with a smile on my face. (Normally, I am the type of person who does anything to avoid lines and scowls when queuing is required, but not today.)
I made it...well almost. My passport was stamped giving me the green light to explore what lay outside the walls of the airport but I had one more flight to catch; A small 15-passenger Cessna caravan plane, commonly referred to as a puddle jumper, from Belize City to San Pedro on Ambergris Caye.
As I climbed into the plane, I noticed a young male passenger sitting alongside the pilot (in the cockpit!) with his wife behind him, a middle aged couple, a pair of friends looking for a beach getaway, and an 85 year old lady, Maria, traveling alone. I am not too sure if I expected more of homogenous group of passengers, but the mixture of people was comforting. It gave me a sense that Ambergris Caye has a little something for everyone.
Once we landed at the airstrip, I was greeted by a jovial cab driver named Orlando -- a favorite with Grand Baymen employees. Coincidentally, he was hired by one of Maria's friends to take her safely back to her home. Although there were other cab drivers at the airstrip, I opted to ride with Orlando, who agreed to drop me off at Grand Baymen after dropping off Maria. I was in no rush. Not only would it be a nice tour of San Pedro, but the smile and excitement in Orlando's voice when he spoke about Ambergris Caye was also a deal sealer.
As we drove past the vibrant, tropically painted buildings, my three cab mates (Maria's friend was with Orlando) gave the inside scoop on all the best places to eat, shop, and grab a drink.
After dropping off Maria at her apartment, which lies on the cusp of downtown, Maria's friend explained that she has been living on Ambergris Caye since 1973.
For the past 15 years, Maria has been splitting her time between Houston and Belize, but this was one of the few trips that she was making by herself. "That's why I came to the airstrip. I wanted to make sure that Maria got home safely and had dinner since the restaurant in front of her apartment was closed." The sense of community and friendship is ever so present on this little island.
As a lover of routine and familiarity, I packed my bags for my extended time abroad with some hesitation and uncertainty, wondering if Grand Baymen on Ambergris Caye would feel like a home away from home. My experience today has transformed my doubt into excitement for what lays ahead.