When traveling, flexibility is an essential tool to pack. And more often than not, if your destination is in Latin America, you might as well leave your watch at home.
Things tend to operate on a different time frame down here. Being on a more relaxed schedule is liberating and part of the purpose of a vacation. It can, however, add an element of stress for some coming from a place with a more regimented schedule like in the U.S. The Johnsons, who own a suite at Grand Baymen Gardens, and I experienced this to a degree while waiting for a boat to pick us up for a snorkeling adventure.

The reservations staff at Grand Baymen arranged a 1:30 PM boat pick up for our excursion, and we were excited to get out to sea! After asking around to find the Corona Del Mar (Crown of the Sea) dock, we sat down under a palapa to wait. At ten past our expected departure time, I started to question – was this normal "Belizean time," or were we on the wrong dock after all?
And We're Off…

Adapting to LA time (that's Latin American, not Los Angeles), we were eager for our adventure to begin when we were finally picked up a half hour later. Our guide "Eddy Lover" was so friendly and laid-back that there was no reason to be frustrated, as I might have been if back home. Eddy explained that the Mesoamerican Barrier Reef System runs from Cancún on the north-eastern tip of the Yucatán Peninsula all the way to Honduras, making it the second largest coral reef system in the world after the Great Barrier Reef in Australia. Because most of the reef and world-famous dive sites like the Blue Hole are located off the coast of Belize, it is often referred to as the Belize Barrier Reef.

After learning how to properly use the mask and snorkel, we were ready to launch overboard out into the Hol Chan Marine Reserve. Eddy pointed out octopuses, eels, stingrays, fire reef, and countless names of the various fish. There really is a whole different world down there.
Once we were back on the boat we were offered drinks and mini coconut pies, yum! Then, we headed over to Shark Ray Alley….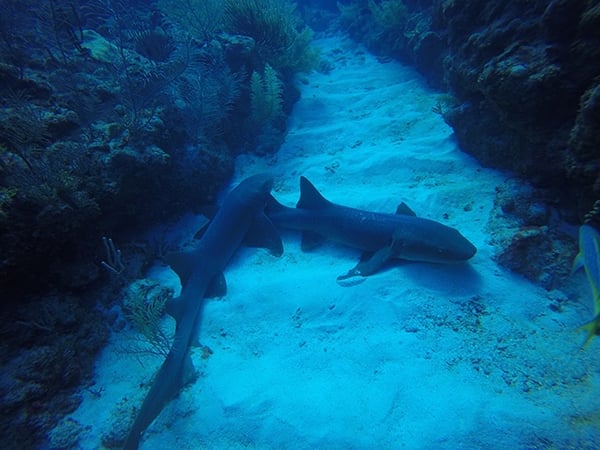 Nurse Sharks at Hol Chan

At first, I was intimidated to be in the water with sharks! I had to keep reminding myself that nurse sharks were harmless! Something that can be hard to do when sharks are always portrayed as deadly in movies. It was one of the most unnerving experiences I've had; being out in the middle of the ocean among sharks was completely out of my comfort zone. However, it was also an amazing experience getting to swim with the sharks and stingrays. Seeing them in their habitat under the sea gave me a whole new appreciation for the ocean. And who knows, maybe now I'll get up the nerve to try scuba diving!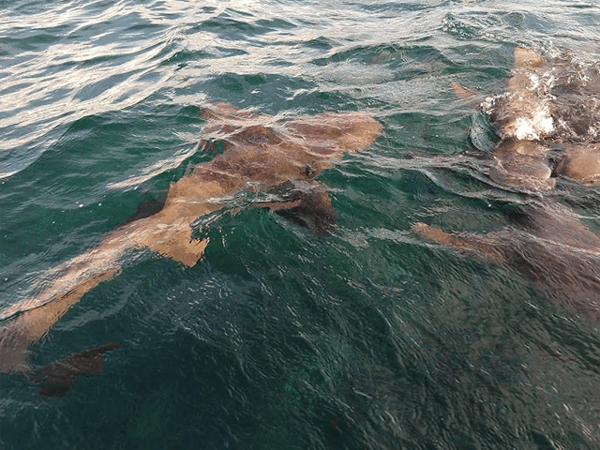 Nurse Sharks at Shark-Ray Alley
Not knowing what to expect in an unfamiliar place and trying new activities can be challenging; it is also what makes traveling and experiencing new cultures so much fun!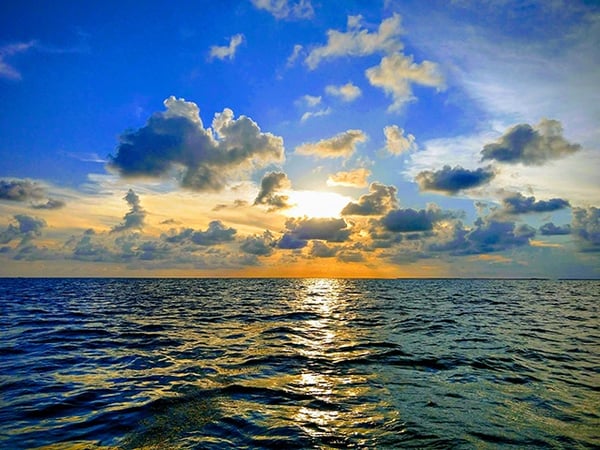 Sunset while on our boat ride back to San Pedro
Staying at Grand Baymen Gardens or Exotic Caye Beach Resort? Our reservations team can coordinate a unique snorkeling experience for you too! Contact reservations@grandbaymen.com for all the details.
ECI Development delivers affordable luxury residence and resort communities in Central America, providing our clients with various premier lifestyle options from the Caribbean to the Pacific. ECI delivers inspired residences for adventurous souls.
Coupled with over 20 years of inherent corporate social responsibility in the communities where we work, ECI Development is building a sustainable business that is going to be around for the next 100+ years.