Located approximately 4.5 miles northwest of San Pedro Town, Secret Beach isn't really a secret anymore.
But no trip to Ambergris Caye is complete without checking this gem of a place out.
Getting To Secret Beach from San Pedro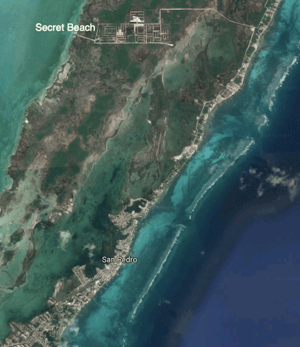 There are a few ways to get to Secret Beach. The most popular method is by golf cart, but you can rent jet skis or a boat. A golf cart rental place will give you a map, and one of the helpful locals will provide you with directions. Many travelers agree that the bumpy, yet adventurous road, to Secret Beach is half the fun. The golf cart ride, which takes about 45 minutes each way (from town) is very scenic with only a couple of turns before reaching the beach. While you may question if you're going the right direction, there are signs along the way that will guide you.

Once you arrive at Secret Beach, you'll understand why many folks come here time and time again to spend a long, lazy, and enjoyable afternoon.
What Makes Secret Beach So Enjoyable?
Folks from all over the globe go to Secret Beach to experience the overall vibe of the place. It's lovely to wade out into the turquoise, crystal clear water, free of seagrass and Sargasso (seaweed).

There are wonderful bar/restaurants on the beach to enjoy delicious cuisine and sip on beach-y drinks while lounging in the chairs. The food and drink ingredients are so tasty and made fresh every day on the island. It is recommended that you "try everything since it's all so deliciously fresh!"

Also, while you're there, immerse yourself in a relaxing massage on the beach, or opt for some exercise by embarking on paddle boarding or kayaking. Rally up some folks for a game of water volleyball. You'll even be able to see Leonardo DiCaprio's private island, Blackadore Caye, in the distance.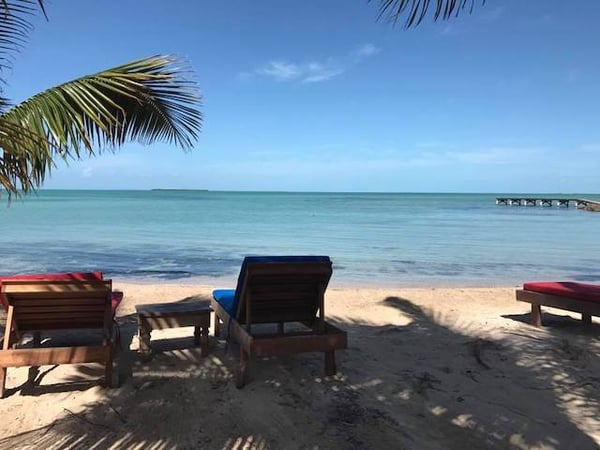 View of Blacadore Caye from (photo courtesy of) Secret Paradise Beach Bar


One traveler describes Secret Beach as "Secluded, hard to find, but absolutely worth the trip. We visited this beach on three occasions while on Ambergris Caye for a week. Also, met some wonderful folks from all over the world."

A blogger says, "Secret Beach Ambergris Caye in Belize is the perfect paradise to unplug, relax, and re-center yourself."
Need more suggestions on what to do while visiting Belize? Click here for our blog on "Five Best Adventures in Belize".
Ready to book your accommodations on Ambergris Caye Belize? Contact us now for rates and availability.
ECI Development delivers affordable luxury residence and resort communities in Central America, providing our clients with various premier lifestyle options from the Caribbean to the Pacific. ECI delivers inspired residences for adventurous souls.
Coupled with over 20 years of inherent corporate social responsibility in the communities where we work, ECI Development is building a sustainable business that is going to be around for the next 100+ years.