A half moon glows against the grey-blue sky. Early morning, the songs of tropical birds and the occasional hooting of an owl are the only sounds on the island apart from the rustling of palm leaves. It's 5:30am on a Thursday in San Pedro- this world will not wake up for another 2 hours.
I always imagined working at a desk job to be mundane- long days, the unblinking stare of a computer screen, terrible hours, the death of your soul… everything Office Space taught us. Well, the days are long…. but exciting. Filled with adventure, creativity, problem solving, and good ol' hard work.
Whoever said the day ends at 5pm and that the weekend is work-free was completely mistaken. Thankfully, whoever said you can't go Scuba Diving during your lunch break was also off the mark. After a morning of emails and conference preparations, Dan, the New Projects Director, and I are heading off down the coast in search of the Island Divers hut where we've scheduled our first dive lesson.
The coral reef here in Belize is immense. My supervisor, Rachel Jensen, and one of her work contacts were able to go out freediving a day ago. So, here we beginners were… watching a cheesy instructional video in a wooden beach shack out on a pier. It was pretty fantastic.
The windows were all wide open with that glorious Belizean breeze sweeping in. Our favorite portion of the instructional video was, when showing a video sequence of different sea creatures you might encounter, they added a quick segment of the divers smiling and playing with a raccoon on their boat.
We feel giddy as we head out onto the boat -- after living on the island for a week now, this is the first time either one of us is actually getting into the water. Our guides, Rudy and Richard, take us a couple miles away from shore, hand over our masks and fins, and nudge us in the direction of the ladder. "Hop in!" Richard says with an excited smile.
The water feels glorious. Poking my mask beneath the surface, I find the scenery's not too bad either. Still in the boat, Richard and Rudy assure us the water is normally much less choppy. To me, the water surface looks like it could be a public pool in August - I can't imagine an ocean looking any more serene.
After our guides hop in the water and hook us up to our tanks, we learn basic skills like how to equalize, clear the water from our mask, perform air sharing, and give proper dive signals. Once Richard is sufficiently pleased with our SCUBA knowledge, he gives us an underwater handshake and flashes a "thumbs-up" sign. Just like that, we're off and on our way.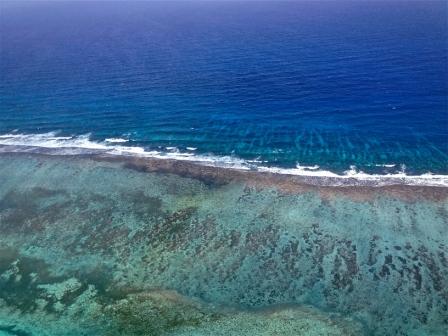 As I glide along, pushing the water with my fins, I feel enveloped in the movement of this underwater world. Like the sea grass and schools of fish, I let the current and gentle undulation of waves take control of my path. The path of my thoughts seems just as suspended by this environment, as I am presented with a new cascade of visual stimuli.
A stingray sails across the seabed. The overturned hull of a boat rests in the sand; to the colorful fish swimming around, it's just another familiar aspect of the underwater neighborhood. Richard plucks a few seashells from the sand and puts them in my hand. The intricate patterns on their smooth surfaces are illuminated in the bright waters; I almost run into a sea fan inspecting their patterns.
At some point during my fantasy-like experience, Dan's tank begins to run out of oxygen. Our air sharing training came in handy, after all. Dan switches to Richard's spare breathing apparatus and we head back toward the boat, trying to savor every last glimpse of the ecosystem.
Rudy apologizes again for the choppy water as we thump off down the wooden pier. It's time to head back to work. I hear Rudy shout, "Come back and see us when we have better weather!" Gazing back at the clear water and blue skies, the humorous impossibility of Rudy's better weather makes me smile.