Part of the expanding community at Grand Baymen is the newly renovated and reopened San Pedro Fitness Club. Finding what you're looking for in recreation and fitness facilities can be more challenging than you might expect on a small island like Ambergris Caye.
Fortunately, the best place to work out on Ambergris Caye just got a lot easier to find. Come to San Pedro Fitness Club, and you will see why, having only been open unofficially until now, business is already steady and increasing.
The club is situated at the end of Hurricane Street, which intersects with Coconut Drive where Caye International Bank is located. Normal hours of operation are 6:30 AM to 7:00 PM on weekdays, and 8:00 to 7:00 on weekends.
In this cool, open 2,000 ft² space, fitness enthusiasts will find nine fixed weight, cardio, and universal machines, with five more ordered and on the way. You will also find various free weight sets and large areas covered with foam mats for dynamic stretching, yoga, balance exercises, or other floor exercises.
A large bay window looks out over the picturesque pool surrounded by tropical fauna. An added bonus for aviation enthusiasts is the open-access roof space with the best view on the island for seeing planes take off and land.
The stunning, exotic swimming pool is the pride of the club. At 250,000 gallons, there is no way you can miss it when you head into the fitness center. The sprawling design allows guests to come enjoy a relaxing swim among friends and neighbors, but without being crowded into one tiny area of the water.
Depths range from 3 to 7 feet, and sun chairs and large shade umbrellas dot the decks of the pool all the way around. Opposite the pool, on the other side of the fitness center, are two regulation sized tennis courts. The courts are being professionally resurfaced, and will be open for play very soon.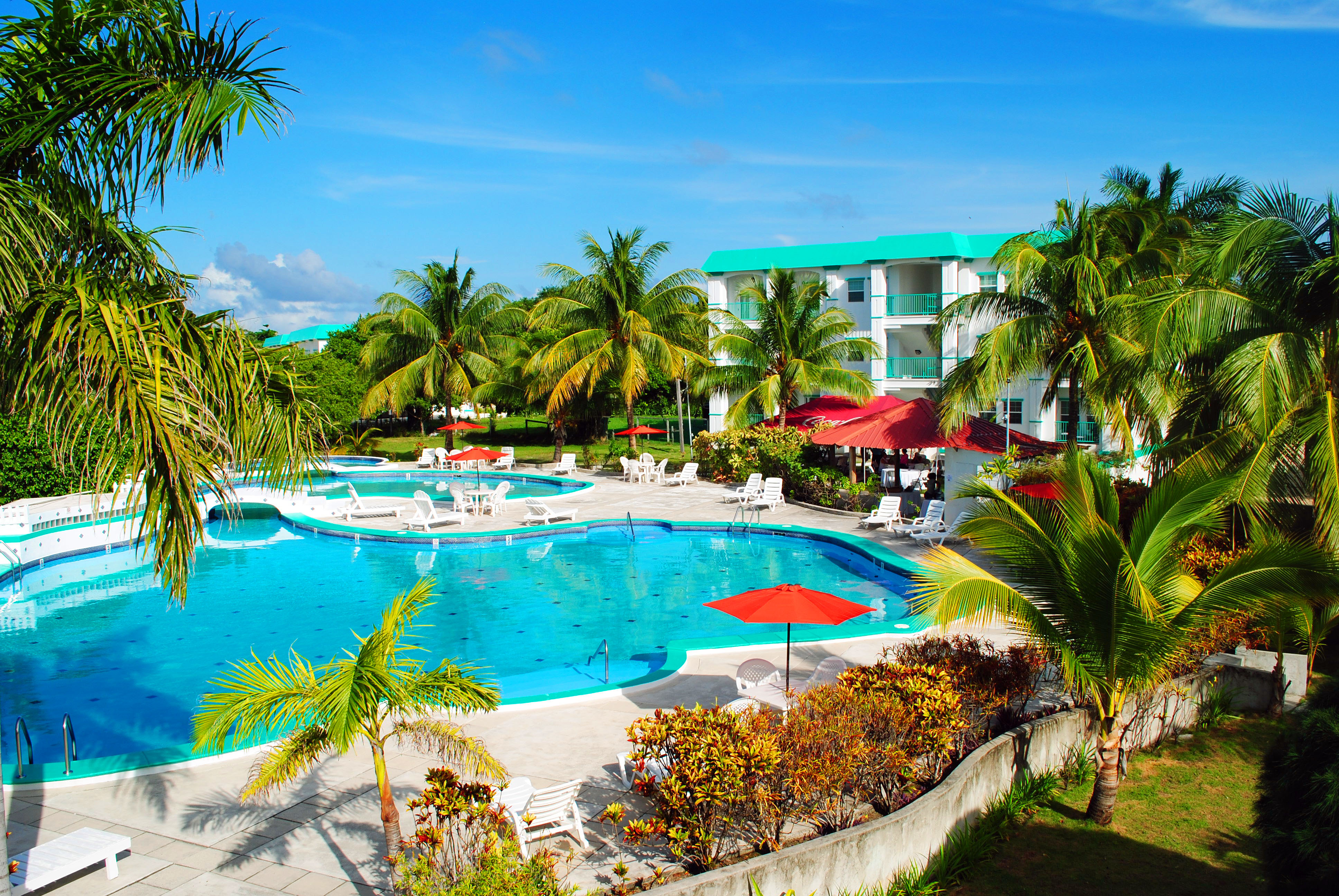 Club membership is available to members of the public, as well as Grand Baymen residents and other visitors to the island. Personal trainers Guillermo and Eileen are available for weight and nutrition training, and aquatics and water aerobics instruction, respectively.
Join now to to find out what makes the San Pedro Fitness Club the best place to work out on Ambergris Caye, and take advantage of our special reopening membership fees.
For adults, membership is just BZ$80 ($40 US) per month, BZ$200 ($100 US) for three months, or BZ$750 ($375 US) for a full year.
Also available is a corporate or family membership for four persons at BZ$200 ($100 US) per month, with the ability to add additional persons at the cost of BZ$50 ($25 US).
Day passes are available for BZ$20 ($10 US) for adults over the age of 18, and BZ$10 ($5 US) for those under 18, and children 5 years old and younger are free.
Check into the status of the tennis courts and other information at www.sanpedrofitnessclub.com.
Contact the club directly via email at info@sanpedrofitnessclub.com or by calling 226-4820 on the island.