In just under two months of business since its official grand re-opening, the newly refurbished San Pedro Fitness Club is already busy and thriving.
Regular weekend hours add to the accessibility of several free weight racks for dumbbells and barbells, assorted fixed weight machines, numerous brand new cardio machines, and other fitness equipment such as: stability balls, yoga mats, jump ropes, and hand weights.
The refinished swimming pool is getting tons of action on the hottest days. With a sprawling concrete deck that surrounds the large, uniquely shaped pool, sunbathers and swimmers can spread out on the plentiful reclining deck chairs, and relax in the shade under one of the umbrellas that dot the deck.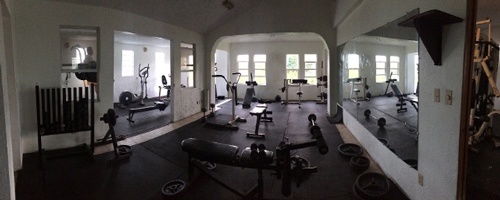 The best place to work out on Ambergris Caye continues to also be a popular place for gatherings and events; several parties have already been hosted under the shade of palm trees in the lawn next to the pool. The picnic shelter and snack shack are proving to be a favorite spot for guests to grab a cold drink or enjoy a picnic lunch with friends.
With aquafit classes, personal weight training, and yoga available, the club is home to a variety of members with a mix of fitness facility needs. Tennis players are making use of the fitness club's early morning and evening hours to avoid those hot parts of the day.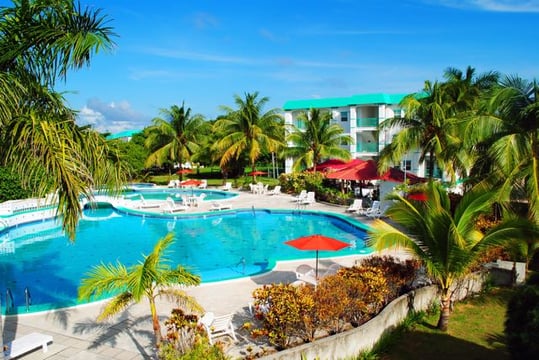 Go Yoga has partnered with San Pedro Fitness Club to host morning yoga classes in the space above Coconut Café, which is right on Coconut Drive. Inquire on Facebook or at the club, either in person or by calling 226 – 4820. The class schedule can also be found at: www.go-yoga.org.
If you're curious and decide you want to check out the club before becoming a member, head on over to Crazy Canuck's Beach Bar on Tuesdays for Charity Crab Races, where San Pedro Fitness Club has just debuted the newest game piece for the oversized hermit crab obstacle course game.
The game has become a fast favorite on the island. It is essentially a 50/50 prize that sees participants bet on which hermit crab will escape the field of obstacles first, with the winner taking half, and the rest going directly to local charities. The game is sponsored by a host of local businesses, who contribute varying prices. If your crab touches the green hand weight, which will act as an obstacle, you'll win a week pass to the club!
Two prize passes will be available at each week's games, and all you have to do is pick the lucky crab!
To our members: a few of you have asked about the arrival of new workout machines that had not quite made it in time for opening –everything is in! Come see all new mats, new machines, and other upgrades too like a new parking surface, and improvements to the road leading to the club.
To learn more about the greater community at Baymen Gardens, or Ambergris Caye in general, please click here to visit our website with many more details about island life!