A night out with your special someone is a treat whether you are in your hometown or on vacation.
Many folks come to Belize on romantic getaways, birthdays honeymoons, or wedding celebrations. In order to make those times a little bit more special, here are our suggestions of where to go for a romantic night (or afternoon) out.
Hidden Treasure
Hidden Treasure restaurant is tucked away in the Escalante Subdivision, about 1.5 miles south of the center of town. This locally owned restaurant serves up some of the best flavors of Belize in their open-air restaurant, some say it reminds them of a romantic tree house. Ruben and Elvia who own Hidden Treasure do not miss a beat on food, service, or ambiance. If you let them know ahead of time, they can arrange to pick you up and drop you back off at your hotel. Enjoy favorites such as Caribbean curry, fresh lobster and fish, and chocolate Caribbean Rum cake. Open Wednesday through Monday for dinner only. They also recently opened a full service closed-in lounge on an upper level. For reservations call +501 226-4111 or visit the Hidden Treasure Restaurant website.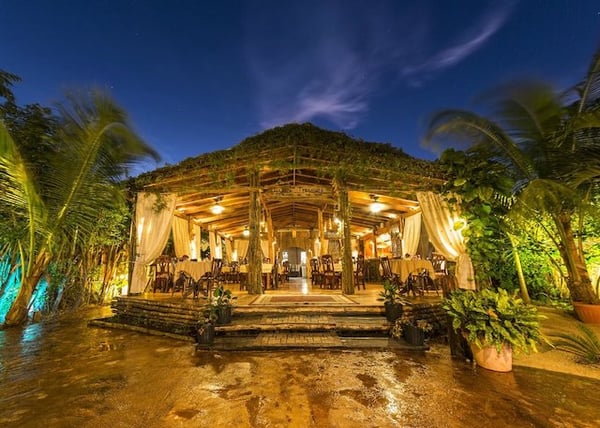 Aji Tapa Bar & Restaurant
For a casual but romantic night out, Aji Tapa Bar & Restaurant is located 2.5 miles north of San Pedro Town. On the beach front, this restaurant serves up Spanish style tapas, paella, and delicious sangria. This restaurant is set back off the road, with lights strung throughout the palm trees. If you are there for "happy hour" (3:00 pm to 6:00 pm Wednesday – Monday), you can enjoy a view of the Caribbean sea. Open Wednesday through Monday. For more information, call +501 226-4047 or visit the Aji page on Bella Vista.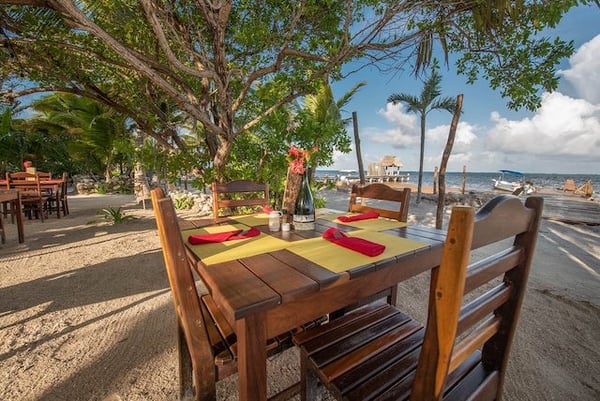 Mambo Restaurant at Matachica Resort
Mambo Restaurant and Cocktail Lounge, located 5 miles north of San Pedro, offers candlelight seating both indoors and outdoors underneath their beautiful palapas. Mambo restaurant prepares all of their bread, pasta, and pastries on-site, and much of their produce is grown at their sister property, Gaia River Lodge, in an organic Mayan garden. For an added romantic touch, call the restaurant in advance and arrange for them to pick you up by boat at your hotel's dock and enjoy the stars and cool Caribbean breeze. Open for breakfast, lunch, and dinner seven days a week. For more information call +501 226-5010 or visit: Mambo Restaurant on the Matachica website.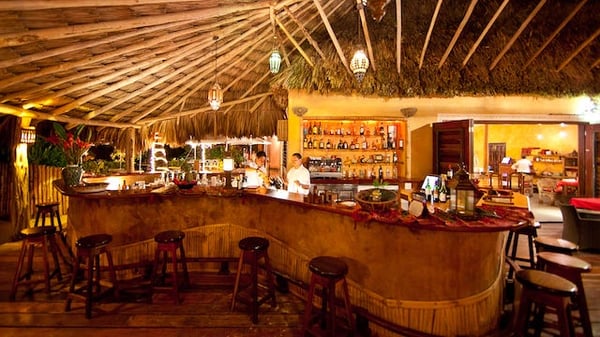 Rain Restaurant & Rooftop Terrace
If you are looking for a place to watch the sunset, look no further than Rain Rooftop & Terrace. Located at Grand Caribe Resort, just two miles north of San Pedro Town, this is the place to see the sunset over the bay, while also taking in pre-sunset Caribbean ocean views and enjoying a refreshing cocktail or savoring the delicious local flavors on the open-air terrace. Several nights a week, Rain hosts live musicians who add to the romantic ambiance. Note that prices are listed in U.S. dollars on their menus. Open for breakfast, lunch, and dinner seven days a week. For more information visit: Rain Restaurant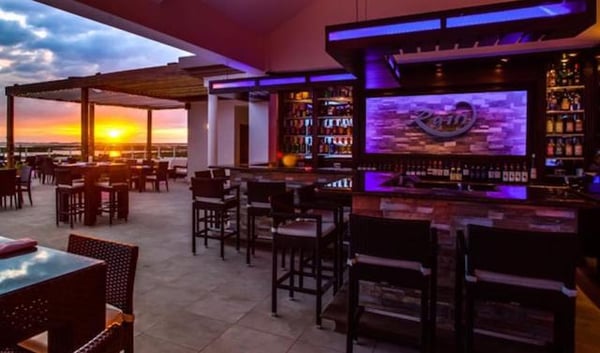 Stella's Sunset
For a more laid back, but romantic outing, be sure to visit Stella's Sunset, located on the bayside, just 1 mile north of San Pedro. This casual bar and restaurant offers stunning sunset views. Their menu includes delicious sangria, and a different special item each night of the week including a burger night, pizza night, and Caribbean themed menu. Take in the sunset and stars on their dock or relax with your loved one in the glow of their fire pit. Stella's host musicians several nights a week. Stella's also offers a wonderful Sunday brunch from 9:00 am to 1:00 pm. Check Stella's Facebook page for their menu of the night and other special events. Open Friday to Wednesday. Find them at Wine Bars San Pedro Facebook page or call +501 602-5284