At the 20th Annual Presidents' Week conference attendees and invited speakers raised an astounding $18,755 U.S. dollars through an exciting silent auction.

Hosted by Nagel & Associates, it was a lively evening and there was a healthy dose of competition in the air as guests bid sheets throughout the evening. As the night went on, many donors upped the ante by adding on some last-minute bonuses to auction items.
Among the most sought-after items, were a 5-night stay at a luxury condominium in Medellin, Colombia with 5 days of golf or tennis and daily massages generously donated by the Gutierrez Group of Medellin. Another big-ticket item was a 5-night stay at a luxury mountain-top condo in condo in North Carolina donated by Glen Mather, President & CEO of NuView IRA. After a friendly bidding war on both items, the donors both agreed to giving away two prizes if the second-place bidder matched the first-place bid – a win for all involved! Other items generously donated included a day tour of Texas wine country, whitewater rafting on the American River, conference registrations to G. Edward Griffin's "Red Pill Expo", Escape Artist's fall conference, tickets to Universal Studios in Orlando, a .999 gold coin, a tour of Austin, TX, fishing in Ontario, Canada, a gold vault tour in Zurich, lodging and golf in Doonbeg, Ireland, celebrity hair care products, horseback riding in Florida, and stays at both Grand Baymen and Gran Pacifica.
Proceeds from the silent auction will go to benefit three different organizations that greatly benefit the country of Belize: The Living Word Church of San Pedro, the Samuel Haynes Institute of Excellence in Belize City, and The Wheelchair Foundation.
The Living Word Church is a community church located in San Pedro, Belize, just down the road from the Grand Baymen Gardens. Pastor Ian Zaldivar has been a longtime friend of ECI co-founder Joel Nagel, and often attends events at Grand Baymen to offer a blessing over the event or project. The Living Word Church, in addition to its weekly services, provides prison ministry, an annual holiday toy drive for local children, and many other community outreach programs.
The Samuel Haynes Institute of Excellence (SHIE) is a project of Mrs. Barbara Elrington, wife of Belize's Foreign Affairs Minister, Wilfred Elrington. SHIE is a result of parents wanting a safe place where their children could go after school to escape the increasing gang violence, to play and learn alongside other children. SHIE offers programs in reading, math, music, gardening in a fun and safe environment.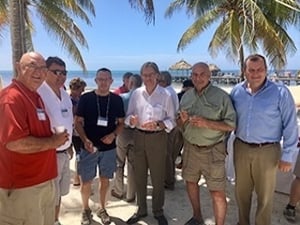 SHIE also offers an Income Generating Program for adults in the community who want to learn skills in sewing, culinary arts, gardening, mobile clinics and more.
The Wheelchair Foundation is a worldwide organization that aims to raise awareness of the needs of those with physical disabilities as well as "…To deliver a wheelchair to every child, teen and adult in the world who needs one, but cannot afford one." NuView IRA president and CEO, Glen Mather, who spoke at Presidents' Week is a longtime supporter of The Wheelchair Foundation and was able to share a special video during the conference that touched the hearts of the attendees and ECI is delighted to continue its support of this wonderful cause.
A big THANK YOU to all of the attendees and speakers of the 2018 Presidents' Week for their generous contributions and donations – we could not have done this without you.
ECI Development delivers affordable luxury residence and resort communities in Central America, providing our clients with various premier lifestyle options from the Caribbean to the Pacific. ECI delivers inspired residences for adventurous souls.
Coupled with over 20 years of inherent corporate social responsibility in the communities where we work, ECI Development is building a sustainable business that is going to be around for the next 100+ years.