Imagine yourself relaxing on a massage table, a masseuse kneading your shoulder muscles, working the knots out.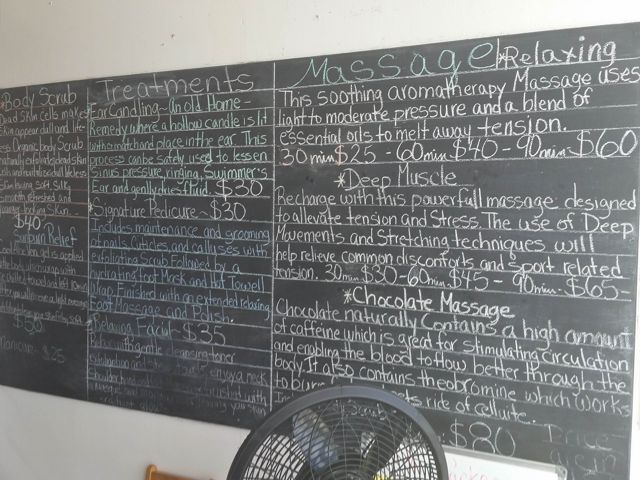 Choices galore - even chocolate
You let go of stress as a warm breeze flutters through the curtains, and the masseuse applies an herbal scented lotion to your skin.
You breathe in the fresh air, there is no smog or pollution from car and truck engines. Tension from travel, airport layovers, crowded flights, narrow seats, and long walks through airport terminals all disappear into nothing as your muscles relax.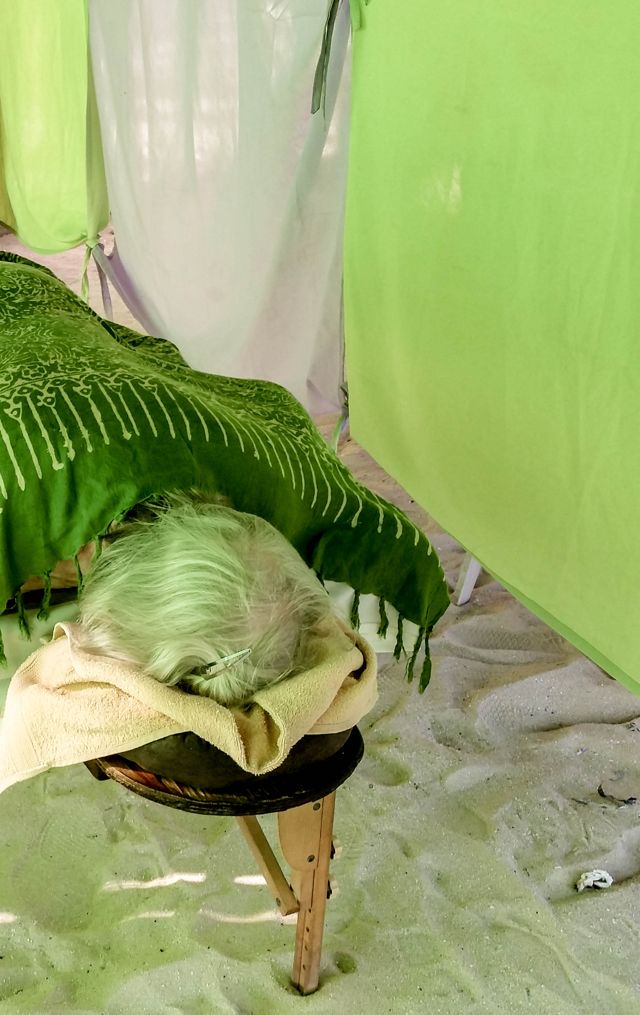 Leafy green curtain walls and sandy floor
Massage therapy is both luxurious and health promoting. Studies have shown that regular massages reduce levels of the stress hormone, cortisol, one of the hormones that contribute to digestive upsets and headaches. The American Massage Therapy Association lists this as one of 25 reasons to get a massage. Tight muscles cramp their blood flow, as the tension releases, your circulation improves. Regular massages promote health in many ways and can help to boost energy levels.
Massages in Belize cost less than half of what I pay in the US, and there is no quality compromise. Belizean massage therapists are legitimate, licensed professionals. Prices depend on the length and the type of massage you select.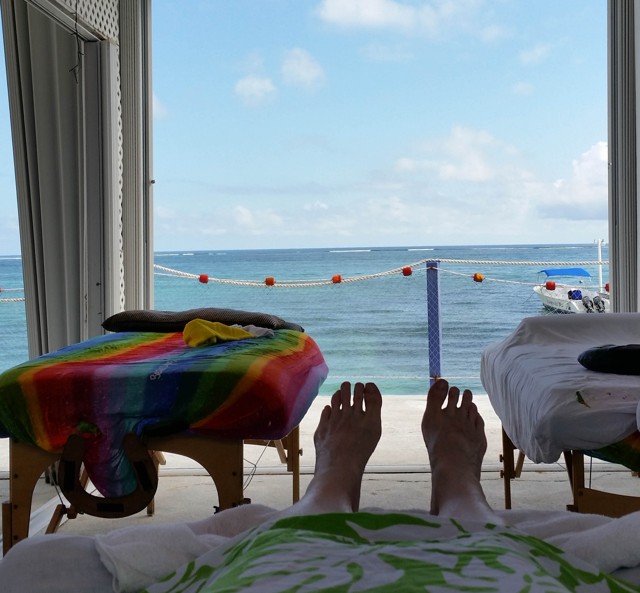 Massage on an upper deck. Fabulous view
Do you want a deep tissue massage, Swedish, or shiatsu? Maybe you just want your hands and arms done, or a scalp massage. Try a glorious foot massage. The toes love the attention. Don't let achy muscles ruin your day; your body will enjoy the pampering.
English is the official language of Belize, so you do not need a translator to talk directly with your therapist. This allows you to tell them of any medical conditions or skin rashes before you start, or of areas that need special attention. You can give feedback if you want deeper or lighter pressure.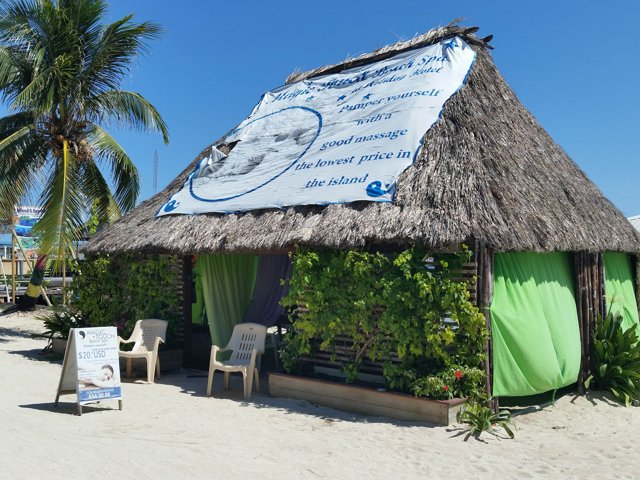 Thatched hut on the beach
After a day on the water, swimming, diving, or fishing, a massage will help rejuvenate your body. If perhaps you have gotten too much sun, many massage therapists offer cooling sunburn treatments.
In San Pedro, Ambergris Caye, you can walk around and look for which massage studio suits you and your budget. You can make an appointment, most advertise their phone numbers, or just walk in, I seldom had to wait when I just walked in. Some studios on the beach have only curtains as walls, while others are in small spas in town. Floors range from tile to sand. Changing rooms may be very private or just a draped sheet. Most studios are at ground level, but a few are up a flight of stairs, on an open deck. Some will even come to give you a massage in the privacy of your hotel room or condo. What makes you comfortable? Whatever your preference, there is an option for you!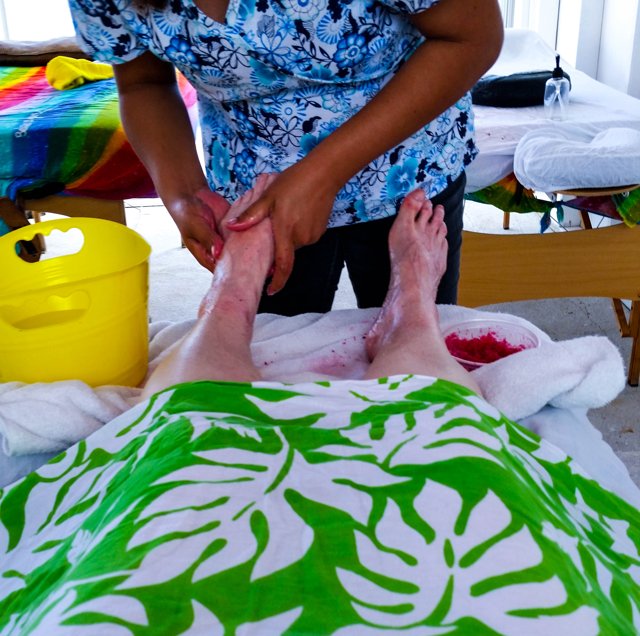 The most glorious foot scrub
The warm temperature, clean ocean breezes, and the scent of herbal lotions make massages in Belize even more luxurious. You'll relax and feel great, and those aching muscles will be gone.
Now revitalized, you can continue to explore San Pedro and the rest of Belize. When you get tired, come back for another pampering massage.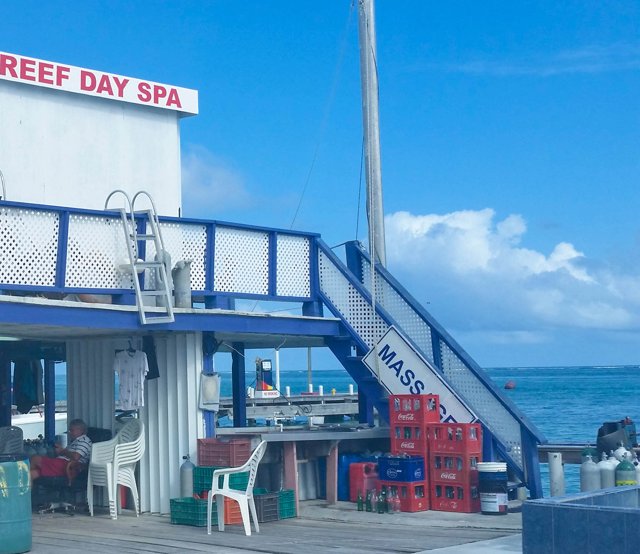 Up the stairs to this massage studio
Here are a couple of places we recommend:
Mel's Mobile Spa (she comes to you).
Jordana's Art of Touch at Diamond Lodge
We hope you found this article interesting. If you'd like to receive more great stories, sign up for our Newsletter, and you'll be emailed once per month with informative articles written by our team to keep you informed about all things Belize.
When planning your stay in Belize, we can help you book exciting excursions such as snorkeling at Shark Ray Alley, Cave Tubing on the mainland, or flying over the Blue Hole.

Our knowledgeable team will assist you with any tour you would like to take while visiting Belize, so that you can just relax and enjoy the adventure. CONTACT US TODAY.
ECI Development delivers affordable luxury residence and resort communities in Central America, providing our clients with various premier lifestyle options from the Caribbean to the Pacific. ECI delivers inspired residences for adventurous souls.
Coupled with over 20 years of inherent corporate social responsibility in the communities where we work, ECI Development is building a sustainable business that is going to be around for the next 100+ years.