Although Grand Baymen's official relationship with Pack For A Purpose (PFAP) is only about a year old, giving back to the communities that we work in has been at the center of ECI Development's corporate culture.
By partnering with PFAP, we have been able to expand our reach to help provide more supplies to school children on Ambergris Caye. Grand Baymen is proud to be one of two resorts on Ambergris Caye to be a PFAP partner!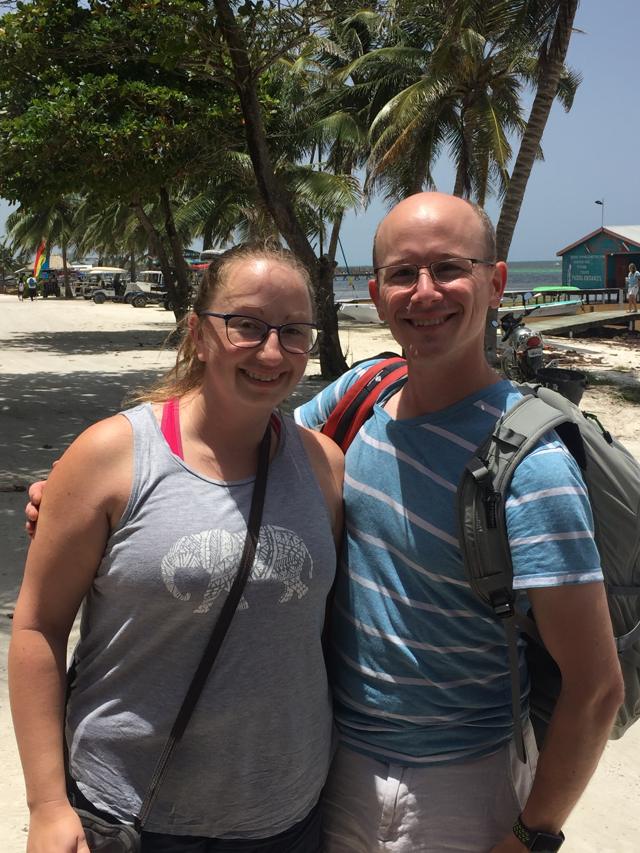 Elaine & Thomas
Our first official PFAP donation came from Elaine & Thomas R. from Orlando, FL, who found us through their website. Elaine and Thomas weren't guests with us at Grand Baymen but had seen the call for school supplies on the website and felt compelled to bring down a rather large box filled with notebooks, folders, and other much needed supplies to donate to the Holy Cross Anglican School.
In addition to vacationers like Thomas and Elaine, we have many wonderful property owners including Jeff F., Jay and Sabrina J., Richard and Harvette D., and many others who bring down whatever they can fit in their suitcases each time they come for a visit. In the past year, we have collected over 325 pens, 650 pencils, 2,000+ sheets of loose-leaf paper, and more than 100 notebooks, in addition to many many pounds of other supplies including folders, markers, crayons, and art supplies!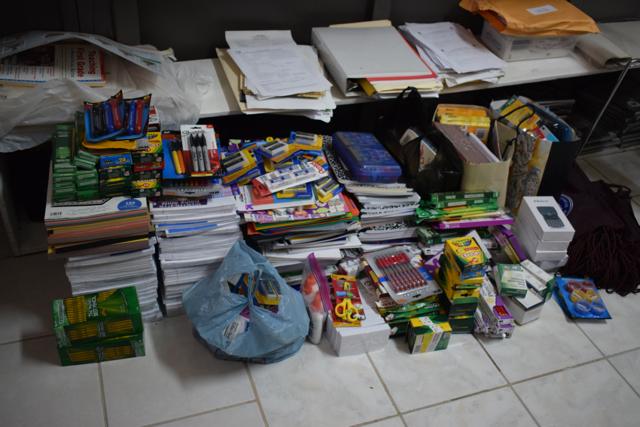 Supplies
Each time we make a delivery to Holy Cross, the teachers and administrators have a big smile on their faces because they know that these supplies will help them to help their students succeed and continue their education.
While there are many schools on Ambergris Caye, the Holy Cross School is one of the largest and neediest, serving many of the poorest families on the island. Located in the San Mateo neighborhood, just north of the center of San Pedro Town, Holy Cross serves approximately 450 students. Many of these students would not be able to go to school if it weren't for Holy Cross, as for many families, the cost of supplies, uniforms, and tuition can be a financial burden. Holy Cross provides many of its students with scholarships, free uniforms, and supplies so that children can pursue an education and ultimately obtain job and life skills that will help them care for their families in the years to come.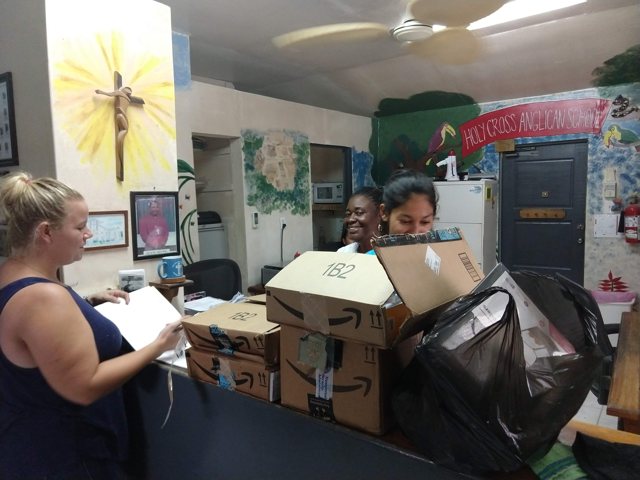 Drop Off
Without our guests, we wouldn't be able to give back in the ways that we do and we are excited to continue to build relationships with other organizations in our community through Pack For A Purpose. If you are interested in learning more about PFAP please visit the Pack for a Purpose website and if you have a little spare room in your luggage, consider filling it with some much needed supplies!
To learn more about our other initiatives, visit our Corporate Social Responsibility page or email Betsy Rosenlund, ECI's Corporate Social Responsibility director for Belize.

We hope you found this article interesting. If you'd like to receive more great stories, sign up for our Newsletter, and you'll be emailed once per month with informative articles written by our team to keep you informed about all things Belize.
When planning your stay in Belize, we can help you book exciting excursions such as snorkeling at Shark Ray Alley, Cave Tubing on the mainland, or flying over the Blue Hole.

Our knowledgeable team will assist you with any tour you would like to take while visiting Belize, so that you can just relax and enjoy the adventure. CONTACT US TODAY.
ECI Development delivers affordable luxury residence and resort communities in Central America, providing our clients with various premier lifestyle options from the Caribbean to the Pacific. ECI delivers inspired residences for adventurous souls.
Coupled with over 20 years of inherent corporate social responsibility in the communities where we work, ECI Development is building a sustainable business that is going to be around for the next 100+ years.