If you're coming to San Pedro for any amount of time, there's a chance that at least one night you'll want to hit the town! Lucky for you, there is no shortage of things to do from family friendly games to all night dance parties.
Family Friendly Fun
One of the biggest questions asked is what is there for the kids to do? Luckily, there are plenty options! One can't miss activity is the Thursday night "Chicken Drop" held at Wahoo's Lounge near Central Park. Buy a square and see if the chicken "drops" on your square! Chicken Drop goes from 5:00 PM until midnight.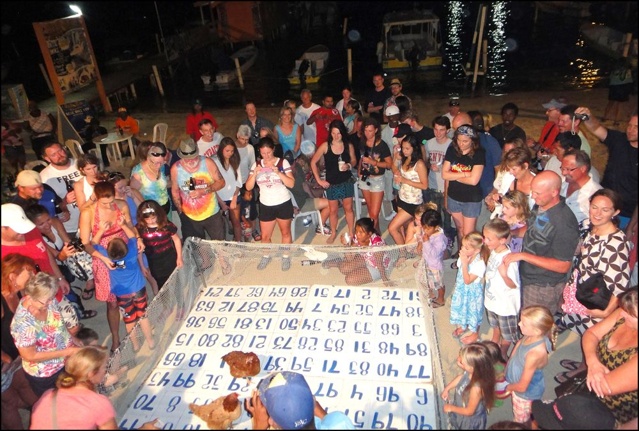 Kids Having Fun with the Chicken Drop at Wahoo's
Another fun island favorite activity is the Tuesday night Crab Races at Crazy Canucks, located on the beachfront of the future Marriott Residences. Select the crab you think is the fastest for $5BZ, give him or her a name, and watch as they make their way through the obstacle course in an attempt to win you prizes including cash and gift certificates to island restaurants! Fair warning – the names can get a little racy as the night goes on, so if you have younger kids, its best to come for the early races at 6:30.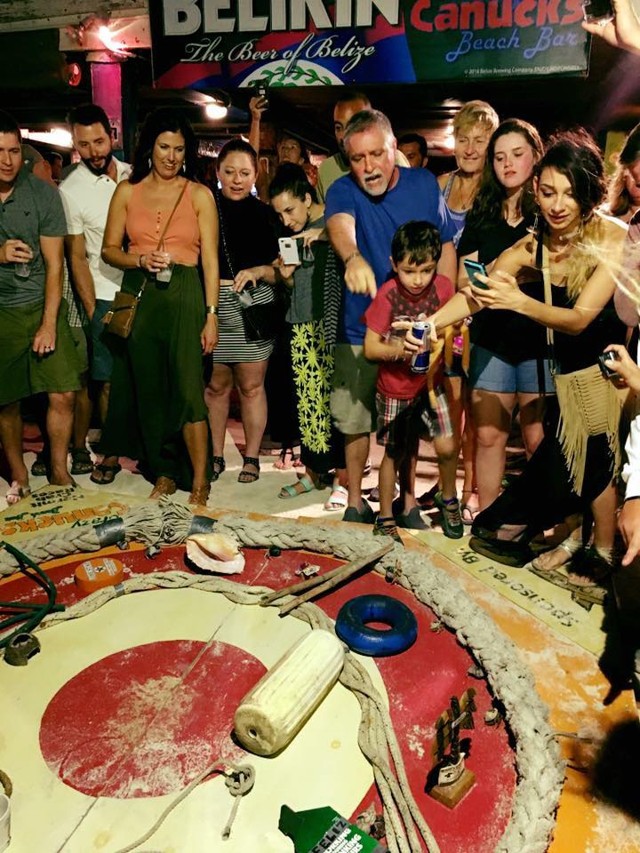 The Crab Races at Crazy Canucks are always lots of fun and laughter
And last, but certainly not least, is The Truck Stop, which hosts a movie night on Wednesdays, trivia on Thursdays, Family Feud on Fridays, and family movie night on Saturdays. In addition to the nightly events, The Truck Stop also has a swimming pool, cornhole, giant Jenga and Connect Four, as well as a variety of board games.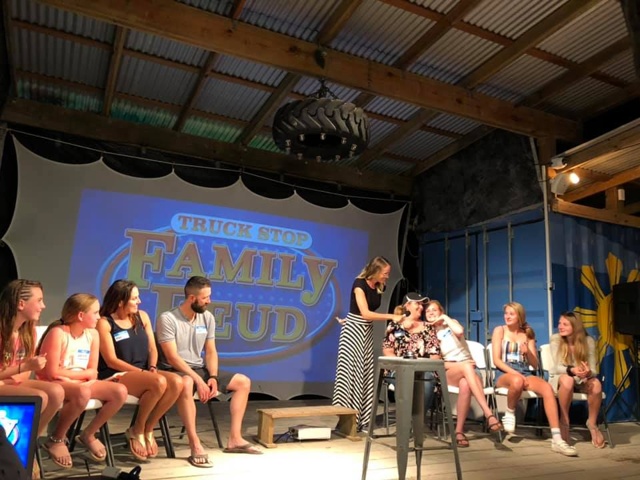 Friday Night Family Feud at the Truck Stop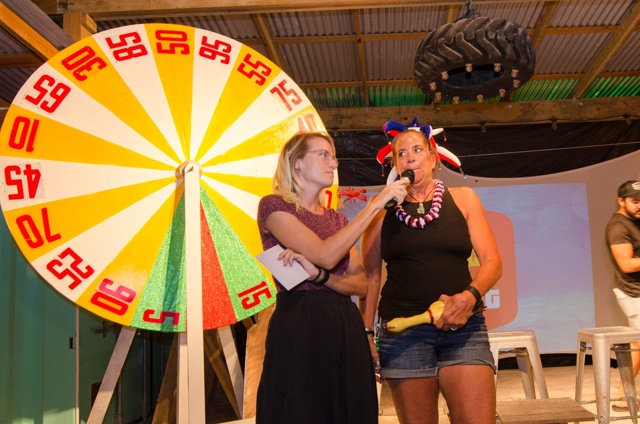 There's No Shortage of Fun during Game Nights at the Truck Stop
Sophisticated Night Out
If you're looking for a tamer night out on the town to enjoy with that special someone or a group of friends, look no further than Wine De Vine, located midway between the Grand Baymen Gardens and the Tropic Air terminal. Wine De Vine offers the islands widest variety of wines, as well as delicious meats and cheeses, which can be made into a delicious platter along with crackers, olives, and various spreads. Wine de Vine hosts $10 Tuesdays as well as Tasting Thursdays (three wines for $20 BZ), and their Friday Night Social. Their comfortable seating area is a great place to mingle with friends or make some new ones.
North of the bridge, Marbucks Coffee House holds their weekly "Wine Down" event every Thursday from 4:30 to 7:30 PM. Guests can enjoy wine, beer, or sangria by the glass, along with complimentary appetizers and live music.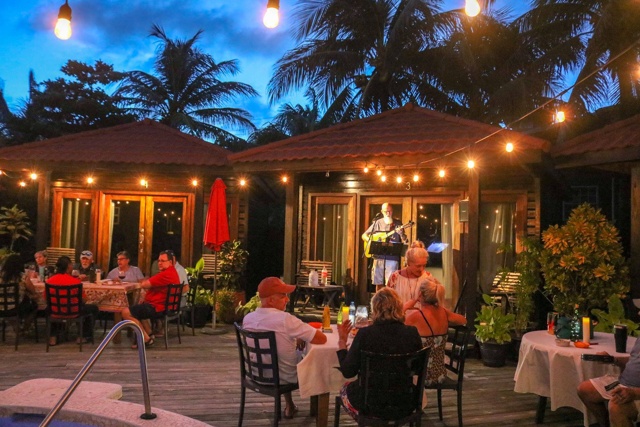 A Nice Evening with Live Music at the Thursday's "Wine Down" at Marbucks
Dance All Night
For those looking to dance the night away, there are some great options. The newly opened Sunset Lounge, located on the roof of Sancas Plaza (across from Tropic Air), is an open-air lounge, complete with a dancefloor and DJ's Wednesday through Saturday nights from 5 PM until midnight.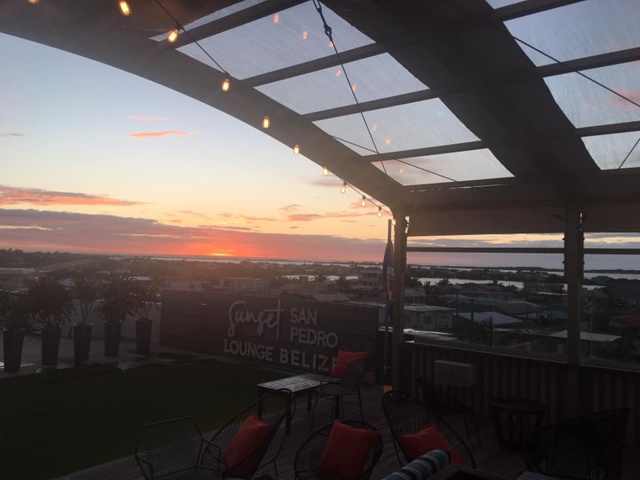 The Newly-Opened Sunset Lounge Honoring its Name
If midnight is too early to call it a night and you're ready to keep on dancing, head over to either Jaguars Temple Club or Daddy Rock nightclubs, both located in Central Park. Both places get the party started around midnight and are open into the wee hours of the morning.
Whatever your preference is, you're certain to find something that is your speed and will provide you with an enjoyable night out! To plan your next vacation to beautiful Ambergris Caye, please click here.
We hope you found this article interesting. If you'd like to receive more great stories, sign up for our Newsletter, and you'll be emailed once per month with informative articles written by our team to keep you informed about all things Belize.
When planning your stay in Belize, we can help you book exciting excursions such as snorkeling at Shark Ray Alley, Cave Tubing on the mainland, or flying over the Blue Hole.

Our knowledgeable team will assist you with any tour you would like to take while visiting Belize, so that you can just relax and enjoy the adventure. CONTACT US TODAY.
ECI Development delivers affordable luxury residence and resort communities in Central America, providing our clients with various premier lifestyle options from the Caribbean to the Pacific. ECI delivers inspired residences for adventurous souls.
Coupled with over 20 years of inherent corporate social responsibility in the communities where we work, ECI Development is building a sustainable business that is going to be around for the next 100+ years.