This year, Grand Baymen teamed up with our sister organizations, Georgetown Trust and Caye International Bank, to raise funds for The Living Word Church's annual Holiday Toy Drive.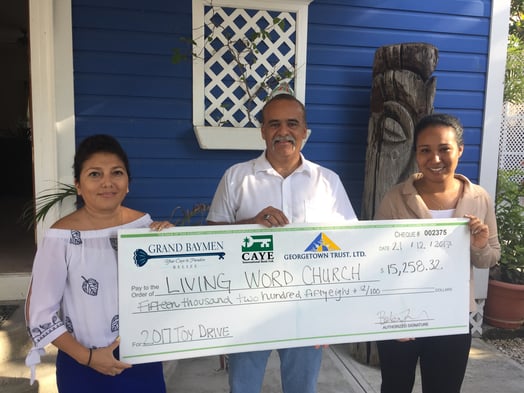 Together, with the help of our generous property owners and clients, we were able to raise over $7,500 USD.
The Living Word Church's' annual Christmas Toy Drive, started by Pastor Ian Zaldivar, is a cherished annual event that truly embodies the spirit of giving. Because of the generous donations received, over 1,000 children in San Pedro were able to come with their families to the Saca Chispas Football Field and receive a gift and a cupcake from Santa. If it were not for the Living Word Church's Toy Drive, many of these children might not have any gifts to open for Christmas. Holiday cheer was in abundance as children raced around the field to show off their new dolls, cars and trucks, soccer balls, and other toys and games. Parents smiled and thanked Pastor Ian and volunteers from the Living Word Church.
Other highlights of the evening included Pastor Ian and members of the community singing Christmas carols through the main streets of San Pedro before the actual gift giving began. Pastor Ian also delivered an inspiring message to all those in attendance while children lined up to receive their treats and toys. Pastor Ian added, "A BIG thank you and many blessings to everyone who donated to the Living Word Church Toy Outreach 2017! It was a huge success in every way."