Neighboring the Grand Baymen Gardens community sits one of Ambergris Caye's most important aspects of the island, Tropic Air's John Greif II Airport.
History of the John Greif II Airport
Back when Ambergris Caye was just a remote island that was only accessible by boat, John Greif Sr. first met Celi Nunez, from San Pedro. They were married a short time later and in 1965, Celi and John purchased a beachfront property where they had the San Pedro Holiday Hotel built. John realized that tourists would want and need a faster method of transportation to Ambergris Caye than sailboats. With his many years of flying experience, John was convinced that an airplane would be needed. So, he purchased a Cessna 180 and had an airstrip cut into the bush. Today that airstrip, decades later, is the much-improved John Greif II Airport.

This 1969 photo is of an airplane and The Greif Family. It was taken just after it had made the very first landing of any aircraft in San Pedro. The passengers were John Greif, his wife, Celi Greif, and their son Johnny.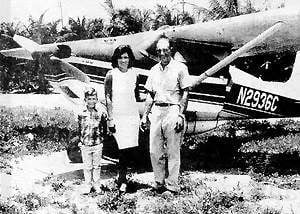 John II, III and Celi Greif
Hours of Operation and Proximity
The Terminal is only open between daylight hours, 6am - 6pm. Because San Pedro is one of the few runways that has lights, once in awhile you'll hear the planes doing "touch and goes" which is the pilots practicing their night time landings (but never late into the night). The runway is 3,500 feet long and 60 ft wide and takes about a minute from touchdown to get to the Terminal. Many locals and visitors alike enjoy the entertainment of watching the small planes fly in and out. Popular "watering holes" like Carlo and Ernie's Runway Bar or Billy Bones Bar at Grand Baymen Gardens are often frequented to watch the sunset and the Cessnas land. "It is extremely soothing," a Grand Baymen resident says, "as you see the faces looking at the windows of those departing, you can just imagine that they we are wishing they could stay on Ambergris longer! And how lucky am I, that I get to stay."

Travel to Ambergris Caye has also become simpler. Check out the article on the Interline Agreement with Copa and Tropic Air.
The airstrip runs from downtown on the north end to the south near Mahogany Bay. DFC, Grand Baymen Gardens, and Carlo & Ernie's Runway Bar are all neighbors with John Greif II Airport.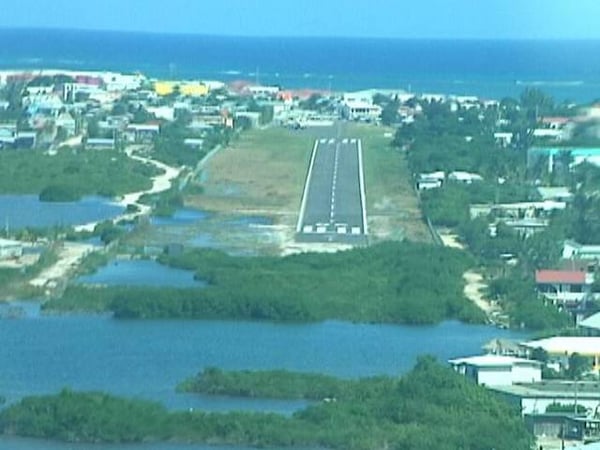 The San Pedro airstrip long before the Terminal was built
Tasty Restaurant/Bar Right Off The Runway
Speaking of Carlo & Ernie's, you'll definitely want to pop by one of these tasty restaurants while staying in Ambergris Caye. One traveler writes about Carlo & Ernie's Runway Bar, "I was on the island 2 weeks, and once I discovered this place, I ate there at least once a day".

Come stay at the Grand Baymen Gardens on your next visit (or first visit), to Ambergris Caye. Contact reservations@grandbaymen.com to book your stay.
The close proximity to the airport makes it easy to see how convenient it is to be just a hop, skip, and puddle jump away!

If you'd like to take a break from the cold winter months ahead, book your stay at Grand Baymen Gardens or Exotic Caye Beach Resort. Click here for reservations.
ECI Development delivers affordable luxury residence and resort communities in Central America, providing our clients with various premier lifestyle options from the Caribbean to the Pacific. ECI delivers inspired residences for adventurous souls.
Coupled with over 20 years of inherent corporate social responsibility in the communities where we work, ECI Development is building a sustainable business that is going to be around for the next 100+ years.