After spending two and a half months on the island of Ambergris Caye, Belize, I was getting a bit of island fever (a phenomenon that is hard to believe possible when you live in paradise).
Lucky for me, one of the many beautiful aspects of San Pedro Town is the accessibility and proximity to the mainland. If taking a puddle jumper, you can be in Belize City in just 15 minutes or get to San Ignacio in under 1.5 hours.
Getting From San Pedro to San Ignacio
Hearing how amazing the "ATM" caves are from nearly every tourist I spoke with, my friend and I decided it was time to check it out ourselves. We were ready for an adventure and ready to accomplish the acclaimed Actun Tunichil Muknal – a mysterious Mayan cave!

We decided to take the more scenic route. Meaning, instead of the puddle jumper, we took the water taxi from San Pedro to Belize City, and then hopped on a bus to San Ignacio. This option took about five hours, but we got to experience the Belizean bus system, which was surprisingly easy and consistent. During my time in Belize, I have found the Belizean people to be incredibly helpful and make it a personal mission to help you get where you need to go. As a result, we did not have a problem making our way to the bus depot from the water taxi terminal (USD 3.50) then onto an Express Bus to San Ignacio for only USD 5.00. There is also a shuttle bus option that offers air conditioning and more comfortable seating, but that is USD 20.00.
Mayan Adventures
San Ignacio is a quaint town filled with rich history in the heart of the Cayo District. Before I even stepped into the small guest house where we were staying, I was in love with the town. From cave tubing to hiking up Xunantunich, San Ignacio is a great home base for seeing some of the magnificent Mayan ruins. Finding a tour of your choice in the town is easy. My friend and I didn't know what to expect with our ATM tour and found ourselves in a bit more of an adventure than we bargained for…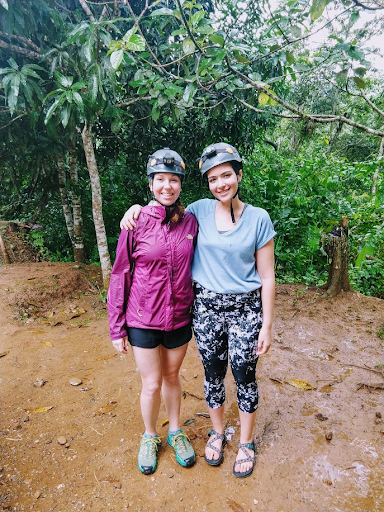 Before ATM
Within the first five minutes of our hike, we were fully submerged and swimming across the "creek" with a rope to hold onto so not to get swept away in the current! What did we get ourselves into?
After my initial shock of the cold water, I couldn't help but laugh at this experience – we had not even signed a waiver! We proceeded with our hike through the jungle for another 45 minutes which included two more creek crossings (luckily these 2 were only waist-high water depths).
Entering the Mayan Cave of Rituals
As I prepared to enter the cave opening by flipping on my headlamp, I could not help but recount our guide's words about how the Mayans used this cave as a place of sacrifice and offering. While I, along with the countless other tourists, treat this as an adventure with a touch of history, the process of entering the cave was once one of profound meaning and accomplished with ancient methods by the light of a torch. It is considered one of the most sacred caves in the world!

After swimming into the cave's opening, we proceeded through waist-high water and maneuvered our way through an extensive underground maze of tunnels, passageways, and chambers. It was a mix of rock scrambling meets water wading/swimming, with a touch of terror.

Once we arrived at the raised site of the Mayan rituals and climbed up a ladder to the site of the ceremonial chamber, I was awestruck with the preservation of ancient stoneware, ceramics, and the famed calcified skeleton of the "Crystal Maiden."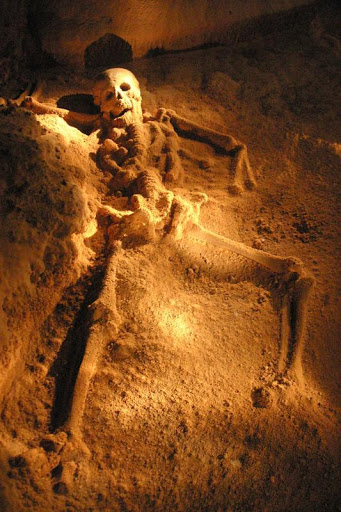 Crystal Maiden
Note, I did not take this picture – pictures are not allowed after a tourist dropped a camera on a skull and chipped it!
I Would Do It Again
Overall, it was an amazing and exhilarating experience. We left our hotel at 8:00 am and did not return until 5:00 pm so it was a long day.

It is important to consider the different physical requirements of this and some of the other excursions. Also, keep in mind, the regulations you may be accustomed to in the United States do not always apply when traveling, so be responsible for your own safety. Consider the weather and rainfall for the day. And, if you want a life vest on any water excursion, ask for one.

If you are staying on Ambergris Caye, and not able to make a multi-day trek to San Ignacio, several tour options allow you to explore your choice of Mayan marvels and still make it back to the island in a day. Note that these tours usually include a trip in a puddle jumper and therefore a little more expensive, but worth it.

While staying at Grand Baymen Gardens or Exotic Caye Beach Resort, ask the friendly front desk representative about booking your adventure for you!
ECI Development delivers affordable luxury residence and resort communities in Central America, providing our clients with various premier lifestyle options from the Caribbean to the Pacific. ECI delivers inspired residences for adventurous souls.
Coupled with over 20 years of inherent corporate social responsibility in the communities where we work, ECI Development is building a sustainable business that is going to be around for the next 100+ years.