Something new is coming to Belize. The Belize Academy of the Performing Arts (BAPA), currently under development, is going to transform the culture scene in Belize. Expats and tourists alike will love this new addition to Belizean culture. BAPA intends to place Belize on the map of countries in the world with professional symphony orchestras.

A Solid Partnership
BAPA is moving forward thanks to the efforts of Governor-General Sir Colville Young, Caye International Bank Chairman Joel Nagel, and world renowned musician Peter Illavsky, who will manage the academy.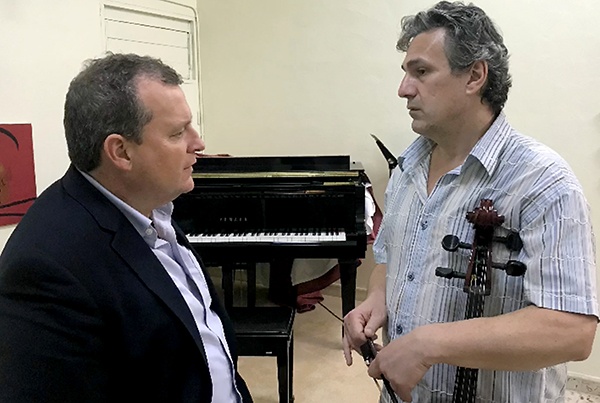 Joel Nagel & Peter Illavsky
Joel Nagel and Governor-General Young have been working hard to make sure that the academy has everything it needs to be successful. They have been raising funds from corporations and foundations and have been building a variety of partnerships.
Governor General Young wants to make sure that all talented young people in Belize will have a chance to learn and achieve their musical potential. As such, he has been soliciting funds to purchase instruments for those who come from low-income families.
Upon the announcement of the plans to form BAPA earlier in the spring, Nagel said that Austria, Germany, the United States, and Taiwan have already made contributions. Covering the operating costs is key to helping the academy get off the ground.
Building a Sustainable Classical Music Program
BAPA has several goals. Besides building a first-class symphony orchestra, the plan is to create a sort of incubator to nurture generations of musical talent among native Belizeans. With BAPA's establishment, more Belizeans will be exposed to classical music, which will hopefully inspire a love for it that will result in a sustainable symphony music program.
Belize undoubtedly has a rich heritage of ethnic music. Generations of immigrants spanning hundreds of years have created a unique sound that so many have come to love and appreciate. The task now at hand is to create an infrastructure that will support new artists in the classical music tradition while respecting the uniqueness of Belize.
Peter Illavsky Is an International Talent
Peter Illavsky has been hard at work since May visiting all the high schools in Belize. He has scheduled more than 21 appearances thus far and will continue throughout the summer. Illavsky has recruited music professionals and teachers from Europe, America, and Mexico to help train the academy's students and form the orchestra as local talent is being gathered.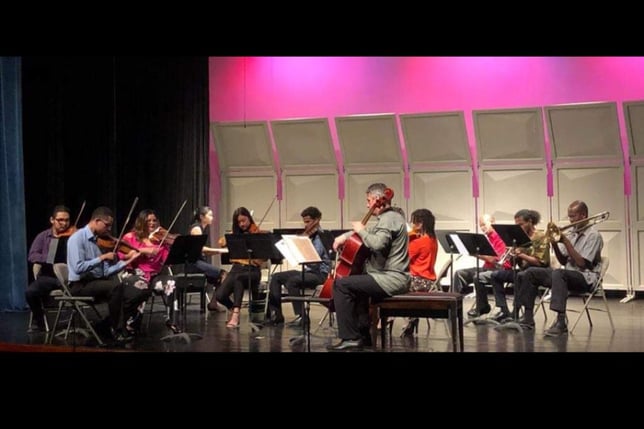 Illavsky with students in Belize
This is not the first time that Illavsky has created a new classical music program and orchestra in a country. He developed South Africa's professional symphony orchestra in the 1990s and he is now very excited to repeat that success with BAPA.
Illavsky is a highly successful musician. He was a member of the Vienna Boys Choir when he was just a young boy and has performed with Placido Domingo, Zuben Mehtah, and other international giants. He will now take all his experience and place it into the heart of the Belize Academy of the Performing Arts.
We hope you found this article interesting. If you'd like to receive more great stories, sign up for our Newsletter, and you'll be emailed once per month with informative articles written by our team to keep you informed about all things Belize.
When planning your stay in Belize, we can help you book exciting excursions such as snorkeling at Shark Ray Alley, Cave Tubing on the mainland, or flying over the Blue Hole.

Our knowledgeable team will assist you with any tour you would like to take while visiting Belize, so that you can just relax and enjoy the adventure. CONTACT US TODAY.
ECI Development delivers affordable luxury residence and resort communities in Central America, providing our clients with various premier lifestyle options from the Caribbean to the Pacific. ECI delivers inspired residences for adventurous souls.
Coupled with over 20 years of inherent corporate social responsibility in the communities where we work, ECI Development is building a sustainable business that is going to be around for the next 100+ years.