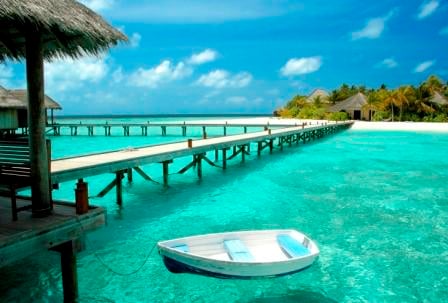 With the price of homes in Belize so affordable, many individuals from around the world are tempted to make a purchase and own a slice of paradise at a community like Grand Baymen, on Ambergris Caye.
However, some investors might still be reluctant about making such a big investment, particularly if the home won't be their permanent residence. Keep in mind that owning a second home can be more than just a vacation home or a future retirement destination.
A second home in a tropical setting like Ambergris Caye can be a substantial source of income. Discover how renting out a second home can bring in income and why doing so can be a smart choice for investors.
Rising Tourism in Belize Means Rental Properties are in Demand
It is important to note that not every second home will necessarily be a candidate for a rental property. After all, a second home in an ordinary suburban neighborhood might not have the tourism numbers or the economy to attract renters.
In some destinations, long-term rentals might be the best way to bring in rental income, and you can rely on a monthly check to help you build your wealth.
At Grand Baymen in Belize, second homes are in demand both as nightly vacation rentals and as long-term rental units. You might rent out your home to travelers for a night or a week, or you can offer it to a retired expat couple who wants to stay there for a year or two.
Thanks to an overall low cost of living, amazing scenery and unparalleled attractions, second homes at Grand Baymen won't be difficult to rent out for regular income.
Financing is Available
Keep in mind that you won't need to pay cash for your entire second home. Financing is often available for international properties, and any rental income you earn can offset monthly mortgage costs and supplement your income at the same time.
At Grand Baymen, buyers can finance as much as 50 percent of the home's cost through Caye International Bank, and it can be repaid over a period of 10 to 15 years.
Earn Income While Property Values Rise
Investing in a second home now can be a smart way to take advantage of a favorable real estate market. Each month, you can bring in rental income that goes toward paying off any home loans or simply helps you grow your wealth. In addition, the second home's value will likely rise, letting you build equity. In the future, you can sell the second home for a profit, or you can use it yourself for some fun in the sun in Belize.
Retain Rights to Use the Property if Desired
When you buy a second home for investment, bringing in rental income might be the priority. However, you can also enjoy some fringe benefits. You might reserve the property to use for yourself and your family one or two weeks a year, or you could spend winters or summers in the second home as you transition into retirement.
Even renting out a property at Grand Baymen for a few months out of the year is likely enough to cover maintenance and bring in revenue, and the rest of the year the property can be yours to enjoy.
Now is the perfect time to invest in a second home and start making a serious income by renting it out. Owning a piece of paradise on Ambergris Caye is a great way to build wealth and enjoy a stream of regular rental income.