Belize is truly a melting pot of cultures including Mayan, Spanish, Garifuna, English, East Indian, Chinese, and Mennonite.
Many people are surprised to hear that Belize is home to a thriving Mennonite population of over 10,000 of Russian descent. Approximately 2,000 Mennonites are converts from local communities.

The first Mennonites came to Belize in 1957 as part of a diplomatic mission. These Mennonites, who emigrated from various Canadian locations, came to Belize (British Honduras) from Chihuahua, Mexico, where they had been living for many years.

They met with then Premiere of the country and father of Belize, George C. Price, to discuss making this tiny country their new home. In return for allowing them to stay in Belize, the Mennonites brought with them large-scale agriculture which there was a great need for in the country at the time. George Price granted them the freedom to live and farm, freedom to practice their religion, and a promise that their children would not be required to serve in the armed forces. As such, in 1958, the first colony of Mennonites was established in Spanish Lookout, located approximately 34 kilometers from what is now the capital city of Belmopan.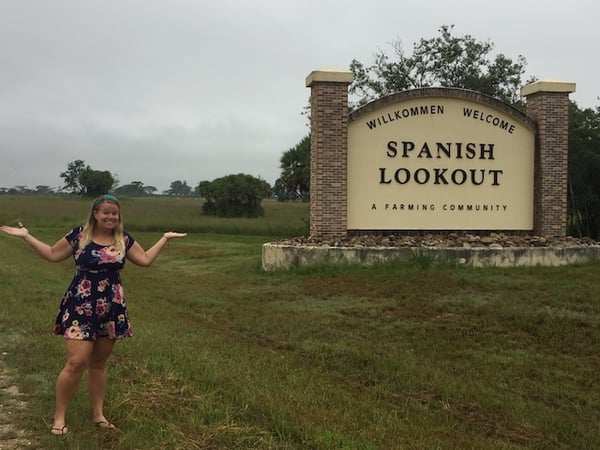 ECI's Betsy Rosenlund in Spanish Lookout

Today, there are ten Mennonite communities throughout Belize: Spanish Lookout, Upper and Lower Barton Creek, and Springfield, all located in the Cayo District; Little Belize in the Corozal District; Shipyard, Blue Creek, Indian Creek, and Neuland, all situated in the Orange Walk District; and Pine Hill in the Toledo District. These communities vary in their orientation, from very conservative (no electricity, transportation by horse and buggy) to modern (use of cars and other modern conveniences). The Mennonites in Barton Creek, Springfield, and Pine Hill are on the very conservative and traditional end, while the Spanish Lookout and Blue Creek Mennonites tend to be on the more modern side.

Amid the modern clothing of Belizeans and visitors, Mennonites are easily spotted and identified by their "old-fashioned" clothing. Women traditionally wear long dresses with an apron and a hat or bonnet, while men wear black pants or overalls, checkered shirts, and hats.

The majority of the ethnic Mennonites in Belize speak both Plautdietsch, a Low German dialect for everyday life, and English, primarily used for business purposes. There are a small number of conservative Mennonites who speak Pennsylvania German instead of Plautdietsch. Standard German is used for teaching and reading the Bible, in schools, and church.

Mennonites have a strong farming tradition, and because of this, Belizeans throughout the country benefit from the sale of Mennonite produce, meat and dairy products. Most Mennonite farming is organic. Their main crops include potatoes, corn, beans, tomatoes, watermelons, carrots, papaya, cabbage, and sweet peppers. Belize's main egg hatchery, Friesen Hatcheries and Quality Poultry Products in Spanish Lookout, supplies the country with fresh chicken and eggs, while Western Dairy Farms is one of Belize's largest producers of milk, cheese, and other dairy products. There are also many cottage industries in Mennonite communities, where you can purchase local honey, cheeses, and crafts.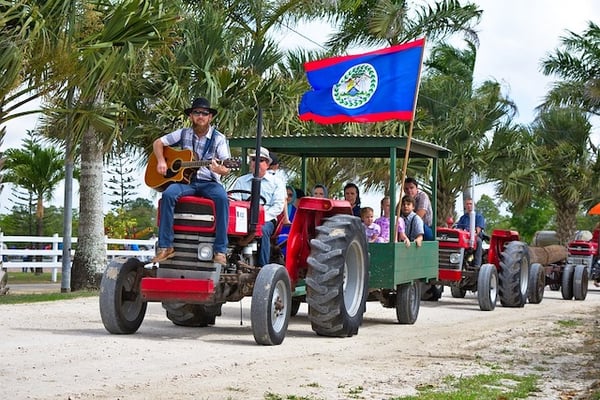 Parade - Photo by Chabil Mar

In addition to their farming skills, Mennonites are known to be wonderfully skilled carpenters, particularly those from the Shipyard and Blue Creek communities. It is very common to see wooden houses skillfully and quickly assembled throughout the country, and beautiful Mennonite made wood furniture. While driving through Mennonite communities on the mainland, you are bound to see numerous Mennonite owned furniture and construction companies. It is worth stopping in if you are in the market for well made, handcrafted wooden furniture.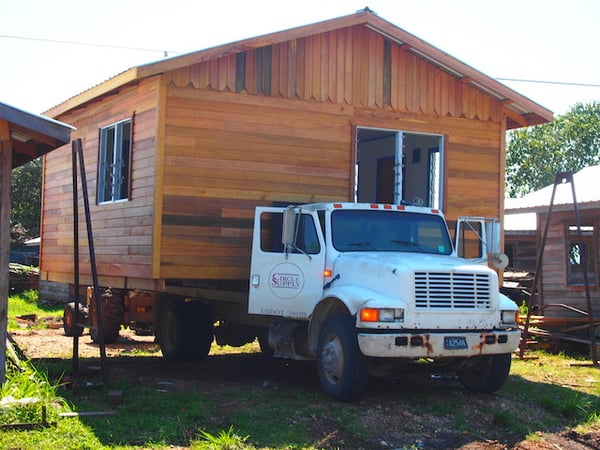 If you are interested in learning more about the Mennonite Communities, be sure to take a trip out to one of the larger communities to experience the Mennonite culture. While visiting, you may feel like you have stepped out of Belize and into Pennsylvania with their rolling green hills, neatly manicured farms, and freshly paved roads.
We hope you found this article interesting. If you'd like to receive more great stories, sign up for our Newsletter, and you'll be emailed once per month with informative articles we have written to keep you informed about all things Belize.
When planning your stay in Belize, we can help you book exciting excursions such as snorkeling at Shark Ray Alley, Cave Tubing on the mainland, or flying over the Blue Hole.
Our knowledgeable team will assist you with any tour you would like to take while visiting Belize, so that you can just relax and enjoy the adventure. CONTACT US TODAY.
ECI Development delivers affordable luxury residence and resort communities in Central America, providing our clients with various premier lifestyle options from the Caribbean to the Pacific. ECI delivers inspired residences for adventurous souls.
Coupled with over 20 years of inherent corporate social responsibility in the communities where we work, ECI Development is building a sustainable business that is going to be around for the next 100+ years.