On November 2, many countries in Central America celebrate "All Souls' Day" or "Day of the Dead". This day is a remembrance of the dearly departed with prayers and feasting on the first anniversary of the death, and then every November on the "Day of the Dead".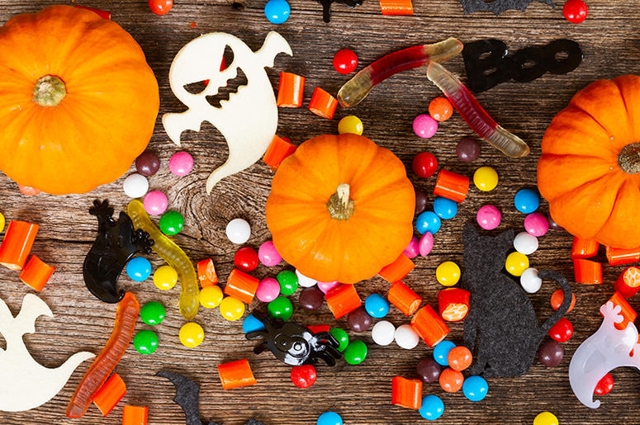 Traditional Halloween Sweets - GettyImages
In Belize, however, the Halloween tradition shadows North American's Halloween with celebrations, festivities, extravagant and scary costumes, and of course trick-or-treating. So even if the weather isn't always agreeable and Halloween festivities take a rain check, there's no stopping the fun. That means the parties and trick-or-treating can always be postponed to the next sunny day.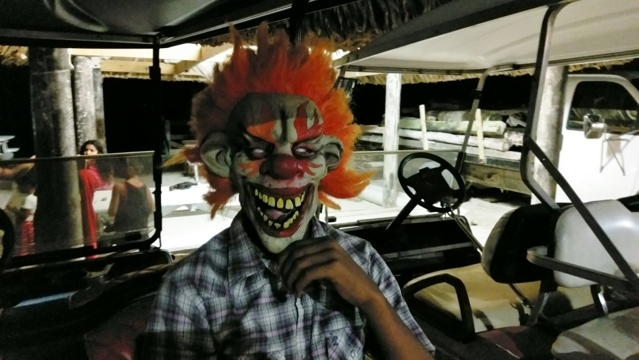 Scary Clown during Halloween in Belize - Photo Courtesy of midwestbeachbums.com
Island children, adults, and tourists all love to dress up and hit the streets in search of treats and to have some haunted island fun. There are ghosts, scary clowns, headless horsemen, witches, dead brides, zombies and vampires drifting around. Many bars and restaurants host costume contests and have live entertainment. Some ghouls even dress up their pets!
Enjoying Halloween on Ambergris Caye - Photo Courtesy of AmbergrisToday.com
The towns of San Pedro, Placencia, and Caye Caulker all hold their own spook-tacular Halloween events and everyone participates. It's an all-around party scene with delicious food, treats, live music, and prizes for best costume. But it's also fun to just people watch… or ghoul watch.
If you love warm weather, good times and adventures, and of course all things spooky, it's not too late to start packing and jump on your broomstick to Belize!
Check out our blog "Nightlife in San Pedro".
Happy Halloween!
We hope you found this article interesting. If you'd like to receive more great stories, sign up for our Newsletter, and you'll be emailed once per month with informative articles written by our team to keep you informed about all things Belize.
When planning your stay in Belize, we can help you book exciting excursions such as snorkeling at Shark Ray Alley, Cave Tubing on the mainland, or flying over the Blue Hole.

Our knowledgeable team will assist you with any tour you would like to take while visiting Belize, so that you can just relax and enjoy the adventure. CONTACT US TODAY.
ECI Development delivers affordable luxury residence and resort communities in Central America, providing our clients with various premier lifestyle options from the Caribbean to the Pacific. ECI delivers inspired residences for adventurous souls.
Coupled with over 20 years of inherent corporate social responsibility in the communities where we work, ECI Development is building a sustainable business that is going to be around for the next 100+ years.