If you are planning to relocate either permanently or semi-permanently to Ambergris Caye, you may at some point consider purchasing a golf cart, particularly if you do not live within walking distance to the main center of town. Before buying a golf cart, it is advisable to rent one for a few months to determine how much you use it and if it is something that you cannot live without – you may find that you prefer to rent vs. owning based on your usage or how many months out of the year you plan to be on the island.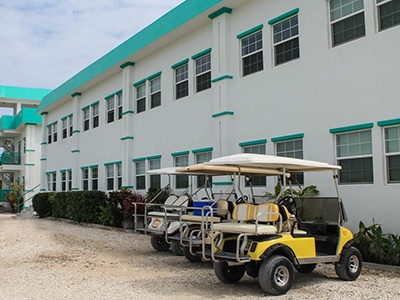 Once you've made the decision to purchase a golf cart, there is a bit of homework that first needs to be done. Buying a golf cart is not like buying a car in the U.S. or Canada. The first step in purchasing a golf cart is to obtain a permit from the San Pedro Town Council. To obtain a golf cart permit you need a few items:
1) title to a property
2) permanent resident status
3) a valid driver's license
4) a complete application form (provided by the Transportation Department)
5) a picture of where you plan to park your golf cart
6) registration fee
The approval process can take some time to process, and you may want to stop in to the Traffic Department from time to time to check on the status of your permit. Once you do receive your permit, it is time to look for a cart.
As with buying a car, you have the option of purchasing a new golf cart or a secondhand cart. If you are purchasing a new cart, you will most likely find yourself at Captain Sharks, the largest retailer of Club Car golf carts on the island. A new cart can run you between $8,000 - $14,000 USD depending on the year and the accessories that it has to offer.
Alternatively, if you budget for purchasing a golf cart is on the lower end, you can find a good used golf cart at any time. Go to Facebook and search for "Buy and Sell" groups on San Pedro. It's a great place to look for used golf carts. Another option for secondhand golf carts is to ask around at the many different golf cart rental companies. They rotate their carts every few years and they are generally well maintained. A secondhand cart will typically cost around $4,000-$6,000 USD. When buying a secondhand cart, it is important to have a mechanic that you trust take a look at the engine, as there can unfortunately be some unscrupulous individuals trying to get rid of a lemon to an unsuspecting buyer. Ask around with friends, neighbors, or others that you trust. There's no shortage of mechanics on the island and it never hurts to get more than one opinion.
Once you've found the golf cart of your dreams, you'll want to make sure that you purchase insurance. Insurance can be purchased from Marisa Graniel, who operates Atlantic Insurance, out of Graniel's Dreamland on Middle Street. Insurance is very inexpensive, less than $50 for the whole year.
Here's a "local's only tip" that we highly recommend – once you have your registration and permit stickers and insurance card, make a color copy of all 3, laminate the document, and attach it to the underside of your golf cart's front seat and leave the originals in a safe spot at home. That way should you ever get pulled over you have a copy handy, and no one can peel the stickers off and try place it on their cart. If you lose your original stickers, you are responsible for repaying the annual registration fee to the Traffic Department in order to obtain new ones.
To review tips of the best practices while driving your golf cart around town, please refer to our article, "5 Important Golf Cart Tips". Be safe!