Belize may be a country that is small in size, but what the country lacks in size, it makes up for in adventure.
Whether you enjoy exploring ancient caves or ruins or getting up close and personal with the country's vast array of flora and fauna, Belize is a country that is built for adventurers. Here are five of the best recommended excursions that everyone should do while in Belize!
1. Explore The World's Most Sacred Cave
Consistently ranked by both visitors and publication such as National Geographic, as a must do excursion, the Actun Tunichil Muknal (or ATM Caves as they are most commonly known) located in the Tapir Mountain Nature Reserve of Western Belize near San Ignacio in the Cayo District, are a must. The Cave of the Stone Sepulcher as it is known in English, was first discovered in 1989 and has gained worldwide recognition after the skeleton of the "Crystal Maiden", a fully intact skeleton that sparkles as a result of calcification, was discovered. In addition to the Crystal Maiden, there are a number of other skeletons that were sacrificed to chac, the Mayan god of rain, over a thousand years ago. The ATM caves are known locally as "Xibalba" or the Mayan underworld, because they were believed to be an entrance to the underworld and home to the lords of Xibalba.
In addition to the numerous skeletons, ceramics and carvings have been preserved inside the caves, just as they were left, primarily due to inaccessibility to the caves. Very little has been removed from the caves since they were first discovered making it a truly authentic and unique experience.
This trip is for those with good mobility and strength as you are required to both swim and wade through a river, and hike in order to reach the caves. In order to enter the caves, you must be with a tour guide for both safety and preservation purposes, and it is recommended that you make arrangements in advance.

See what Sara Lenart, Grand Baymen's intern, had to say in the article about her experience at the ATM caves.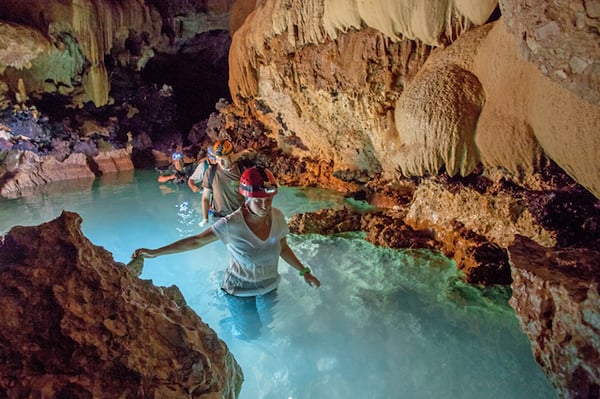 Wading through the cave - photo courtesy of Belize ATM Cave
2. Swim or Sail With Sharks and Rays
No trip to Belize is complete without a dip in the beautiful Caribbean waters and the best snorkeling and diving along the Mesoamerican Reef, the world's largest living reef. Whether you prefer a leisurely snorkel at Hol Chan and Shark Ray Alley or wish to dive in the dark blue depths of the Blue Hole or Turneffe Atoll, or simply cruising along the sea on a catamaran, there are plenty of sea activities to choose from.

The waters are warm year-round, so there no need to pack a wetsuit and there are always a variety of tropical fish, rays, sharks, dolphins, manatees, turtles, coral, and underwater plant life to take in. Be sure to bring an underwater camera or GoPro to capture the memories to share with friends and family back home! For recommendations on tour operators, ask our Grand Baymen office for suggestions or for help booking. Click through to see another article on all the great water activities you can do in Belize.
3. Visit Mayan Ruins Without the Crowds
Exploring Ancient Mayan ruins is a favorite for many visitors to Belize who want to learn about the rich cultural heritage of the country. Unlike ultra-famous ruins such as Chichen Itza and Tulum in Mexico where lines of tourists crowd the grounds and temples are roped off, Mayan ruins in Belize are uncrowded. If you are feeling brave, you can scale up the sides of ancient temples and pyramids.

Dating back to around 350 B.C., the Mayans helped to shape the landscape of modern Belize. Belize is home to 12 major Mayan ruin sites spread throughout the country and it is presumed that there are many more sites that are still hidden in the lush jungles. The top Mayan sites in Belize include: Xunantunich, Altun Ha, Caracol, Cahal Pech, and Lamanai.

If you are staying on Ambergris Caye, it is easy to get to the ruins either by water taxi or puddle jumper and then rent a car or hop on a bus. Organized tours of the ruins are available, or you can venture through the ruins on your own. Either way, it is an excellent way to step back in time and experience what life might have been like during the height of the Mayan civilization.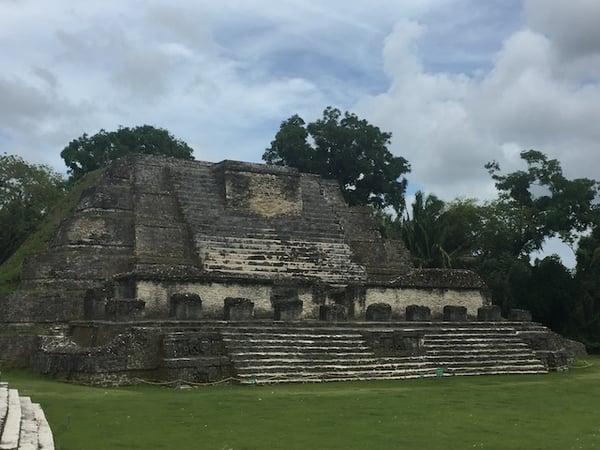 Altun Ha
4. Experience the Blue Hole From Above
For divers, the Blue Hole is a bucket list dive. However, for those who either do not dive or do dive, but aren't keen for the long boat ride, there is good news. You can experience the Blue Hole from above and get that postcard-worthy view!

The one-hour tour is a once in a lifetime adventure to marvel at turquoise and deep blue waters surrounding the Blue Hole, in the best way possible. In addition to the flying over the Blue Hole, you'll take in the sights of Lighthouse Reef, Turneffe Atoll, and Hol Chan. Depending on how intimate an experience you want it to be, you can either fly over with one of the regional air carriers, Tropic Air or Maya Island Air or view it by helicopter with Astrum Helicopters.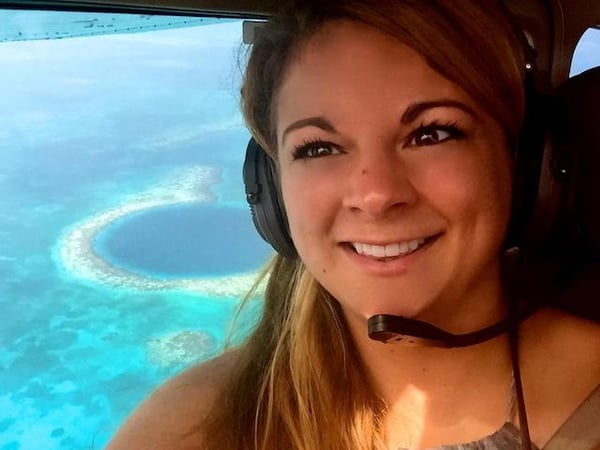 ECI's Rachel Jensen over the Blue Hole
5. Visit the Belize Zoo
For animal lovers, there is no more magnificent place to visit than the Belize Zoo, dubbed "the best little zoo in the world." The Belize Zoo and Tropical Education Center is home to 175 animals, representing over 45 species native to Belize.

What makes this zoo unique is that in addition to all of the animals having origins in Belize, all of the animals there were either orphaned, rescued, born at the zoo, rehabilitated, or were returned to Belize from other zoo's throughout the world. Animals that you might encounter at the Belize Zoo include tapirs (the national animal of Belize), toucans, howler monkeys, jaguars, and boa constrictors.

Unlike zoos in the US and other parts of the world, you can get up close to the animals, and there are minimal bars and barriers, giving it a very natural look and feel. If you're brave, you can even get inside a cage in the big cat enclosure to get up close and personal with the resident jaguars!

For an overnight excursion, stay at the onsite Tropical Education Center & Zoo Lodge in either their dormitories or private jungle cabañas. The Belize Zoo is about one-hour from Belize City and is easily accessed by car or bus.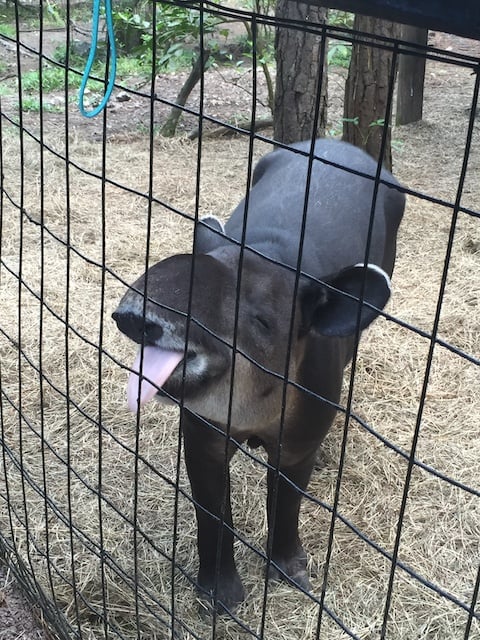 Tapir - National animal of Belize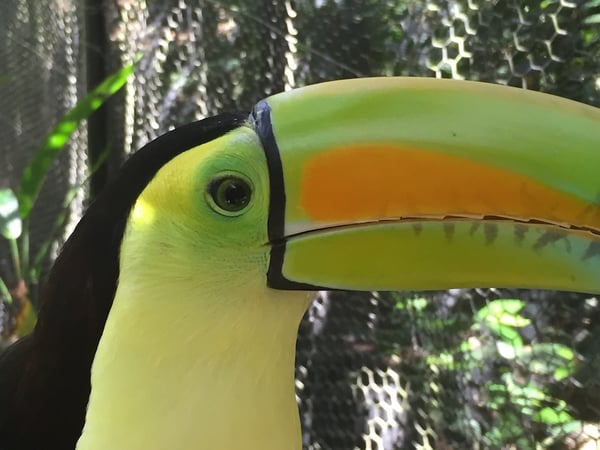 Beautiful Belize Toucan
We hope you found this article interesting. If you'd like to receive more great stories, sign up for our Newsletter, and you'll be emailed once per month with informative articles written by our team to keep you informed about all things Belize.
When planning your stay in Belize, we can help you book exciting excursions such as snorkeling at Shark Ray Alley, Cave Tubing on the mainland, or flying over the Blue Hole.

Our knowledgeable team will assist you with any tour you would like to take while visiting Belize, so that you can just relax and enjoy the adventure. CONTACT US TODAY.
ECI Development delivers affordable luxury residence and resort communities in Central America, providing our clients with various premier lifestyle options from the Caribbean to the Pacific. ECI delivers inspired residences for adventurous souls.
Coupled with over 20 years of inherent corporate social responsibility in the communities where we work, ECI Development is building a sustainable business that is going to be around for the next 100+ years.