After living on Ambergris Caye for a few months, we decided it was time to get out and explore the mainland.
My 5-year-old sons US passport was going to expire soon, so we thought we would take advantage of the trip and leave a day early to check out the Belize Zoo!
Getting there
With our two small backpacks filled to the brim with clothes, diapers, wipes & bottles, my husband and I each grabbed one kid and shuffled onto the water taxi where for the next 90 minutes, we were surrounded by the crystal clear, blue Caribbean water. Upon arriving in Belize City, we waved down a taxi to take us to the public bus terminal. As we identified the correct bus & heading in that direction, another taxi driver approached us & asked if we were going to Belmopan. He had someone there waiting for him and was looking to make a little extra money along the way. So, instead of the bus, we handed him $15.00 US, and off we went on a 1-hour taxi ride to our next destination. We were excited at the opportunity to sit back, relax, & view the British colonial style homes scattered along throughout the beautiful countryside.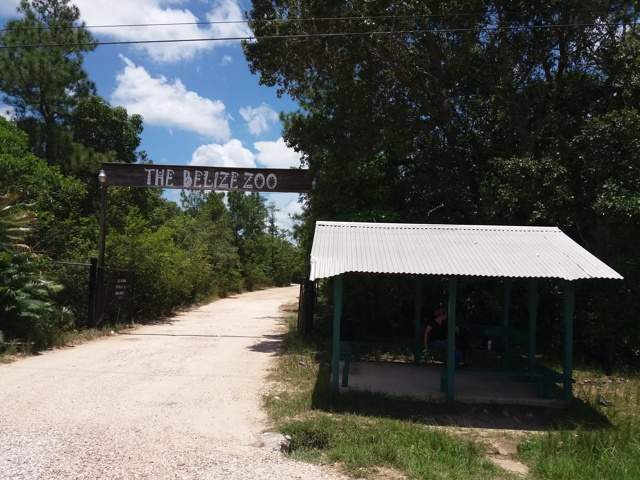 Accommodations
I had made reservations at the Tropical Education Center/Zoo Lodge, conveniently located just a few minutes from the Belize Zoo. We were escorted to a cute, comfortable cabin that was built on stilts and overlooked a small lake that was full of fish, turtles and our own little caiman (alligator looking) friend. My husband, Osman worked many years at a private wildlife reserve in Nicaragua and is a born naturalist. He loved laying in the hammock, bird-watching through his binoculars, and adding new species he identified to his bird book. Our sons, Kaiden (5) & Dominic, (2) loved walking out on the dock over the water to throw food in for the fish & turtles. I loved the screens that kept the mosquitoes out & the boys in.
The next morning, we headed over to the lodge's guest house, where we were served breakfast, juice, and hot coffee. After breakfast, we made our way over to the Belize Zoo.
The Belize Zoo
The Belize Zoo was started in 1983 to serve as a stronghold for conservation & environmental education. It features over 180 native Belizean animals and is special in that none of the animals there were taken from the wild. They have either been injured, orphaned, born at the zoo, or transferred from other wildlife facilities. If they cannot be released back into the wild, then they will be given a permanent home in the zoo.
We loved the natural, open environment that the animals were given to live in. After two hours of watching the excitement in our kids' eyes at seeing so many interesting species (felines, monkeys, tapir, alligators, & toucans, to name a few). We ate lunch, and then set off to Belmopan to renew Kaiden's passport at the US Embassy.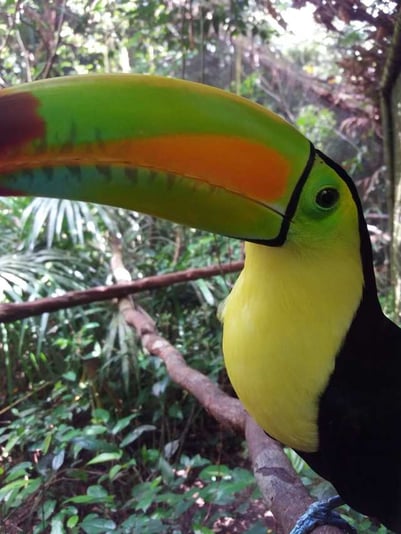 Final Destination - Belmopan
We walked out to the highway and waited for about 10 minutes for the bus going to Belmopan, which stopped and pick us up on the side of the road near the Tropical Education Center. A short while later, we arrived at the terminal in Belmopan, and took a quick taxi ride to the US Embassy. Within an hour, we had turned in the paperwork and were off, back on the bus to Belize City. We jumped back on the water taxi to Ambergris Caye & then took a quick 5-minute golf cart ride to our home at Grand Baymen Gardens.
A few months have passed since our visit to the zoo. We still talk about it to this day and look forward to when we will return again.
If you get the chance to visit Belize and are a naturalist looking for a fun adventure, we would recommend visiting the Belize Zoo! If you are in the country for a while and are looking for even more adventures, check out this blog one of my colleagues wrote: "Five Best Adventures in Belize".
Looking for accommodation options for your upcoming trip to Belize? Contact us for options on rates and availability.
ECI Development delivers affordable luxury residence and resort communities in Central America, providing our clients with various premier lifestyle options from the Caribbean to the Pacific. ECI delivers inspired residences for adventurous souls.
Coupled with over 20 years of inherent corporate social responsibility in the communities where we work, ECI Development is building a sustainable business that is going to be around for the next 100+ years.