Life on an island is (in my opinion) great, but sometimes it can feel small and you need to venture off of it. Luckily, the mainland of Belize has so much to offer travelers, and because of the country's small size, it is easy and quick to get from one place to the next. Awhile back, my colleague Rachel and I had the opportunity to attend a TEDx event in Belmopan (the capital city of Belize). Rather than just making a day trip out to Belmopan, we decided to plan a long weekend and explore some parts of the country that neither of us had been to before.

We started our journey off with the 90-minute boat ride from San Pedro to Belize City. When we arrived at the water taxi terminal in Belize City, we were met by a gentleman from the car rental company, who we now refer to as "The Sarge". We've both long since forgotten his actual name, but he was adamant in explaining to us, sometimes quite forcefully, the rules of the road as they apply in Belize (except for one very important one which we'll get to later).
After a thorough run down of Belize's driving laws, Rachel and I headed out on Western Highway to our first destination, San Ignacio. Along the way, we saw the signs for Spanish Lookout, one of the largest Mennonite communities in Belize, and decided to make a small detour.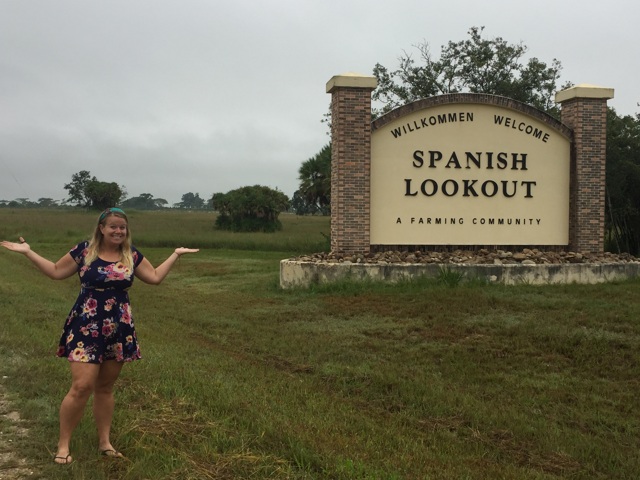 In Front of the Entrance of Spanish Lookout, the Largest Mennonite Community in Belize
There are two entrances to Spanish Lookout, one by paved road, and the other involving a hand cranked ferry over a river – we did not know this and unintentionally found ourselves on the hand-cranked ferry/dirt road route, we were excited to try out this seemingly ancient method of transportation. We made our way across, accompanied by a few local Mennonite farmers, and found ourselves in a town that looked like it had been plucked out of rural Pennsylvania. With green hills, happy cows, neatly paved roads, farm houses, and the occasional horse and buggy. After a quick stop at the Farm Supply Store for some provisions, we continued on to San Ignacio.
San Ignacio is the second largest town in the Cayo District, located about two hours west of Belize City. After brief encounter with a home being transported down the middle of a dark road, we found ourselves at the very popular, Guava Limb Restaurant, a San Ignacio favorite. I dare say this was one of the best meals I have ever eaten and look forward to returning to this quaint restaurant.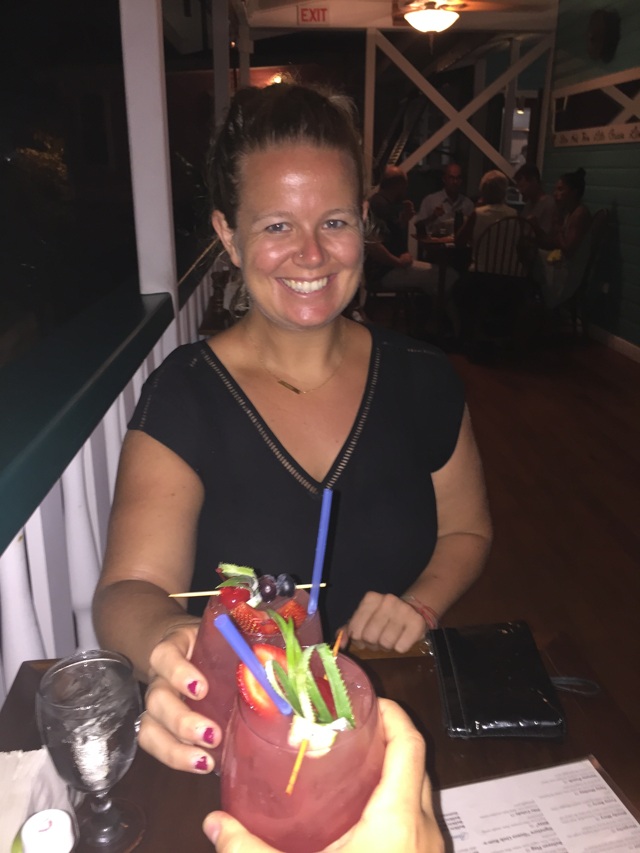 "Cheers!" at Guava Limb in San Ignacio
It was early to bed for us, partly because we were staying in an off-the-grid home and also since we had a big day ahead. We woke up early and made our way to the University of Belize in Belmopan for the TEDx event.
For those who aren't familiar with the TED events, they are short 10-20 minute talks that can really be about anything that excites the speaker. The theme of the talks was "Celebrate" in honor of the unique culture that we have here in Belize. Speakers included Chef Sean Kuylen; marketing guru Tanya McNab; Dr. Elma Kay, Director of Science at University of Belize; Sharon Matolo, who founded the Belize Zoo; soil expert Daniel Rath; and Garifuna drummer Joshua Arana. It was indeed a celebration of Belizean creativity and culture, and a wonderful opportunity to meet folks from around the country.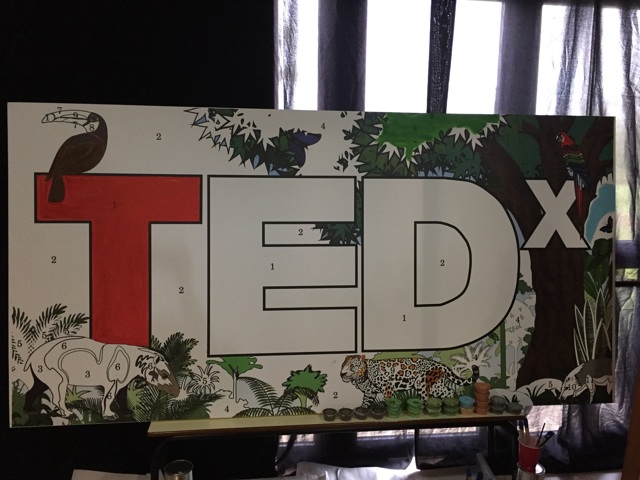 TEDx Belmopan Featured a Nice Pattern of the TEDx Logo
When the event ended Saturday afternoon, Rachel and I were off on the Hummingbird Highway, heading towards Placencia. As we left the Cayo District and headed into the Stann Creek District, we were surrounded by banana farms, and lush jungles. As we continued down the Southern Highway, we spotted a sign for the famed Marie Sharp's Factory. Both fans of this spicy pepper sauce, we quickly pulled off the road and headed towards the factory. We unfortunately did not make it in time for a tour but made a mental note for the next time. We continued on and made our way into Placencia as the sun was setting.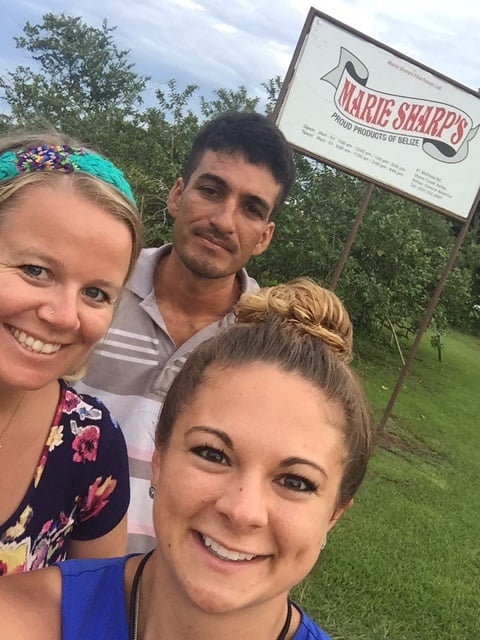 A Selfie at the Entrance of the Marie Sharp's Factory
Placencia is a long peninsula, with really just one road leading to the point of the peninsula, and hotels and private homes on either side. The village of Placencia is at the tip of the peninsula and home to many fun and colorful shops, beach bars, and restaurants. After a long day of driving, we opted to dine at our hotel and have an early night, knowing we'd be up again early the next day.
In the morning, we started the day off with a drive into the village of Placencia for breakfast at the very colorful Shak restaurant, followed by some much needed beach time. As the day wore on, we knew we still had a long drive ahead of us back to Belize City, and reluctantly packed our things back in the car and got on the road to begin the journey back to San Pedro.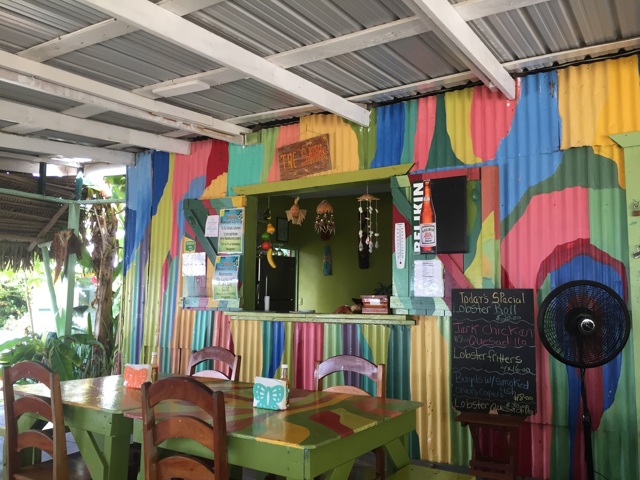 The Colorful Shak Restaurant in Placencia
Following the advice of Google Maps, we got on to the Coastal Highway, which claimed to be the quickest and most direct route back to Belize City. The Coastal Highway is not a highway by any stretch of the imagination (nor is it a scenic coastal drive as the name might imply), but rather a 58 kilometer stretch of unpaved, pot-holed, dirt road, with nothing other than a British military training site between the villages of Hope Creek and La Democracia.
We've since learned that every rental car company in the entire country is supposed to tell you to NOT take this road (this is also mentioned somewhere in one of many waivers you sign). Oddly, "The Sarge" failed to mention this to us during his otherwise extensive rundown of rules and regulations. That being said, it made for some good laughs along the way. As we boarded the ferry in Belize City to head back to San Pedro, Rachel and I both agreed that this was an excellent weekend, but perhaps we should pick one place to visit so that we could really enjoy and get to know the town.
If you're visiting Belize for any decent length of time, I highly recommend that you add a road trip into your agenda. Make sure to allot for more time than we did in each town because you'll certainly want to explore a bit to get a different taste of Belize!
We hope you found this article interesting. If you'd like to receive more great stories, sign up for our Newsletter, and you'll be emailed once per month with informative articles written by our team to keep you informed about all things Belize.
When planning your stay in Belize, we can help you book exciting excursions such as snorkeling at Shark Ray Alley, Cave Tubing on the mainland, or flying over the Blue Hole.

Our knowledgeable team will assist you with any tour you would like to take while visiting Belize, so that you can just relax and enjoy the adventure. CONTACT US TODAY.
ECI Development delivers affordable luxury residence and resort communities in Central America, providing our clients with various premier lifestyle options from the Caribbean to the Pacific. ECI delivers inspired residences for adventurous souls.
Coupled with over 20 years of inherent corporate social responsibility in the communities where we work, ECI Development is building a sustainable business that is going to be around for the next 100+ years.