Eight million tons, or 42,105 blue whales…that is the amount of plastic littering our oceans right now.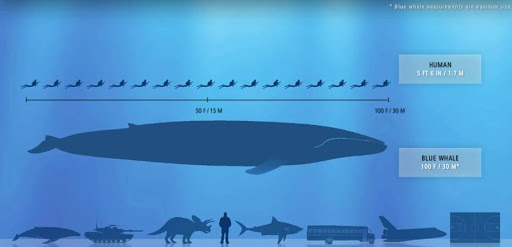 Blue whales are the largest animal on Earth, 1 = 190 tons
Education
Over the past several months, members of Rotaract Ambergris Caye have been putting together a community-wide project about the pitfalls and negative effects of plastic pollution in our community. The goal was to reach the action-takers of the community and to educate them about how we are currently being affected. And more importantly, how to implement strategic methods to clean up our past mistakes and ensure a cleaner, more sustainable future. The Rotaract vision for accomplishing this was to visit the schools to reach and share this information with the 10-13-year-olds in the community. In addition, Rotaract panned to donate trash bins to the schools to reinforce the importance of properly disposing of trash.

To help expedite the great vision that the members had, ECI Development hosted a silent auction at its Annual Shareholder Meeting, raising enough funds to purchase 40 garbage bins for the community. To help with the education aspect of the project, Rotaract engaged MarAlliance, a worldwide organization whose mission is: "to explore, enable, and inspire positive change for threatened marine wildlife, their critical habitats and dependent human communities."
With Ambergris Caye paralleling the largest living reef in the world, the Meso-American Reef (MAR), it made sense for Rotaract to establish a partnership with MarAlliance. Together, they put together an incredibly powerful presentation to be presented at the different schools.

As Rotaract and Mar Alliance began the two-week campaign to visit the schools, I was fortunate to tag along to the coalition's first school presentation on Plastic Pollution. After arriving at Holy Cross Anglican School, we were met with a group of 124 students, grades 4th to 6th. Cynthia Xiu from MarAlliance gave a very informative talk, actively engaging the students to really think about how they are being affected.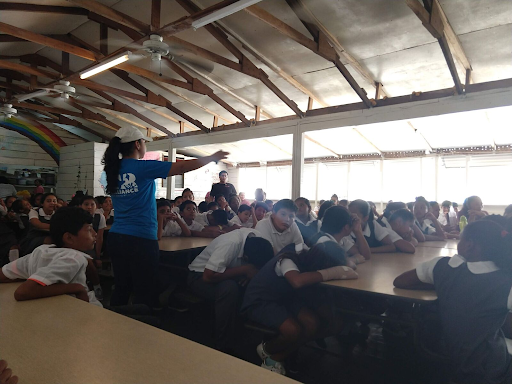 Mar Alliance' Cynthia Xiu giving a presentation at Holy Cross.
Living in San Pedro, the students are aware of the amount of trash that litter the streets, but being able to connect the effect it has on jobs (tourism), the environment, and their livelihood is critical for change. Keeping the streets clean is important for appearance, but more than that, it is important so the trash doesn't blow away and contaminate the ocean.

Plastic never fully decomposes; it breaks down to become microplastic. With 269,000 tons of microplastic in the ocean (imagine 1,416 blue whales), it is very common for bits of plastic to be found in the fish people consume. For every three fish caught, one fish's intestine is filled with bits of plastic! When the following clip was shown to the group, it struck home because recently a fisherman in San Pedro found a fish in a similar condition – filled with bottle caps. Plastic Found in Fish

I grew up on the notion that littering was bad, but this presentation had me in awe of the statistics – it really reinforced my commitment to the 6 Rs: Refuse, Reduce, Reuse, Repair, Recycle, & Rethink (through education).

It is exciting to see such progress being made on the island.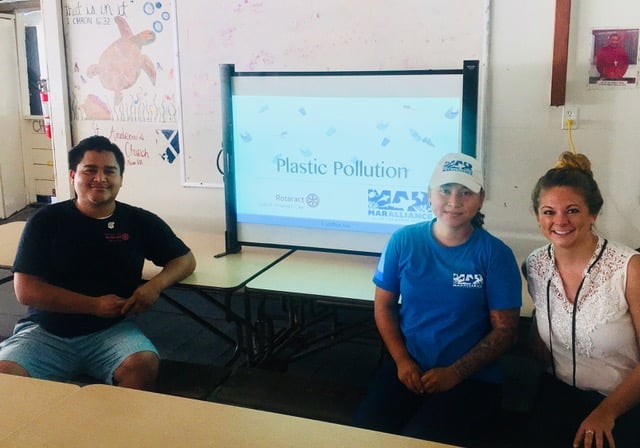 Job Mendezibal (Rotaract President), Cythnia Ciu (MarAlliance) and Rachel Jensen.
To engage students to practice what they learned (in addition to using the new trash bins), reusable, bamboo straws were donated by Rachel Jensen (Rotaract Director of Professional Development/ECI's VP of Sales and Marketing) as prizes for five students at each presentation during the 2-week campaign. They received the straws for answering the recap questions correctly.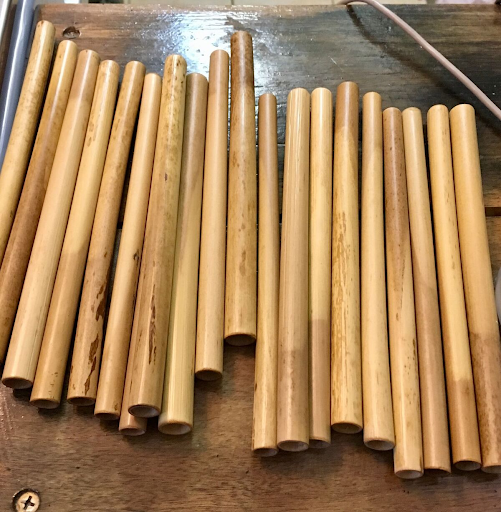 Bamboo straws given out as prizes
ECI Development delivers affordable luxury residence and resort communities in Central America, providing our clients with various premier lifestyle options from the Caribbean to the Pacific. ECI delivers inspired residences for adventurous souls.
Coupled with over 20 years of inherent corporate social responsibility in the communities where we work, ECI Development is building a sustainable business that is going to be around for the next 100+ years.