There are many wonderful things that Belizeans enjoy: a nice plate of rice & beans, snorkeling on the reef, enjoying a cold drink while watching the sunset over the Caribbean Sea, and pageants. Belizeans absolutely love pageants and it seems as if there is some sort of pageant going on at any given time.
Belize – A Land of Pageants
From tiny tots in tiaras to the Reina (Queen) of Carnival, there is a pageant to fit almost every demographic. One of the most highly anticipated pageants happens during the annual Costa Maya Festival here in San Pedro, where young ladies from Belize, Nicaragua, Costa Rica, Honduras, Guatemala, Panama, El Salvador, and Mexico compete for the title of Reina de la Costa Maya.

Presenting Miss Belize, Marcia Moody


The Costa Maya Pageant celebrates the rich Mayan history and culture found throughout Central America through music, dance, and elaborate costumes representative of their country's culture. Miss Marcia Moody of San Ignacio, Belize was the representative for Belize in this year's Miss Costa Maya competition. Marcia Moody is no stranger to pageants, having previously competed in Queen of the West Pageant (winner in 2012), Queen of the Bay Pageant (3rd runner up in 2012), Miss West Indies Belize (2015), and most recently was the 1st runner up in the 2016 Miss Universe Belize pageant.

In addition to her love for pageants, Ms. Marcia Moody has a passion for education, having earned her Bachelor's degree in Primary Education at the University of Belize. When she is not busy perfecting her pageantry skills, Marcia has said that she enjoys playing football, swimming, fishing and dancing. When asked about her interest in competing for the title of Miss Costa Maya, Moody said, "Being Miss Costa Maya has always been a dream of mine, ever since I won Queen of the West in 2012." Although Moody did not win this years coveted title of Miss Costa Maya, she said "I feel overjoyed and honored to represent Belize in such a prestigious pageant!"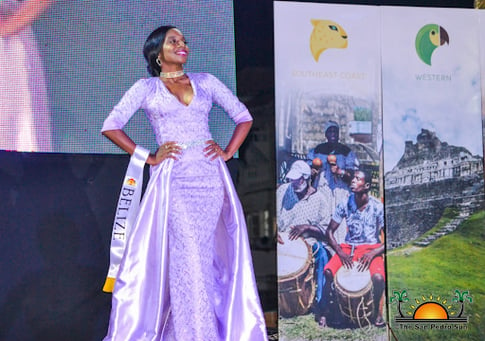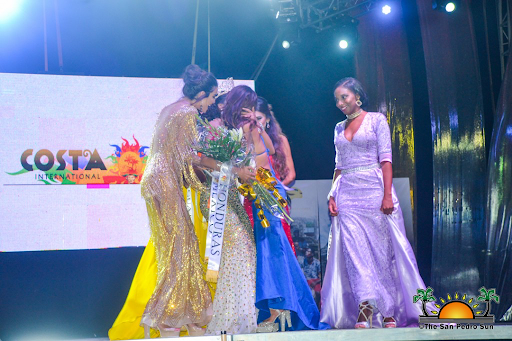 Miss Belize, Marcia Moody Congratulating Miss Costa Maya, Mary Cruz Cardona of Honduras
Photos by San Pedro Sun
The Costa Maya Festival happens in San Pedro every year towards the end of July - early August. It is a great time to come to Belize and get a taste of the richness of the Mayan culture that Belizeans are so proud of. Belizeans and Central Americans alike flock to San Pedro to experience the pageantry, performances by musicians from all over Central America, and to experience La Isla Bonita. It's never too early to begin planning your trip for the next Costa Maya Festival since the island does get quite busy and accommodations go quickly!
If you're interested in coming to Belize to experience Costa Maya Festival, or any of the other great events that go on in San Pedro throughout the year please let us know. Our Grand Baymen condominiums are within walking distance of fun events like Costa Maya, but just far enough outside the hustle and bustle that you can leave the party behind when you're ready for a good night sleep.

ECI Development delivers affordable luxury residence and resort communities in Central America, providing our clients with various premier lifestyle options from the Caribbean to the Pacific. ECI delivers inspired residences for adventurous souls.
Coupled with over 20 years of inherent corporate social responsibility in the communities where we work, ECI Development is building a sustainable business that is going to be around for the next 100+ years.