For Canadians flying internationally, the proximity of the U.S. can be both a blessing and a curse. Canada's southern neighbor has the world's largest fleet of aircraft, with over 6,000 in service.
This means that one can get a flight from the U.S. to basically anywhere in the world, giving Canadians greater access to international flights than they would otherwise have domestically. The downside of this for Canadians, however, is having to deal with U.S. customs.
Getting through U.S. Immigration and Customs is known the world over as being notoriously stressful, invasive, and a real headache to deal with in general. And don't think you'll be spared this headache just because of the two countries' close proximity.
The U.S. does not allow "sterile transit." What this means is that if one travels into the U.S., even for a simple transfer where they don't leave the airport, that individual must still go through U.S. customs. This can add loads of unnecessary time and stress to one's travel plans. In addition, some form of visa or visa waiver is almost always required, making travel plans more complex. For this reason, many Canadians who are planning international flights often try to avoid stopping in the U.S. altogether.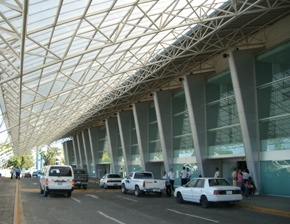 For a Canadian to travel through the U.S., even if that just means getting a transfer in an American airport, they must fill out a visa waiver. This is not the same hassle as applying for a visa, though it does require government paperwork and forms to be filled out in the airport - which of course adds additional time and stress to the process of traveling. And in the end, this visa waiver merely allows you to get off a plane in the U.S., hang out in an airport for a few hours, and get on another plane without ever even leaving the grounds of the airport.
Wouldn't it be so much more convenient if there was an easier way?
There is!
For those Canadians looking to take a tropical vacation without the hassle of U.S. customs, you are in luck! In the fall of 2016, WestJet Airlines announced that they are now offering non-stop flights from Toronto to Belize City. This means that a Canadian citizen can board a plane in Toronto and arrive safely in Belize without ever wasting time and putting up with the stress of dealing with U.S. customs. What a great idea!
It's no wonder that WestJet has decided to run this new flight. Belize is one of the most up-and-coming tourism destinations in the world. Overnight arrivals to Belize grew by 13% between 2015 and 2016. In addition, the country hosts some of the world's most beautiful natural wonders, such as the world's second largest coral reef and the Great Blue Hole (one of the world's highest rated diving spots).
If you're a Canadian citizen looking to have an unforgettable tropical vacation experience, and you'd like to avoid the stress of U.S. customs, a direct flight from Toronto (and now Calgary) to Belize City is perfect for you. Enjoy all the thrills of travel while sidestepping the hassle. A true win-win.
Post updated November 2018.