A real-life experience taken and article written by Grand Baymen's Director of Pre-/Post- Sales, Betsy Rosenlund.

Ambergris Caye to Cancun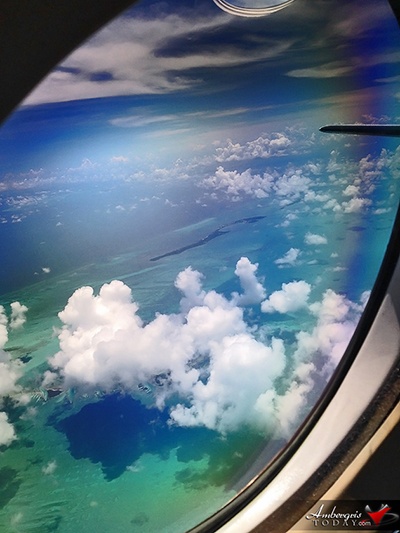 I recently took a trip off the Belizean island of Ambergris Caye to visit nearby Cancun, Mexico. Only 250 miles north of Ambergris Caye as the crow flies, I expected this trip to be a breeze. In planning the journey, the first thing I checked was the flight schedule for Tropic Air, the only air carrier that flies directly from PGIA to Cancun. The flights were a bit pricier than I was expecting from San Pedro to Cancun, about $350 USD/one-way [SPR-BZE-CUN] (as of Feburary 2018, not including the $26 U.S. departure tax) – so I opted to fly one way and take the water taxi on my return trip.
The flight to Cancun was an easy trip, about 90 minutes, and the views were absolutely spectacular. One thing that I didn't realize until we landed is that we weren't flying into the international airport, but rather the adjacent FBO (Fixed Base Operations) where private planes land. The great part about this is that you don't have to deal with all of the tourists and you can cruise right through customs – the bad part is that if you don't know this, your scheduled shuttle is probably waiting for you at Cancun International Airport!
Cancun to Ambergris Caye
Towards the end of my trip I began finalizing details of my return home which had a few more logistics to plan. The most important thing to do is check the water taxi schedule! There are two companies that go directly between San Pedro, Belize and Chetumal, Mexico (San Pedro Belize Express and Water Jets International) and they operate on alternating days, both leaving at 3:30 pm. The cost is $55 USD one way. It is important to note that you must purchase your ticket for the water taxi at least 72 hours in advance – though there may be loopholes around that.
From Cancun, Playa del Carmen, or Tulum you can take the ADO bus, a very clean and comfortable bus, to Chetumal for about $10 USD. The trip is 3 ½ hours from Tulum (add on an hour or so from Cancun or Playa del Carmen). The water taxi companies ask that you arrive 2 hours before your boat departs, so plan your bus trip accordingly, and add extra time for incidentals. When you arrive in Chetumal there are taxis at the bus station that will take you to the Muelle Fisscal for about 100 pesos ($5 USD). Once you check in at the water taxi and receive your ticket, you have to wait until 2pm to go through customs. There is a 272 Peso ($15 USD) Mexican departure fee that you must pay – they accept USD, Mexican Pesos, Belize Dollars or any combination of the three. We loaded onto the boat about 3:00 pm and were on our way by 3:30 pm. It is an hour and half trip to San Pedro. The seats are comfortable, the windows open, and they serve snacks. Once in San Pedro, you have to go through Belizean customs and pay a small $1.50 USD "usage" fee. If you are bringing any large items still in the box or with tags, you will probably have to pay duty, which can be quite costly.
The Verdict for The Next Trip
Will I do this trip again? Absolutely. For the sake of my bank account, I'll probably go with the water taxi/bus. It's a long day of travel if you do it in one day, but it's a great way to catch up on books, work or sleep, and allows you to see much more of the Mexican countryside than a fly-over does.
NOTE: Prices mentioned are as of February 2018. They are subject to change.