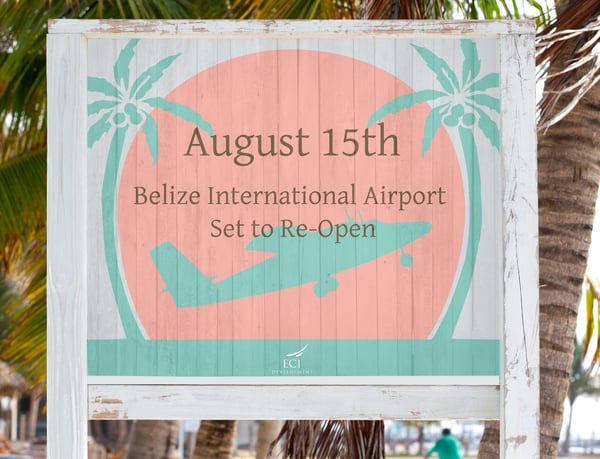 Missing your favorite spot in the sand? Maybe you've been shopping during quarantine and have a new wetsuit you want to try out? Well, you're in luck! Belize will be opening its borders to international travelers starting August 15th, 2020.
If you simply want to explore some sand and sun, now might be a perfect time to take a discovery tour. Learn more here.
Keep in mind, there are some strict rules you must follow in order to be granted entry into the country and to maintain the relatively COVID-free environment that Belize has worked so hard to maintain.
Read on to learn everything you need to know before and during your travel to Belize.
Prime Minister's Message
In a press conference on June 25th, the Prime Minister (PM) of Belize, Rt Hon Dean Borrow, announced that his beautiful country plans to re-open its borders starting August 15, 2020.
For many savvy travelers, the yellow signs and cool marble floors of Philip Goldson International Airport (BZE) is are a welcoming sight.
As mentioned by the PM however, there will be some new restrictions all travelers must follow in order to enter the country.
All people in Belize, traveler or resident, are also required to abide by a strict set of behavioral guidelines aimed at maintaining the safe environment currently existing within the country.
Keep reading below for critical airport and safety guidelines.
Belize Did Something Right
So far, the Belizean government has handled the global pandemic with decided efficiency.
At a time when many Latin American countries are experiencing surges in the virus, Belize only has 4 current cases of COVID-19, with only 23 total cases and 2 deaths due to COVID (in a country of ~400,000) since March.
Getting Through The Airport & Beyond
Here is a quick list of what to expect. After, we give more detail on enhanced health and safety protocols.
Keep reading for more on each point.
Download and fill out Belize Health App before arrival in Belize.
Take a COVID PCR test within 72 hours prior to travel.
When not possible, PCR tests are administered at the airport at a cost to the traveler.
Travelers testing positive will be quarantined for 14 days at their own cost.
Masks are required.
Only 'Gold Standard' recognized hotels and accommodations are approved to receive international guests.
Download The App
The government is currently in the process of implementing a registration and tracking system for all arriving travelers through their soon to be released mobile app.
Before arriving in Belize, you must download and register within the Belize Health app.
Although not currently available, according to the Ministry of Health Belize and the Belize Tourism Board, the app will be ready for download before August 15.
At that time, the app should be available for download here, unless updated by the government.
You must download and complete the required documents within the health app before you arrival at Philip Goldson International Airport.
Once complete, you will be given a scannable QR code that will be used for tracing once you are in the country.
Take a COVID PCR Before Arrival
The government also recommends that you take a COVID PCR test within 72 hours of your travel to Belize.
Keep your negative results to present at the checkpoint. Travelers with documented negative results will be fast racked through the airport.
Taking The Test Upon Arrival
If you do not take a test before arrival, the Ministry of Health will administer one to you upon arrival at a cost to you (cost not yet determined).
Currently, the type of test used in Belize takes approximately 30 minutes for results.
Should you receive a positive test, you will not be allowed to book a return flight. Instead, you will be placed in an approved quarantine facility for 14 days (again, at a cost to you).
After the 14 days the traveler must then pass two consecutive PCR tests with negative results for quarantine restrictions to be removed.
Rules for returning Belizeans are similar but slightly different. Find more detail here.
Face Masks
Upon re-opening to international travelers, there will continue to be a country wide requirement for all individuals to wear a face mask in public spaces.
The Gold Standard
In their effort to re-open safely, Belize has introduced a 9-point 'Gold Standard' program.
Hotels and tourism facilities who meet the 9 health and safety standards are issued a Gold Standard certificate.
During this first phase of re-opening only Gold Standard certified operators and facilities will be allowed to accept travelers.
In the video below, the Director of Belize Tourism Board, Karen Bevans,
gives more detail on the Gold system.
Airlines Flying to Belize
At this time, three major airlines have confirmed their readiness to resume service to Philip Goldson International Airport.
American - Daily from Miami
United - 5 times/week from Houston
Delta - 3 times/week from Atlanta
Enhanced Health and Safety Protocols
As per the Belize Tourism Board enhanced protocols are as follows:

Summary
Belize has worked hard to maintain a high level of safety throughout the COVID-19 crisis.
As the borders open to international travelers and Belizeans stranded abroad, do your part to help keep this Caribbean paradise pristine and safe.
Follow the list above to prepare for your arrival.
Download the app and get a COVID PCR test if you can.
Be prepared to pay your expenses should you test positive upon arrival.
Check the Belize Tourism Board for Gold Standard certified accommodations, wear your mask in public, and practice safe social distancing.
It may seem a little overwhelming, but I think we can all agree, once you sink your feet in that silky sand along the endless emerald coast all your COVID blues will melt away.