2015 was a landmark year for protection of some of Belize's most valuable assets. Early in December, Belize's Cabinet announced their decision to adopt a policy that will permanently ban offshore drilling in eight specific areas.
These eight newly protected areas are:
Bacalar Chico Marine Reserve and National Park
Caye Caulker Marine Reserve and National Park
Natural Monuments at Lighthouse Reef (Including the Great Blue Hole and Half Moon Caye Natural Monuments)
South Water Caye Marine Reserve
Laughing Bird Caye National Park
Glovers Reef Marine Reserve
Sapodilla Cayes Marine Reserve
Spread out along the country's coastal region, these reserves are essential to Belize's stunning natural beauty.
Bacalar Chico is at the northern end of Ambergris Caye, just south of the Mexican border, and the Sapodilla Cayes Marine Reserve lies 185 miles away, at the southernmost point of the Belize Barrier Reef, near the border with Guatemala.
The wisdom of establishing these and other areas as reserves has made itself clear through generation of revenue from entrance fees and sustaining tour operations. Revenues like these are staples of the thriving tourism industry in Belize, which is essential to the small country's economy. Diving in Belize is itself a unique market that attracts divers from around the globe, many of whom don't want to ever leave when they see the marvelous sights below the surface.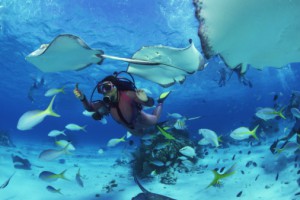 Diving in Belize is huge, and for plenty of good reasons.
Divers and snorkelers can see an underwater world of mammals, fish, invertebrates, and various reef types, and underwater plant life. With the largest barrier reef in the Western Hemisphere just a fifteen-minute boat ride from Ambergris Caye, and water temps right around 80 degrees throughout the year, many think it's too good to be true. Until they move to the island full time, that is.
Tours of Belize's natural wonders are fundamental to the prosperity of the country's service economy. The Belize Tourism Board lists nearly 200 tour operators available for hire for everything from helicopter and airplane tours, to SCUBA diving or inland Mayan ruin explorations.
In addition, the Cabinet agreed to ban offshore exploration within one kilometer on either side of the Belize Barrier Reef System, resulting in an additional 868 square miles falling under the offshore exploration ban.
Because of the extensive reach of the barrier reef and other marine reserves, Belize would be faced with overwhelming challenges in the event of an offshore oil spill. Spills can take years to clean up, with direct effects on ecosystems lasting even longer.
Liable parties must bring in specialized equipment and massive groups of workers to conduct cleanups, as well as fund studies on the impacts of a spill, and remain tied to the damages years after cleanup is completed. All the while, affected areas must suffer restricted access while habitats are rehabilitated, preventing the generation of tourism revenue.
The Government of Belize, and its citizens, who in some way are all connected to the eco-tourism industry, recognize the value of these precious natural resources, as does the United Nations. Together, these bodies are working to protect them for future generations. To learn more about how you can enjoy the pristine waters of Belize, or about some of the other factors driving people to the beautiful tropical paradise of Ambergris Caye, click here to download our Belize Handbook.