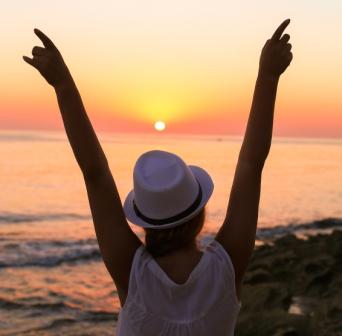 Trying to describe an ordinary day in Belize can be challenging, because there is no such thing as ordinary when you live such an incredible destination.
Everyday adventures can include watching the sunrise from a sandy shoreline, sipping cocktails overlooking the blue ocean water, playing golf with friends and then digging into freshly-caught lobster for dinner that manages to be both affordable and delicious.
This may be a typical day that you can look forward to when you call Belize home, but it is certainly far from ordinary.
Wake Up in Your Personal Paradise
Residents lucky enough to live at the Grand Baymen on Ambergris Caye don't have to wake up in a generic hotel room. Instead, they wake up to their personal version of paradise.
Your condo or casita home is your own, which means that you can customize it to blend the best of the tropics with all the comforts of home.
Whether you want to start your day with checking emails, watching English-language news or sipping a mug of coffee as the sun rises over the ocean, you can do it all from your own version of a tropical heaven.
Work Up a Sweat
Many people in Belize take full advantage of the incredible climate and make staying active a key part of their day. You might choose to swim laps at the San Pedro Fitness Club, take a private yoga class or even hit the gym for an air-conditioned workout with a view of the pool.
Great facilities make it easy to stay active, be fit, maintain your health and work up an appetite for the amazing cuisine on offer throughout Belize.
Explore the Incredible Country
A part of your day in Belize might include some sightseeing or an adventure tour. From Ambergris Caye, you can set off on a boat ride to Mexico for some shopping, or you can explore ancient Mayan ruins on the mainland.
Right in Ambergris Caye, you might choose to see crocodiles in a recovery and rehabilitation center called ACES or just explore the local town of San Pedro, a thriving hub of culture, music and art.
Sunset Strolls on the Beach
Living next to the beach on Ambergris Caye means that every day can include strolls right on the sand. As the sun begins to set over the ocean, meet up with a friend or your partner and find your way to the sandy shoreline.
The beach is right on your doorstep, giving you incredible views every single night of your life.
Amazing Nightlife Steps From Home
Living in a community like the Grand Baymen means that you'll be close to San Pedro and all its many bars, live music venues and restaurants. However, you can also find incredible ways to pass the time even closer to home.
Great eateries and bars are found right on the property, letting you enjoy a quick stroll to meet friends and dig into exceptional local cuisine. Ambergris Caye is known for fresh seafood, and in particular delicious lobster caught right off the coast for many months of the year.
Best of all, the affordable local cost of living means that dining out can be inexpensive, fitting into your budget.
There's no such thing as ordinary in Belize, but a typical day on Ambergris Caye might include waking up in a customized paradise, soaking up the warm climate, sightseeing, strolling on the sand, socializing and enjoying the great on-site amenities.